Beautiful Resistance.
Photographer and creative director Daniel Obasi's debut pays homage to the power of Nigerian protest.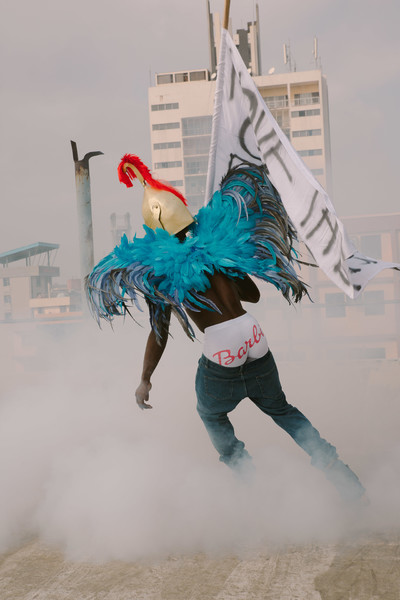 Photographer and creative director Daniel Obasi's debut pays homage to the power of Nigerian protest.
Amongst the chaos of 2020, a movement erupted in Nigeria: #EndSARS, an urgent plea to end police brutality that the youth and queer people were facing at the hands of the Special Anti-Robbery Squad. Starting nationally, the hashtag quickly spread on social media, bolstered by those feeling guilty for their perceived lack of action in the protests that swept the globe in the wake of George Floyd's murder. It was a strange phenomena that emerged at the time, an assumed reticence if you were silent on your personal platform, yet other than shedding light on the situation, it begged the question: what did it actually do?
Two years later, the question is still unanswered. While the SARS has been disbanded, the aftermath of its brutality is still felt by Nigerians who are understandably worried about what the future holds for them now that the fickle attention of social media has moved on. For photographer and creative director Daniel Obasi, the traumatic period gave way to creativity, birthing Beautiful Resistance, his debut photo book published by Louis Vuitton.
Beautiful Resistance takes the hurt and anguish felt during the time and transforms it into a utopia free from police brutality and religion, where queer people thrive. A melting pot of references, metaphors, and symbolism, the Afrofuturist images showcase a golden figure seemingly emerging from the centre of a giant blooming flower and a winged knight looking like he's heading into battle.
While highlighting the mood of the time, Obasi's book is more poignant than ever, released as Nigeria looks ahead to the 2023 presidential election. As was the case in 2020, and even more so now, the fate of the country's youth and queer community is at the mercy of the government – only beautiful resistance can bring them to the utopia that Obasi dreamt up.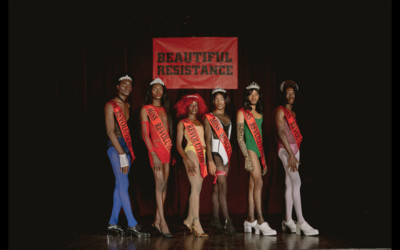 What was the starting point for Beautiful Resistance? Was it a book you always knew you wanted to create or was it more spontaneous?
Daniel Obasi: It was a bit of both, I've always wanted to do a book for the longest time. I started working on the book in 2019, right before the lockdown, so when Louis Vuitton came along and said they wanted to make a book everything kind of aligned. I was paying very close attention to things that were happening here in Nigeria, there are lots of issues around activism, the government, power systems, and feminism. We had the #EndSARS protest. Even before that, I've been part of lots of conversations happening on Twitter because people hated the current government administration. Before then, as a young person, I wasn't really involved in politics. So, as I moved away from being a teenager and becoming an adult, I realised that I should be voting, I should be involved in who rules the country and be interested in that because the future we talk about seems a bit too close.
There's still a law that criminalises queerness here, so living here, I was thinking: What is my future? What is the future of my friends? What will it look like for us? People in politics are always willing to make very selfish decisions built around greed, corruption, and a disregard for human rights and minorities. The general consensus of society is to suppress women and the youth, so all of that felt very stagnant. It was also very real too, my friends were getting harassed by the police, I was once harassed by the police heading home because of the way I looked and the way I was dressed. You know when something is a bit too real? It was all I could think about and I kept thinking, 'how do I work in this climate? How do I create?'
'People will still go to church after all this nonsense they've done and pray to whatever deity they worship. How can you say 'Jesus is Lord' when down the road people are being bullied or getting killed?'
Daniel Obasi
You briefly mentioned the #EndSARS movement that ended up becoming a big campaign across social media outside of Nigeria. How do you feel seeing social media activism versus the reality of being an individual who is living and facing real oppression?
Daniel Obasi: I feel that with every situation there's always going to be pros and cons, extremists, people who are true to their heart, and naysayers – nothing is ever going to be pure or completely honest. I can only talk about my truth and what I felt in the moment. I remember when the protests started, I felt like it was incredible and for once everybody was unified to speak against the ills of the government. It was because young people had become the target of police brutality. As young people, we already lived in a country that doesn't give a shit about us, makes it difficult to travel, makes it impossible to do anything successful, there's so much stacked against us. Yet, even if you find somehow a way to be successful or comfortable or walking towards a dream, it can be cut short by a trigger-happy police officer.
When we started to protest, it was like young people had finally awoken to what needed to be done and we went to protest. On the 20th October, I was meant to go to the protest but I didn't because it was my sister's birthday and while I was at home we heard online that the army was headed there. People said that they wouldn't shoot if they were waving the flag and singing the national anthem, but they were and we were watching this via Instagram Lives and it was heart-wrenching. They decided to bully and kill people which makes no sense.
What happened afterwards was a bunch of lies and lack of accountability from the government. To this day, nobody has accepted responsibility for shooting and killing innocent people, so people were calling on the International Criminal Court to investigate and there were petitions but nothing really came of that, nobody was held accountable and nobody was punished.
How did that affect you, knowing you could have easily been there?
Daniel Obasi: It put me in a very emotional phase where I decided that I had to find a way to express what I was feeling and I don't care how or when it comes out, I just want to express the sadness and hypocrisy that I feel around me and that was one of the reasons why Beautiful Resistance was born. I had already started coming up with the idea for the book and sketches before the protests, but after, everything became more vivid and interconnected and I realised I was on the right path .
In the beginning, the opening cover of the book shows a lady standing by a protester holding up the Nigerian flag with a red sun on it – it was the original flag design but the red sun was removed because the government thought it was a bad omen. In October 2020 when people were shot, they were holding up that same flag and the blood… I'm very attuned to symbols and metaphors, so it felt interesting to see red on the flag again, after so many years of people trying to pretend that Nigeria is this beautiful, well-organised place where democracy really works. No, democracy doesn't work here.
It's so terrifying to hear about it in more detail, what you see on social media is a drop in the ocean of reality. You spoke about metaphors and symbolism that you wanted to reference in the images you were creating for the book, was there anything in particular that you wanted to portray?
Daniel Obasi: I started with researching things around the world that referred to activism, cultures or symbols that referred to rebellion or an opposition to government. I was also looking at symbols of power, hope, and protection as well as cultures or imagery that reflect feminism and rebellion. I wanted to question the idea of masculinity and bring it from a very queer point of view. There's an image of a knight, with Barbie underwear and angel wings and he's out there protesting for the gays with a flag that says: 'Move the gays are protesting' and it was highlighting a point during the protests where gay people were being told to wait their turn. It's funny because we've been fighting this fight for way longer, we know what it means to be persecuted and ostracised, everyone else is only just joining the fight. I tweeted 'Move the gays are protesting' and it was so vivid from the time that I wanted to immortalise it in the book, immortalise my own voice during the protest.
There's also some references to religion and how it exists side by side in the middle of all of this chaos. People will still go to church after all this nonsense they've done and pray to whatever deity they worship, which for me, is insane. How can you say 'Jesus is Lord' when down the road people are being bullied or getting killed, it's a huge hypocrisy. I feel like I wanted to build a utopia that looks at all of these things very briefly and sharply but in a way that will hopefully inspire conversations that when you take them apart, it can lead to something meaningful.
Now the project is complete and Beautiful Resistance is out, how does it feel? Is it cathartic to be able to take all of this darkness and turn it into something that is both very beautiful and impactful in terms of its messaging?
Daniel Obasi: I think because the book was done three years ago, I went through all my feelings already – I've done all my soul-searching, grieving, and cried all my tears. Now, I'm just in this phase when I'm remembering how I felt about all of the images, where I was in my life then. I was in a different place, financially, emotionally, mentally, and I hadn't gotten to experience that much because I'd just left university and was just getting into this whole space. The book for me is being published at the right time, I'm more hoping that people can connect with it as much as I did when we were putting it together. I hope the feelings that I felt come across through the imagery and people get to hold it dear to their heart.
I also feel like this is probably the last time I will take on a whole project focused on Lagos as a body of work. I feel like I've done enough to talk about the city that I also live in, it's time to move on and to feel something else. I don't want to stay with pain, sadness, hate, and anger, I want to try new things. I've been living, so I'm ready to make work that reflects the kind of life I'm living and the growth I'm feeling. When I did the book, I wasn't really out to people, so in an interview in the book, I talked about my relationship with sexuality a little bit. Moving forward, I'm more comfortable talking about it even more and I've matured. Sometimes you forget who and what you are because you have to try and pass or fit in something else. I'm very happy that Beautiful Resistance is out and I'm excited to see what comes next. I'm exploring more video work, I just released a video with SHOWstudio. I'm excited to explore surrealism with more of my work and have fun creating amazing imagery.
I think the attention around Lagos and its fashion scene has really grown in the past few years, but now we're seeing a lot of teams creating images and projects there that you would assume was by Nigerian talent, but are actually teams of white creatives. Is it something you've noticed?
Daniel Obasi: Not really, I think that happens a lot with tourism. People come to explore a place sometimes because of the scenery, the energy, money in the city, experiences, or the sheer mystery of the place. Lagos is buzzing and it has a mystery and energy that a lot of people want to connect to.
What is important is what you do with the content that you make here – is it self-serving content that is created to make you feel or look good? It comes down to that. A lot of people here do feel taken advantage of when people from the West or other countries come and oftentimes don't pay their dues. They come to make content without supporting the people with what they're doing, they just leave them in the state that they met them, so the content doesn't give back to them in any way. Situations like that are problematic, so I'm very weary of people like that. That's why the content that I make always comes from my point of view and my standpoint. I'm mostly involved with people I know because I believe that we all grow together.
As you said before, the political circumstances that inspired Beautiful Resistance were from a few years ago and a lot has happened since. How are you feeling now about the upcoming election and the current political climate in Nigeria?
Daniel Obasi: It's dreadful to be honest, it's quite intense. It's usually two parties, you either go for PDP (People's Democratic Party) or APC (All Progressives Congress), but now there's a newer party called the Labour Party which is presenting somebody who is slightly neutral, which I think makes more sense. People have this very weird forced loyalty though to PDP and APC, so trying to get them to move away from those political parties to follow the Labour Party is now where the problem is. If we're not able to eventually get away from those parties and focus on this one, there is a chance that the Labour Party will lose and we're literally back to where we were with the same messy ass government, so a lot of people are campaigning.
The elections here are weird, they can be rigged, so it's not really free and fair. A lot of people are worried, but also hopeful because people are registering and committing to vote against it. Also a lot of people who remember what happened last year are choosing to forget, I've had people say that they'd rather support this government because they know that they will do something, but what do they expect them to do if they haven't done anything differently in the last decade? The new party can be held accountable, but we can't hold the others accountable because they are knee-deep in the system. It's a no brainer.