Stanley Bryan is the Central Saint Martins designer on the verge of breakthrough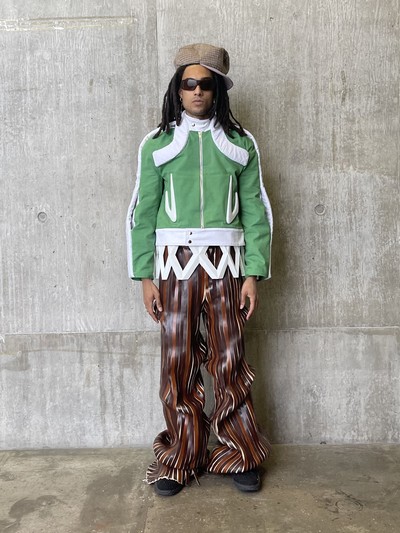 Following his electric debut at the prestigious fashion school's recent BA runway show, the London-born creative is poised to take on the fashion industry.
After a brief hiatus in 2020 due to the pandemic, last week, Central Saint Martins' BA class of 2022 made their runway debut – a platform that has previously launched the careers of names including Richard Quinn, Kiko Kostadinov, Stefan Cooke, Nensi Dojaka, and Mowalola.
Amid the chaos of 115 students each presenting a trio of looks – this time around admired by Madonna and FKA twigs, who exchanged in hushed tones perched on the front row – a handful of the school's burgeoning talents emerged. Should they choose to embark on the arduous journey of birthing their own brand in the densely crowded London fashion scene, these are the names to keep a watchful eye on.
For Anika Leila, the show was an opportunity to double down on an aesthetic that has already garnered attention on social media, regularly selling out of her handkerchief tops. Expanding further, the trio of looks saw ominous faces emerging from within – created sustainably in 3D from scraps of old material or rendered in 2D using expired make-up products. Similarly, Emil Dernbach utilised structure and silhouette earning him runner-up for the L'Oréal Prize, his ballooning architectural dresses created in foam, royal blue wool, and sleek silver metal.
Menswear student Stanley Bryan used the show as an opportunity to experiment and hone the skills he'd learned during his time on the course. Taking inspiration from his Jamaican heritage reimagined via a futuristic lens, the designer's trio of 'wavy' looks were created using strips of leather over rib knits, mimicking a concertina as the models walked the runway. Elsewhere, 3D printing was used to create a string vest from the year 3022, as well as accessories and details for his boxy jacket.
The collection's obvious reggae-infused feel paid homage to Bryan's experiences of connecting to his roots – through music and family. Though, despite his personal references – his research containing images of bands such as Steel Pulse and Aswad – architectural inspirations were abound too, in the form of Zaha Hadid and Vincent Callebaut, highlighting the push and pull between nature and technology. "I try to create designs that can stand alone without people knowing the references," the designer shares. "I want to bring people into the world and culture by showing them different perceptions of the world. I want my work to represent the voices that haven't always been represented and the stories that haven't always been heard."
After presenting his trio of looks at the BA show, the designer remains optimistic about the future, despite the industry being notoriously unforgiving for fledgling talents. "Designing all the time and doing what makes me happy," he shares on where he hopes to go now." Hopefully big things will come through and I'll be able to set up my own brand."
Here, System speaks to the burgeoning design talent about his learnings from his time at Central Saint Martins, his experimental design process, and what the future holds for him.
'Central Saint Martins was the place to go and it was my dream to get there so I could do what I enjoy – designing clothes.'
Stanley Bryan
Have you always been interested in fashion? Did you always want to attend Central Saint Martins?
Stanley Bryan: I was always into fashion and arts, I came from an arty family. I started out being really interested in painting and drawing and then I got more into fashion in 2012 when A$AP Rocky first came on the scene. I started getting into designer brands and using my interest in art to design clothes and then eventually start making clothes. Then, I went to the BRIT School to do art and design because it seemed like a good opportunity to get more into fashion and that's where I started sewing and making stuff. Central Saint Martins was just the place to go and it was my dream to get there so I could do what I enjoy – designing clothes.
How are you feeling now after years of hard work have culminated in a collection presented at the BA show?
Stanley Bryan: It's a bit of a weird feeling – what do I do now? I'm happy with how things have gone and how the collection came out, but it was definitely a lot of stress. Working on it, I was thinking about whether or not it would end up how I envisioned it and if I was going to achieve what I set out to do. Seeing the looks on the models at the show was a satisfying feeling, everything I wanted to say came through in the clothes and it got a pretty good reception, so I'm feeling content.
What did you have in mind for the collection when you started designing it?
Stanley Bryan: I didn't really imagine the end goal, I had an idea to build around things that interested me – ideas around my culture, but via a futuristic lens. I went with the process and allowed it to come together naturally, to see what kind of journey it took me on and I think it came together.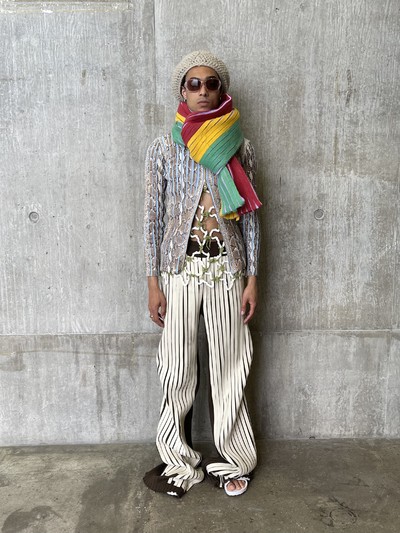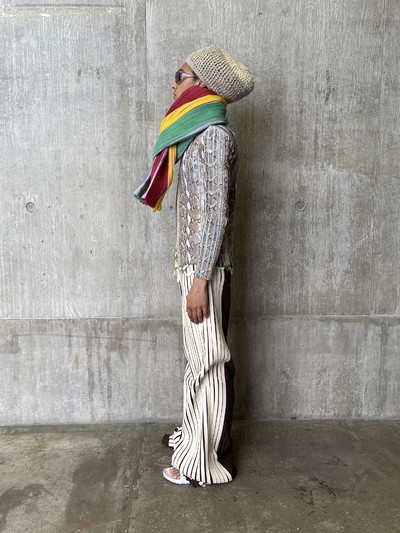 The collection immediately stood out to me, I thought it was very polished and unlike anything I'd seen before. Can you tell me about some of the techniques you used to create the looks?
Stanley Bryan: Since my first idea was exploring technology and things that felt futuristic, I looked into 3D-printing – working out how to use the software to design, then experimenting with printing directly into the fabric. The green jacket (from the collection), had functional pockets but also a 3D-printed detail that was reminiscent of a string vest coming out of your jacket.
I started the process with this idea of really rigid and flexible materials coming together, so that's when I started using rib knit and combining it with these other fabrics to get the effect of things opening and closing. It was an experimental process of trying different materials layered on top of each other and seeing how it could work. Most of the ones I developed into the collection were using leather, so I'd cut up strips and then stick them to the knit. The snakeskin printed leather was another version and the scarf I made was done using the same technique but I upcycled a military blanket.
It sounds like a very experimental process, is that how you enjoy working as a designer?
Stanley Bryan: I like trying to make something new, so I enjoy the process of trying stuff – some things work and some don't. As I began exploring working with these fabrications, I started thinking, 'This is really good, this has room to grow.' From there, it was about finding the best combination that I could come up with that would tell my story and combining that with physical references from research – real things that are not so new, but making them feel new.
What have you learned during your time at Central Saint Martins?
Stanley Bryan: Before I started at Central Saint Martins, I didn't have great sewing or making skills, it was very slapdash. From being on the BA course and learning from the tutors, my skills and pattern-cutting skills have gone from zero to where I am now. I've greatly improved and so has my confidence in taking research and developing it into interesting clothing. Getting the most out of my research is one of the most important things that I've learned so I'm looking forward to trying different ideas, seeing what interests me, and exploring fashion further.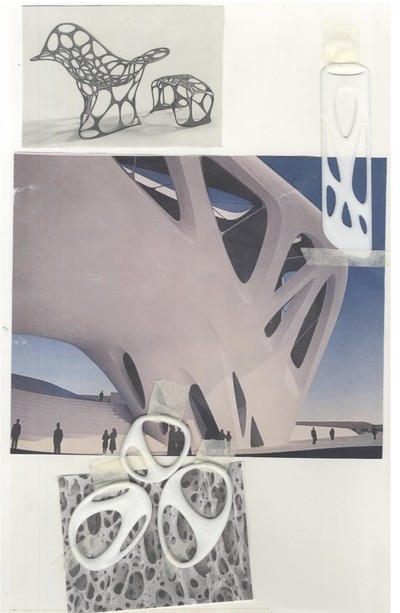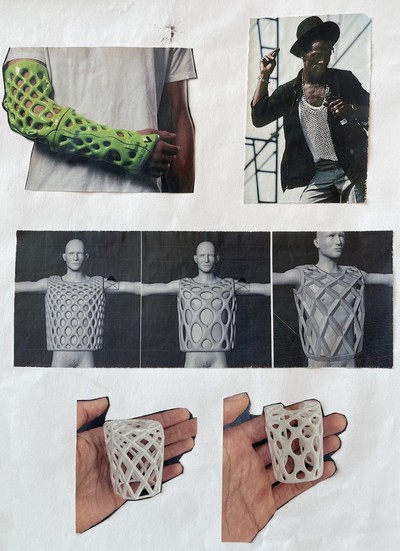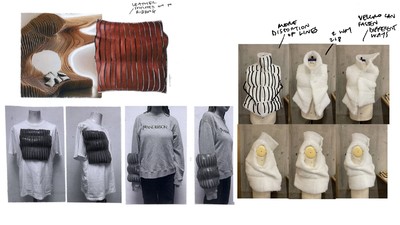 As an industry, fashion has always been difficult to enter, even more so since the pandemic. Is it something that you and your peers are currently apprehensive about?
Stanley Bryan: Since the pandemic, everything has been up in the air and uncertain. Even the BA show was uncertain, nobody knew if it was going to happen. We all had lots of questions: 'Is there going to be a show this year?', 'Is it going to be back to normal?', 'Is that going to affect how we get jobs?', 'Is it going to affect how we get press?'. Everything is uncertain, so it's hard to fully know what is going to happen, but things have been looking up, so I'm not too stressed about it at the moment. All I can do is be positive.
What has the feedback been like since you presented your looks at the show? Did you find it surprising?
Stanley Bryan: It's nice to see a lot of people saying that they love the collection. Lots of people thought the ideas were strong and that it looks polished, some people wanted to buy some of the pieces too!
I find it a bit surprising because I feel like I'm just trying to be myself, so when other people get me, it feels like wow. I was worried the collection wasn't going to be what I wanted, but I think that's the nature of being a creative and being happy with what you've made.
Would you say you're happy with how it turned out in the end?
Stanley Bryan: I'm proud of the way it all turned out, it's very me and very personal to me. It feels new, different, and I think it just makes sense. I tried to preach these two different ideas: my culture and this futuristic element and I think it came together in a way that not only makes sense but it also looks really good too. I feel like I've just started to find myself.
'We all want to feel represented in fashion and that's why people keep trying the hardest to push it out – it's what we need right now.'
Stanley Bryan
Exploring heritage and culture is something that British designers do so well, why do you think that is?
Stanley Bryan: There's so much culture in London, so it makes sense that there's a good mix of young designers from different backgrounds all designing stuff that is personal to them. Being in London, there is an understanding of respecting the design scene that has come before, but the importance of representing too. We all want to feel represented in fashion and that's why people keep trying the hardest to push it out – it's what we need right now.
What are some of the challenges ahead of you now that you've presented your collection at the BA show?
Stanley Bryan: Right now, it's working out what I'm going to do next. Whether I start a brand soon and whether I can do that, that's the biggest challenge. Or if I have to get a job while keeping the brand in my mind and working on that while I do something else. Starting my own brand would be my dream, my take on fashion is pretty fresh and I feel like I could do it. The issue is the practicalities of starting a brand, there are lots of obstacles.
I can definitely see a desire to wear the clothes you've created, who would be your dream?
Stanley Bryan: I'd love to see Lenny Kravitz wearing it, I could definitely see him in the snakeskin.
I could see Rihanna in the puffer easily.
Stanley Bryan: I'd love to see Rihanna in the puffer, or Zendaya, those are my icons.
Finally, what advice would you give to first year or prospective Central Saint Martins students interested in pursuing a career in design?
Stanley Bryan: It's really important to just be yourself. When getting into Central Saint Martins, I think it was really easy to get wrapped up in what everyone else is doing and a mentality of trying to outdo others. It's better to think about your own personal development and having something that you want to put out in the world, something that you want to say. Most importantly, put in the work.