'I'm a firm believer that fashion is one of the industries that can really change culture.'
Under the leadership of CEO Cecilie Thorsmark, Copenhagen Fashion Week hopes to rival the influence of fashion's biggest players.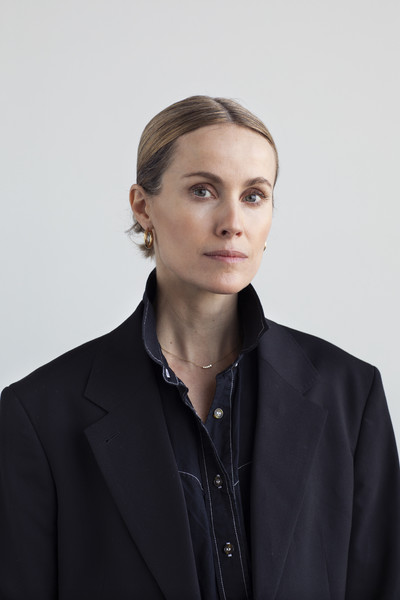 Under the leadership of CEO Cecilie Thorsmark, Copenhagen Fashion Week hopes to rival the influence of fashion's biggest players.
What is the point of fashion week in 2022? In an era of vigilante accountability – thanks, in part, to Diet Prada – it feels as if this question is posed more and more on social media by an angry rabble who insist that luxury brands should comment on every single global political crisis.
Whilst fashion certainly doesn't exist in a vacuum, asking brands and influential names within the industry to make improvements in their own arena would seem more fruitful. Take fashion week, for example. An event that could be easily improved with more diversity and representation, increased efforts towards sustainability, and support for burgeoning young talents to help grow and sustain their businesses.
It's an attitude that Copenhagen Fashion Week CEO's Cecilie Thorsmark has been building on since she became the event's leader in 2018. With an initial focus on sustainability, over the past three and a half years, she has increased Copenhagen Fashion Week's international presence and since expanded its view towards runway diversity and engaging the creative youth.
This season saw the launch of NEWTALENT – a support scheme to assist upcoming Nordic designers A. Roege Hove, P.L.N., and Latimmier – an exciting opportunity for newer names to step out of the shadow of Copencore giants and receive monetary support, mentorship, and advice to give their brands a real chance at longevity.
At a time where the necessity of fashion week is constantly questioned, Thorsmark is focused on action that she hopes will improve the Nordic fashion industry, while setting a benchmark for other global fashion weeks to follow suit. Here, System speaks with Thorsmark to explore the growth of Copenhagen Fashion Week under her guidance, the importance of being pragmatic about sustainability in fashion, and why fashion week is still relevant in 2022 and beyond.
The Spring/Summer 2023 edition of Copenhagen Fashion Week just ended, how do you think it went? Are you pleased with the outcome?
Cecilie Thorsmark: I'm more than pleased! We anticipated that it was going to be quite massive. We had all the facts: we had 35 shows, a really strong line-up, an interesting mix in terms of variations of aesthetics, and a great group of guests – but it exceeded our expectations. There was a buzz at all of the shows I attended, the weather was beautiful, there was so much great feedback from all of the individual shows and both press and buyers were surprised to see new directional talent arise and they were surprised to see a more nuanced and diverse aesthetic coming from our region. We've always said that our fashion week was democratic and I'm not going to smash that myth or that legacy, but in my opinion, it's more democratic than it has been before because we're reflecting a much broader part of our society and the various cultures in our society than before.
For me, I would say the shows that really stuck out and were exciting were the ones that had a different aesthetic to what we'd typically associate with Scandinavian fashion. There were lots of interesting emerging young designers that we haven't seen coming from Copenhagen Fashion Week or Sweden before and it was nice to see them among Scandi giants like Ganni and Stine Goya. When you're planning the event, what is it that you're hoping to achieve? Do you have specific goals or KPIs?
Cecilie Thorsmark: In terms of numbers and so forth, we've never been very focused on them because I believe much more in quality and I believe that quality is what will make a fashion week grow in terms of numbers. To give you some examples, I started three and a half years ago and during that time the number of applications has doubled, but the number of the shows has remained the same more or less. It went down over the pandemic, but it has traditionally been three days filled with around 30 to 36 shows. It has never been a KPI to grow the show schedule in terms of the number of shows, but it has been a KPI to lift the level and quality of the brands, shows, and collections – everything.
We do look at the press coverage and the number of followers on our different social accounts, but I don't see that as a success parameter. So, all in all, a very big focus on quality, but also a focus on partnerships because I'm a very firm believer that there's only so much you can do alone. You can do a lot more when you're open to partnering and that requires trust and a common vision and common beliefs and going in the same direction. I'm a very firm believer that partnerships can lift any project you do, whether it's a whole fashion week or a dinner at fashion week.
'Fashion is a very powerful language and it reflects society. Acknowledging that we have a powerful role and a voice was a driver for utilising our position to put more meaning into what we're doing.'
Cecilie Thorsmark
How do you think the vehicle of fashion week has changed since you became CEO of Copenhagen Fashion Week in 2018?
Cecilie Thorsmark: Before I joined, I felt that Copenhagen Fashion Week was somehow a passive platform for shows, but since then, I have announced our three-year sustainability action plan and very ambitious targets relating to that, as well as the 18 minimum standards that all brands must adhere to in 2023. We have taken a role as a much more active player within the week, so not just orchestrating time slots for the various shows or a hospitality programme, but acknowledging that we are a powerful and influential platform that is centrally placed within the fashion ecosystem. Acknowledging that we have a powerful role and a voice was a driver for utilising our position to put more meaning into what we're doing. Fashion is a very powerful language and it reflects society. It's a creative community of extremely talented and skilled designers and there's so many levels to fashion and I love it. But I found that [Copenhagen] Fashion Week was being tone deaf and ignorant to society around us by only being this platform for shows and securing an audience for shows. I felt that we need to speak up and take action on specifically the environment and sustainability because we're in the middle of the climate crisis, but also on other topics like social justice, #MeToo, ethics in the fashion industry in general. We've done that and been super active within that this year, so a concrete example is that two and half years ago we didn't have a team of sustainability employees and now we have a head of sustainability and a sustainability assistant and they're working all year round because our ambitions are quite far-reaching and it's a lot of work.
Implementing sustainability appears to be the lynchpin of Copenhagen Fashion Week and you mentioned the 18 minimum standards that you're hoping each of the designers will be able to meet by next season. How do you go about checking this and making sure all the brands involved are meeting them?
Cecilie Thorsmark: Once the brands fill out our survey, which isn't just the 18 minimum standards, but 60 additional questions relating to their sustainability efforts. It's the 18 minimum standards that can get them admitted to fashion week. Within that, they also have to submit documentation or provide a thorough description of their efforts. We have been following the brands for a couple of years now and doing several rounds of pilots, so I think we have an idea of what are and aren't sufficient answers. It's been a very collaborative effort with brands, we give them feedback and constantly remind them that if they're not sufficient in minimum standard 'X' then they must provide more documentation. Of course, what we want to avoid is that we are the ones checking and going through the surveys, so we will hand them over to a consultancy called Rambøll and it's a big multi-national consultancy who has a team who checks up on all the documentation and answers and devoting their resources and efforts to that for a couple of weeks. Then, they engage with us and let us know how the brands are doing and if there are any that are insufficient then they ask the brand to provide more. If they are not able to, it's actually them [Rambøll] that makes the decision.
Sustainability right now is obviously a highly contested topic because fashion week itself is inherently not a sustainable event, but I do think that Copenhagen Fashion Week is a leader in sustainability. There's no such thing as 'perfect sustainability,' so I think it's more about educating people about bringing more sustainability and doing something in the best way possible over doing nothing at all.
Cecile Thorsmark: That's exactly our conviction but also we're very aware that this does not qualify us as a sustainable fashion week and this does not qualify the brands as sustainable – it's not a label or certification that we're putting on the brands, what we're saying is that there are 18 minimum standards. If you ask me, or an activist, we would say that it's the least that you could do, but if you ask the brands, it's very ambitious. We know it requires a lot for small brands to develop codes of conduct, long-term strategies, and comply with OECD due diligence – it's not something that you do overnight. Some people would say that these 18 minimum standards are the bare minimum and should be expected of any fashion brand out there.
In addition to your sustainability efforts, Copenhagen Fashion Week recently launched NEWTALENT. What is it specifically that you're hoping to bring in terms of diversity to the show schedule?
Cecilie Thorsmark: The main criteria in our show committee is the fashion credibility of a brand and the show potential, the universe, and DNA – that forms the discussion and assessment. It definitely does weigh in that we want to see something new, new aesthetics, or a culture or community that we should bring to our fashion week. In general, I think everyone is very focused on diversity and it's in all aspects: the models in the cast, as well as who is working at the company and backstage.
What about diversity within the Copenhagen Fashion Week team itself?
Cecilie Thorsmark: Within the team itself, it's something that we're also very focused on trying to achieve. For us, it's important that we walk the talk and have diversity in the team and in management too. We're working on strategically improving ourselves, so when we post positions it's not just on the various platforms but also on the Nordic Fashion Directory which is oriented towards BIPOC talent in the industry. It's definitely a target for us, so if I was in a position where I had two equally qualified potential employees, I'm very conscious now that we would love to secure more diversity in our management. We have diversity in our team, but in our management we still have a way to go. I want to be more ambitious than what we're representing right now.
'If you have powerful voices in both the fashion brands, creatives, and also fashion week as an organisation, that is what justifies fashion weeks in the year 2022 and beyond.'
Cecilie Thorsmark
This season, you also partnered with Ukrainian Fashion Week to support two Ukrainian brands – the COAT and TG Botanical – on the schedule. Why was this important to you and what do you think fashion's role in global political events is?
Cecilie Thorsmark: It was Ukrainian Fashion Week that reached out to us and several other fashion weeks asking for support at this particular time in history. Both Copenhagen Fashion Week and our community and brands have been concerned and engaged with the raging war but feeling that anything we do is insufficient. We all want to help from our privileged side of the continent and we have a platform and a voice to do so. Of course, there are hardships and suffering in all parts of the world, but in this specific case, our sister organisation reached out to us asking for support and we wanted to give them as much support as we could within a very short time span. We're looking at developing that partnership, but in this case, it was about giving two Ukrainian brands a platform to continue to flourish and have businesses. What I see in Ukrainian brands and creatives is that they're very focused on their creativity as a means of both resilience and also a means to rebuild society. No brand or organisation is going to be able to rebuild Ukrainian society once the war is over, but what I'm sensing is that everyone feels devoted to it, so it feels like a collective effort. We wanted to take advantage of the attention that Copenhagen Fashion Week gets during our fashion week to remind everyone that there is a harsh reality happening outside of our bubble.
You can choose to remain silent, but then you won't have an impact, or you can use your platform. It's about striking a balance and being considerate – this is not about the promotion of Copenhagen Fashion Week at all and I hope it's not misunderstood as that. It's a collaborative project we're doing with Ukrainian Fashion Week because they need support. I'm conscious of the voice we have and the difference we can make.
What is your long term strategy for growing Copenhagen Fashion Week and increasing its presence on a global scale?
Cecilie Thorsmark: A few years ago, Copenhagen Fashion Week was a platform showing the best of Nordic fashion – it still is, but I hope that in the future, it will be a platform showcasing the best of fashion and sustainability. This means showcasing brands that really are the best in terms of both their fashion and their sustainability efforts, from any nationality. A few years ago, I'm not sure that a Hungarian brand would have been admitted to Copenhagen Fashion Week, but this season we had Aeron because their aesthetic is beautiful and very aligned with Scandinavian aesthetics. They have a market and a big community here, but also because sustainability wise, they are super ambitious. That's an early example of how we've started looking at inviting brands that are not necessarily Scandinavian in terms of where the business is founded, but brands that live up to our fashion and sustainability criteria.
Finally, why do you think fashion week is still important and necessary in 2022?
Cecilie Thorsmark: It's important because it has a voice. Not only fashion week itself, but the fashion brands themselves have a powerful language and fashion can indeed drive change. Some people might not believe in it, but I'm a firm believer that fashion is one of the industries that can really change culture. If you have powerful voices in both the fashion brands, creatives, and also fashion week as an organisation, then I think that is what justifies fashion weeks in the year 2022 and beyond.