Haute Denture.
Lyle Lindgren and Eddie's Plein's Mouth Full Of Golds paints the city of New York gold, diamond and platinum.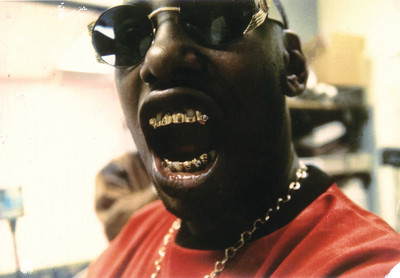 Lyle Lindgren and Eddie's Plein's Mouth Full Of Golds paints the city of New York gold, diamond and platinum.
Long before New York became an epicentre of all things style and substance, there was Eddie Plein. As the man who invented hip-hop's crown jewel (more literally, than figuratively), better known as grills, Eddie's legacy started as a New York migrant in the late 70s, to rap-society-sculptor of all things dental and diamond delineated, marking the golden years of hip-hop in the 90s. Eddie has quite literally seen it all. Everything. Or at least everything worth seeing. And everyone worth meeting. That is, if you have a penchant for bars, bass and beats, double-entendres and Double-C's.
For decades, his professional and social lives have merged into one electric, celebrity-packed mission to permeate the heart of what makes art, fame, fashion, music, and instant money tick. Luxury. Eddie's world has been one inhabited by record scratchers, down-town dwellers, rebel-jockeys, buy-now-think-later athletes, style-seeking supermodels, and those still B-boying at dawn. Hence writer and filmmaker Lyle Lindgren's latest book documenting Eddie's almost-forgotten Gilded Age, Mouth Full Of Golds, published by IDEA Books.
Lyle documents Eddie's all-done-by-hand technique. As astute as it is arch, as intelligent as it can be ironic, as compelling as it's often comedic (for the uninitiated, go and buy records by the likes of Atlanta Rappers Kilo Ali, Raheem The Dream and OutKast and New York's quick-lyric patrons such as Jay-Z, Nas and Just-Ice), this newly released, extensively-exquisite portrayal of Eddie's coast-straddling American dream, has captured the spirit, scandal and smells of life beyond the strip malls, music videos and velvet rope.
Who better than both Eddie and Lyle to divulge about the inner sanctum of one of New York's most ostentatious of eras. With contributions from fashion-industry darlings such as Marc Jacobs, Bond-villains such as Goldie, and Sex Pistols snappers such as Janette Beckman, Mouth Full Of Golds is a personal capsule into a period of raw innovation and memories almost caught and lost by an overdose of opulence. Lyle informs System of what he calls Eddie's 'wins and losses - biting off more than he can chew when he's simultaneously popping up on the scene, and losing it all when he won't let go of his ego.' In other words, the highs and lows of Eddie's platinum pendulum.
As System caught up with the duo, Eddie dug out and dusted off a personal collection of fitting photos (yes, he also fitted Hedi Klum) where the now-not-so-rusty reveal shows decades of fame, fortune and fantasia. Rolex Crown grills optional.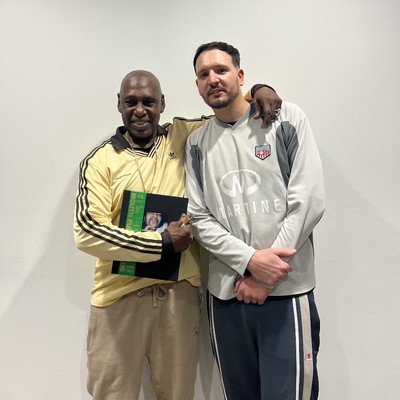 Lyle, how did the book come about?
Lyle Lindgren: I've been obsessed with gold teeth for as long as I can remember. It started when I saw a picture of rapper RZA on the cover of the Gravediggaz debut album, and then Goldie as a villain in James Bond. In my twenties I shot some art films for Goldie and we struck up a really close relationship. Every summer we'd go out to New York City to make graffiti films for an app he was developing. This was when A$AP Rocky was just coming out with songs like Peso. I had the same jeweller come to the lobby of my hotel to take my moulds. The first set I had made was an homage to that vampire fang set that RZA had. I showed them to Goldie and he nonchalantly mentioned that he used to live with the guy whose brother invented gold teeth in the 80's - so we took a gypsy cab to Queens to meet the OG himself, Eddie Plein.
What was your first encounter with Eddie like?
Lyle Lindgren: Goldie and I made the trip to the Colosseum Mall in Jamaica, Queens and stood out front waiting for Eddie to arrive. This gang fight erupted and we got caught up in the melee. In the moments where we were being quizzed as to what we were doing on the block, Eddie casually pushed his way through the group and introduced himself. At that point the crowd parted and all the store owners came out and began shaking Eddie's hand. He was royalty. So we left and headed back to Brooklyn, and back to the family home where Eddie's journey had originally started. As he spoke I remember standing there in the basement thinking 'this is either one of the greatest stories I've ever heard, or total fantasy'!
Eddie, were you always interested in music from a young age? What made you rapport with music?
Eddie Plein: I heard music all my life. We listened to many different types of music growing up in Suriname before I came to America. This is pre hip-hop, sixties and seventies music so lot's of soul, funk, early rock and roll, my pops bringing back records from his trips to the U.S. It was very eclectic. When we moved to the States, it was the rise of disco and then Michael Jackson. Hip-hop followed and I think I heard it first in my neighbourhood in Brooklyn, songs like Bubble Butt and then Run-DMC. But I was a big Reggae fan. Artists like Yellowman and Peter Metro, Reggae was the bomb. I'm just a lover of great music.
'It was like in the song by Boogie Down Productions, Brooklyn was taking it, Manhattan was making it. But Queens was getting fly and getting money.'
Eddie Plein
What drew you to the world of hip-hop and its aesthetic sensibilities at the time? Not just the music, but the fashion. The late 70s in New York marked the death of disco and the birth of B-boy culture. Tracks by Donna Summer were being cut, spliced, and scratched by the likes of Grandmaster Flash.
Eddie Plein: All the hip-hop was coming out of Queens. It took over the streets. But coming out of Brooklyn, it was rough, my guy. It was like in the song by Boogie Down Productions, Brooklyn was taking it, Manhattan was making it but Queens was getting fly and getting money. You'd go over there and see the Adidas sneakers, three finger rings, the big rope chains with the piece. You just watched it all unfold and wanted to be a part of it. The eighties was a special decade, things just moved fast and you had to keep up.
Lyle, what drew you to Eddie's journey and that particular chapter in New York's music history? It's a city that, as we know, has catalysed several genres of music simultaneously. All emerged at a time of extreme chaos and hopelessness. In the late 70s, there were prostitutes on Times Square, and then there was the AIDS epidemic of the 80s. The city was a total wipeout. Yet, great music was born.
Lyle Lindgren: The story was just incredible, it just grew in scale every time you uncovered a new detail. It was a crazy Who's Who of artists that spanned so many cities and variations of the genre - from boom bap, to southern rap, crunk and trap. What piqued my curiosity was that this one man had been at the epicentre of every wave as they arrived in the city. Eddie came to America right before hip-hop really began to percolate in the city. He saw that first surge of the block parties and then the crack era as it crept across the boroughs. Coming from Suriname he was somewhat of an outsider watching these moments as they developed. Seeing the dope boys and their fashion evolve: from the tracksuits, to the 3 finger rings, the rope chains - it was access on top of excess. Eddie's business only survives when there's an economy to stimulate style and trade. He has had these gut instincts to set up shop in the city at the right time. It's rare for someone to keep getting it right everytime.
What made you want to pursue dentistry upon arriving in the States? Did you always see this in resonance with the music scene at the time, or did it appeal to you more conventionally? I read it was through a specific accident you had back home in Suriname.
Eddie Plein: I wanted to be the next Pele. I was trying to get on the New York Cosmos team, studying liberal arts at college so I could stay on the team. That's really what I had my mind set on. I'd ride the bus out to Queens to go to school but every Monday I'd read the newspaper and skim over this advert for the Magna Dental School, which featured an illustration of a hand tool drill. Dentistry was never a thought or an option. But when I went back to Suriname for the first time in 10 years, I cracked my tooth and went to the local dentist, and so I'm sitting in the chair listening to them run through the options, and one was a permanent gold crown. I didn't really want a permanent one so I asked if they could make me a replaceable one so I could take it in and out. But it wasn't really a thing, and I'm sitting there and in the corner of my eye I see a Hansel, and I'm asking about his gold crown. It all hit me like a bolt of lightning. That was the moment I first had the idea, and so I walked out of the dentist and I said to my family when I go back to the states I'm going to dental school.
'It was access on top of excess. Eddie's business only survives when there's an economy to stimulate style and trade.'
Lyle Lingdren
Eddie, at school, were you a straight-A student, a rebel, or a slacker? Dentistry requires a lot of studying!
Eddie Plein: I wasn't no straight A. I had too much ball on my mind! I did the work I had to do.
When did you have the idea for removable fronts and grills, and when did that start becoming popular demand in New York?
Eddie Plein: So I went to dental school, and you learn many different things. By then, I was focusing on a specific area, and so if I was gonna do this goatee thing I had to learn about acrylics, crowns and waxing up. I had different jobs working in labs, being on the bench making porcelain crowns and waxing gold crowns but my thing was putting one or two teeth together. That was the start of the grill, or fronts as they came to be known. I really started out at home experimenting on my own teeth, making my mom some sets, sitting at the family stove melting wax and sculpting my first versions.
How long did it take you to master the art? Looking back, do you now view the notion of grills as an art form within the music community? Why do you think musicians feel drawn to removable fronts? It's almost as if there is a mythology behind it. It's over-the-counter-culture.
Eddie Plein: It really didn't take me long to master the art. I'd already been to dental school, worked in labs, etc, so I had the skill set to make it happen quite quickly. I guess the next step that took a minute were all the custom pieces. The Mercedes-Benz logos, the crescent moons, the champagne glasses. That side of things you had to learn on your feet, every customer wants to put their own spin on it, or do something different and that's when it got interesting.
What do you want Mouth Full Of Golds to reveal about your journey and legacy? From Suriname, to New York, and Atlanta. It's your American dream. What people didn't understand until now is that you're a creator, entrepreneur, and businessman.
Eddie Plein: It's the story of one family's pursuit of the American dream. A look at what it takes to become a successful entrepreneur in America. The highs and lows of trying to make it when you don't conform to corporate America. How the flea markets and strip malls gave immigrant dreamers a space to build and thrive. How an idea spread across the country and became woven into the fabric of hip hop culture worldwide.
'This guy came in with a handful of rocks. I'm talking about engagement ring-sized stones. Like 12 of them and he wanted each one set individually on each tooth.'
Eddie Plein
When did you open your first shop? Can you talk me through a memorable encounter with a client? You've fitted the likes of Goldie, CeeLo Green, OutKast, and Jay-Z before they reached stardom status.
Eddie Plein: I started out on the streets in Hillside Avenue in Queens. It was a real money making area with lots of guys getting rich quick and getting fresh, so I had to convince people on the block before I made it into any type of store. But I graduated quickly into the spot called Angelica's Jewelry that was run by this Russian guy named Ralphie who had seen gold teeth back home and saw the buzz I had on the streets so he brought me in. Things were going well for a minute, but then we had a falling out. Ralphie wanted to make the teeth faster so we can make more money but I don't wanna compromise on quality. So that's when I ended up moving to the Colosseum Mall in Jamaica Queens which became Ground Zero for hip-hop fashion. You had the Shirt Kings in there putting graffiti on a T-shirt which had never been done before, Eddie's Gold Caps, Kifram making all of the Jamaican hats with the Louis monogram, and Gucci print with your name embossed. You had everyone coming through there, LL Cool J, Heavy D, Just Ice, Jay-Z when he was a teenager I made his first set of teeth. You have to remember, I was making teeth for these guys before they really blew up so there wasn't a specific encounter that was memorable because it was always a good time! It was great seeing them make it, seeing them in the magazines and music videos wearing my teeth.
What was the most difficult request you've had?
Eddie Plein: The first time anyone requested diamonds was tough. There was this guy called Tommy Montana who was a member of the Supreme Team in Queens. Tommy was a young guy but he'd come through in a Rolls-Royces with the freshest gear on and one day he asked me to make him a set of teeth where the diamonds were shaped like a Rolex crown. I just couldn't get it to work. I'm remaking the grill again and again trying to set the stones in and keep them from sticking out too far and Tommy keeps coming back waiting on his teeth. But once you get it down it's all good from there.
Is there a piece that you're most proud of? For a lot of musicians, they are a second skin. It's an approach to beauty, and part of their self-diagnosed pursuit of perfection.
Eddie Plein: I made these teeth in the early naughties in Atlanta, and for me is the illest Grill of all time. This guy came in with a handful of rocks. I'm talking about engagement ring-sized stones. Like 12 of them and he wanted each one set individually on each tooth. And the stones were big bro. Too big in fact. To the point where we are having to remake the grill to figure out how we can cover his teeth, set the stones and make them comfortable. When they were finished they looked incredible. Completely outrageous! You just knew as soon as the guy opened his mouth wearing that set it was Game Over. It's hard to put into words how audacious they were. I guess that's beauty.
Lyle, what do you want the book to reveal about music's relationship with fashion?
Lyle Lindgren: Music and fashion are intrinsically linked. Musicians are using the art form to express themselves and I think fashion follows the same principles. Grills force you to think about identity, everyone's teeth are different, no set is the same. When the time comes to take a mould, you're having to think about what design you can make work in the canvas that is your mouth, and what that set is going to reveal about you. That was Eddie's gift to the world. The customisation of the dental crown. The chance to make something that shows who you are and how you feel. Marc Jacobs summarised it best in his section of the book: 'With piercing, with tattooing, with grills, it's all indicative of youth culture. It's like every opportunity and creative way you can imagine to decorate yourself.'
'Marc Jacobs summarised it best in his section of the book: 'With piercing, with tattooing, with grills, it's all indicative of youth culture. It's like every opportunity and creative way you can imagine to decorate yourself.''
Lyle Lingdren
Musicians and creatives such as A$AP Rocky, Pharrell Williams and Nigo have been credited for the elevation of this relationship. You've called the last chapter Haute Denture with Eddie being the conduit for Rocky's fronts. As figures who represent both tradition and newness, how do you see the immediacy of opulence being in alignment with removal fronts, style, and personality? They are all implemented by hand - similar to couture, or bespoke.
Lyle Lindgren: Rocky really built on what Pharrell and Nigo had started in the mid noughties. That mixture of street culture and high fashion without compromising. Nigo's Bape was mixed with the Louis Vuitton duffle bags, when Marc Jacobs was at the helm of Vuitton. Pharrell and Nigo were ahead of the curve and the world at large wasn't ready for it. Then there was this generation that grew up romanticising the Bape era on Tumblr, eager to put their own spin on the aesthetic. Rocky and A$AP Yams were those guys and they brought grills back in a way that encapsulated and regenerated this ideology. You see it in the music videos for Purple Swag and Peso. The blonde girl with the bottom gold fronts, Yams' clean diamond-cut sets, all mixed with Rick Owens items. It's about mixing your influences with your interests.
Eddie, how do you see the development of grills in contemporary culture? From gold, to platinum, to diamonds. It's only become more grandiose, but more accessible. Do you think this is because musicians today are closer to the fashion industry from both a creative and collaborative perspective? The teeth have to match the look. Do you pay attention to any of that?
Eddie Plein: I appreciate what's going on now in the culture. I see people using new technology to push things forward like 3-D printing, enamel painting, etc. It feels like anything is possible and that's cool. I can't personally see myself stepping into that world purely because I've always crafted my teeth by hand and I really enjoy the practice of waxing up. I have a style that I created that I'm quite content working with. I will say fronts and grills have always been linked to fashion. It's just that hip-hop and fashion is more mainstream now. What we were doing in the Colosseum Mall in the 80s with the Kings t-shirts, the gold caps, the Dapper Dan suits, it was as inventive as anything happening now but was more underground at that moment in time. I feel like I'm seeing the same things now. It's all cyclical, but I guess with the Internet it's more accessible.
Lyle, Eddie's legacy has often been described as 'forgotten'? Why do you think that is? It's not too dissimilar from Dapper Dan before Gucci's revival. The Arts can often appear unkind in commemorating innovation and longevity.
Lyle Lindgren: I think Eddie's legacy was forgotten because he wound his business down right as the wave of the Internet broke. Up until that point everything had been word-of-mouth, flyers, T-shirts and decals on his trademark Chrysler PT Cruiser. You had the rise of Myspace and the dot-com explosion. These weren't tools that Eddie really utilised or even had an interest in. Competitors Such as Paul Wall and TV Johnny in Houston Texas were making use of social media and websites, operating in a way that allowed customers to view styles and place orders from anywhere in the country. Then the Billboard smash with Grillz really put Paul on the map as the go-to guy for grills nationwide. Eddie didn't digitise his legacy. His story became spoken word folklore and his amazing archive remained. If you don't constantly retell your story on new platforms as the Internet evolves, it becomes very hard for the information to exist in a public domain.
Eddie, what do you want the book to more widely reveal about the subcultural scene surrounding grills, and the progenitorial impact you've had on this?
Eddie Plein: I want the book to reveal the wider journey of grills. It wasn't just New York, we had to follow where the waves went. It was instinctive. You could feel the energy when you touched down in a city. We needed subcultures to survive as a business and so the book shows you how hip hop evolved, how each city got their moment in the spotlight, from New York, to Miami, to Atlanta. Each city had an effect on me and I had to keep evolving to keep up. There was a moment when I was working in a shipyard in Virginia in the early 90's when times were tough, and New York had cooled off. I remember sitting there and thinking: 'I'm not ready to be on the line building boats, I invented something. I changed the face of hip-hop.'
'I remember sitting there and thinking: 'I'm not ready to be on the line building boats, I invented something. I changed the face of hip-hop.'
Eddie Plein
Lyle, what do you want the book to paint about New York? It evokes a specific reportage of the city's subcultural history, which has often been dangerous and as well as aesthetically provocative.
Lyle Lindgren I really wanted this book to celebrate not only the legacy of Eddie but also his family-at-large. His pops was an incredibly brave Surinamese entrepreneur, who chose to go to America over the Netherlands which would have been a safer bet at the time. He took on New York at a really rough time and won, bestowing his kids with an incredible work ethic that birthed an incredible fashion invention. Eddie's honest about his wins and losses - biting off more than he can chew when he's simultaneously popping up on the scene, and losing it all when he won't let go of his ego. It's a different take on the New York hustler's story.
Mouth Full Of Golds is available now via IDEA Books.