Mughal Punk.
British Pakistani designer Asim Khan's debut collection, First Youth, proves that Asim has in fact never dropped a seam.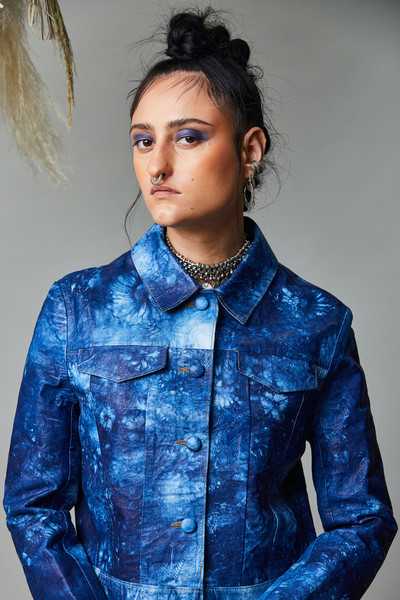 British Pakistani designer Asim Khan's debut collection, First Youth, proves that Asim has in fact never dropped a seam.
It's not every day you meet a new designer who has already spent 25 years in the industry learning how to master his craft before so much as releasing a collection. Asim Khan's first collection, under his newly-launched label 3rd Migration is called First Youth. Demonstrating an almost obsessive relationship in perfecting what will soon become his signature visual tropes, each piece has been gracefully stitched from seam to sole. Asim's layered and laminous nuances of Shibori indigo dyed trucker jackets, Zardosi flower-embroidered trench coats, and Scottish Harris-tweed cut out punk boots have defined his set of skills and in-turn reveal a heritaged and handmade leather capsule collection he has spent over two years in research alone.
With a firmer grasp on his sense of Britishness than most, the cultural mash-up Asim collated to homage the collection echoes the spirit of his youth – all in an artistic amalgam of Britain's 80s streetwear scene. Exposed to punks, skinheads, goths, B-boys and casuals growing up in textile mill myriad Dewsbury, Yorkshire, Asim never felt like he fit into one of those categories, but his First Youth collection crosses all the above and proves he took it into immeasurable detail.
Having graduated from the Royal College of Art with an MA in menswear and a focus on textiles, Asim's graduate collection impressed the likes of cult Italian label Stone Island. In his twenties, Asim was printing soundwaves he generated from oscilloscopes onto a series of outerwear pieces, albeit and probably ironically why he has worked as a material developer at the same brand for the past eight years. Also ironic that Asim is currently based in Manchester; the cultural and clobbered hub of those who worship the Stone Island jacket. Mancunian iconoclasts such as Ian Brown and Liam Gallagher immediately spring to mind.
His First Youth collection is one that shows a true discernment in craftsmanship that could only be garnered over countless hours, days, weeks, months and years of practice. Asim's coup de maître is his flower-dyeing technique emblazoned on leather. Something that has not yet been done quite to this extent. Traveling to Japan, India, and Pakistan over his two-year deep-dive and research process, the apprentice soon became the master and in-turn championed the embroidery and color dyeing techniques of each region. His bold recontextualization of his youth has given birth to a riotous capsule collection showcasing Asim's material masterclass and one that has attracted British institutions such as The Tate and more recently the V&A. 'Being British is not just the representation of the queen. It's the representation of all of the people and surrounding cultures that make up Britain,' Asim tells System. Cometh the hour, cometh the man, cometh the Mughal Punk, Asim Khan.
Your designs are heavily entrenched by the memories of your youth. Let's go back in time. What were some of your first visual memories?
Asim Khan: I was brought up in Yorkshire. When my grandparents moved over to the UK, they settled in Dewsbury. It was because all of the textile mills used to be there and that's where they were able to find work. There were about 15 of us and we lived in a two-bedroom house. When I was very young, I would hear all of these stories about working in the mill. The whole textile element was ingrained in me from my youth. If my family didn't decide to move to the UK from Pakistan, it would never have happened. That was one element and then there was the other. The women in my family would all be at home and they always wore dresses with flowers on them. There was also the kitsch 70s wallpaper I grew up with… It's a combination effect that inspired my design process.
You're currently based in Manchester. How much did the city's 90s aesthetic inspire you? Cool Britannia, Ian Brown and the Stone Roses, Happy Mondays, and obviously Oasis. It's ironic you work for Stone Island as their jackets are more coveted than couture up north!
Asim Khan: It's been my main influence. To have a Stone Island jacket in Manchester is such a big thing. I never had one in my school days because I couldn't afford it but me and my friends used to emulate that whole dress code in what we wore and how we wore it. It's been fundamental to me as a designer. I would always think working for Stone Island would be my equivalent of reaching the pinnacle. The brand was everything to us back then. Now that I've worked there for eight years, it feels like a coming of age moment. My Manchester influences have enabled me to keep pushing things forward as a designer. Stone Island has been and is still my education.
Let's talk about 3rd Migration and your first collection. It's your first endeavor as an independent designer. Obviously the references are so important. To what extent does nostalgia play a part in your process?
Asim Khan: Nostalgia is very important because all the work I create is sewn from my memories. The challenge is trying to reinterpret those memories into a modern context, so my collection speaks this universal language that everyone can understand. The way I've used fabrics, the dyeing process, and how I've styled the collection is rooted in nostalgia but also it's how we view fashion today. I consider nostalgia to consider the present.
'I spent over two years learning how to master the flower dyeing process before considering the collection pieces themselves.' 
Asim Khan
Talk me through the flower dyeing process. What made you want to dye them on leather? No one has actually done that before. You've bonded Zardozi and Hesham embroidery techniques in India onto heritage fabrics like Harris Tweed in Scotland. Is 3rd Migration a sartorial subversion of your past, present, and future?
Asim Khan: The whole idea of flower dyeing actually came from my travels to Japan, India, and Pakistan. Every region within the same country has their own unique process of dyeing. When I went to Japan, I saw somebody experimenting with flower colors and then I saw a similar technique in India. What struck me most is that in Japan, Shibori indigo dyeing is more than a process, it's a religion. I couldn't speak Japanese, but I felt that we spoke the same language. We shared the same desire to master the craft. When it came to prepping the collection, I thought to myself, 'This is interesting but it's never been done on leather before.' The flowers alone represent my past but using the techniques I learned from artisans and craftspeople abroad enabled me to translate my heritage into the modern world. I spent over two years learning how to master the flower dyeing process before considering the collection pieces themselves.
How influential a role has Japanese fashion and their ability to become masters of their craft over multiple generations played in your design process? Obviously there's the Shibori indigo-dyed leather trucker in the collection. The relentless pursuit of perfecting what you do is what is most refreshing about you.
Asim Khan: Japan is a very special place for me. I traveled there over the two years I spent in preparation for the collection. I spent weeks working with these indigo farmers up in the mountains. Learning about their process was one thing, but over there, Shibori is their religion. It's the life and soul of what they do. Brands like Visvim, Kapital, Jun Takahasi's Undercover but also the innovation of Issey Miyake have been very influential to me. It goes back to the balance of tradition and modernity – it's a constant balancing act for me when I'm working on 3rd Migration. I've tried to emulate that with the trucker jacket you referred to. We aren't accustomed to shibori-indigo dyeing leather but the time I spent in Japan equipped me with the ability to pull it off. It's what I do – material research and development. It takes years. Learning the art of patience when designing what I do comes with the ability to master the craft. It's not going to happen overnight.
The footwear is based on what you call 'Mughal Punk,' combining your Asian understanding of color with Harris Tweed and the military boots punks wore in the 80s. The tailored silhouettes are punk in the sense that they are razor-sharp. The design process requires discipline as to not conform to today's sportswear, baggier trends, or dropped seams. It's how you think clothes should fit. What has punk led you to understand about Britain's rapport with image?
Asim Khan: For me, the punk element is Britain. What they did back then was so radical, there was nothing else quite like it, hence why you and I are able to have this conversation today. I was always drawn to the punk movement in my youth, not because I wanted to become one of them like everyone else, but because it was a total contrast to what was going on in my home environment. Being British is not just the representation of the Queen. It's the representation of all of the people and surrounding cultures that make up Britain. If I go to Pakistan, everyone tells me: 'Oh you're British right?' Whereas when I'm here in London, everyone asks if I'm from Pakistan. I'm exploring my Britishness through 3rd Migration. Nothing rustled more feathers in fashion than the punk movement.
You just referred to the state of multiculturalism that makes up Britain. How has your rich understanding of color helmed the multicultural backbone of the collection? The colors are a reflection of your heritage but also your family's heritage, hence the name 3rd Migration.
Asim Khan: There's two elements. First, there are the colors I was exposed to through my ethnicity and South Asian heritage. Those colors come at you from all directions. Everyone in my family had their own way of wearing color and embroidery. Learning how to translate that into a framework of desirability and not to stereotype my roots was always going to be the challenge. Second, there were the colors and patterns I was exposed to when I worked at a store called Hip Menswear in Leeds. I used to go to the Strand and see collections from designers like Helmut Lang and Raf Simons and what they did was so foregin to me at the time. They enabled me to dream. The many shades of grays and blacks formed this muted rainbow. I find beauty in the complete contrast of colors I experienced in my youth.
'Being British is not just the representation of the queen. It's the representation of all of the people and surrounding cultures that make up Britain.'
Asim Khan
The collection is visually helmed by 80s Britain – punk, kitsch furniture designs, skinheads, goths, and of course B-boys. How do you assemble this cultural mash-up? Your design process joyfully plays with British and South East Asian codes – across multiple eras, spanning different settings and various stylistic applications all of which embody the different characters that defined Britain at the time. Yet all of the pieces are handmade and bespoke. The made-to-order and handmade design aspect is not a connection we often make when we think of fashion and subculture.
Asim Khan: First of all, what was really important to me was how each piece in the collection would represent a different chapter of my life. Each fabric helps write that chapter so-to-speak. Leather, cotton, and silk all embody those different cultural mash-ups you referred to. It's not just about the punk aspect, or the current Stone Island chapter of my life when I think about my design process, it's more how each chapter of my life can coexist and transition into a desirable collection. Of course, there is also the fabrication. Harris Tweed from Scotland bonded on different embroidered cottons in the embroidery house in Pakistan is a good example of these cultural mash-ups. I look at things in two separate ways – there is the aesthetic and attitude of 80s Britain but also how I can master the intricacies of the design elements that together represent my Britishness.
You've worked in the industry for over two decades and you've traveled the world to assemble your first collection. Despite the years of experience you have undertaken to master your craft, do you consider yourself a new designer at this stage?
Asim Khan: This whole process has been very daunting. I've worked in the industry for over 25 years, yet I've always opted to remain in the shadows. At times, I preferred that because I can get lost in my world without considering what others think. I produce items for brands like Stone Island and sometimes they'll like it, other times they will want me to rethink and further develop the piece. Now, for the first time in 25 years, I have to think about everything else, meaning I have to worry about everything else… and everyone else!