'I hated wearing the same clothes as other children from a very young age.' Sacai Autumn Winter 2023.
For Chitose Abe, Sacai is her practical rebellion into a familiar unknown.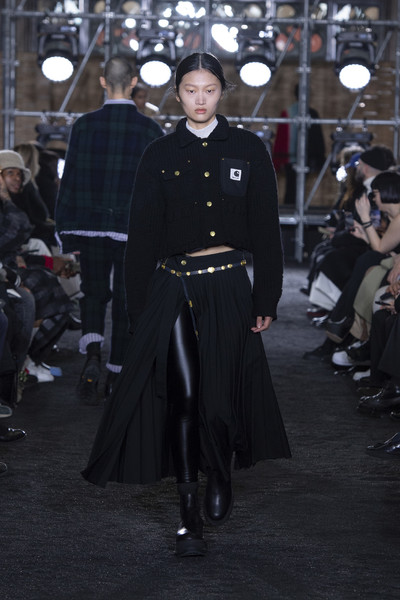 For Chitose Abe, Sacai is her practical rebellion into a familiar unknown.
Chitose Abe's vision for Sacai is the equivalent of entering a celestial planet that already feels inhabited. An appropriate dimension seeing as her Autumn Winter 2023 collection was inspired by Christopher Nolan's Interstellar.
The show took place at Le Carreau du Temple in Paris' Marais district. However the location on this occasion should be deemed obsolete, with the venue being transformed into a 'Sacai-ified' space shuttle. The ground was smothered in asphalt grey dust, with viewers seated on silver cubes as if about to attend a David Bowie concert on the moon, albeit with familiar Sacai music collaborator and industry-favourite DJ Michel Gaubert leading the conduction. The comparison with space is one that should be associated with Sacai. Through an ability to combine music with mythology, sub-cult with cult, and custom with complexity, Chitose Abe has created her own alternative solar system, where her collections aestheticise the juxtaposition, as she calls it, between 'stability and betrayal.'
The womenswear evoked a graceful, yet anarchic undertone, sporting layered leather leggings, sculpted Edwardian trench coats combined with Mods pea coats, and Moncler down. Cropped Carhartt knits and jackets were paired with studded belts and draping black skirts. Oversized satin peak lapel blazers were intermingled with pleated black dresses, as palpable as Issey Miyake's polyformed pleats, revealing how Abe's vision for Sacai is also one you can wear everyday. Models strutted and stomped with platform derby shoes and boots, staging a noir-fuelled cyber punk invasion too subversive for Peter Weller's RoboCop to stamp out. Sacai's menswear endeavours continued down its 'anti-trend' utilitarian path, with multi-pocket parka jackets and cigarette leg trousers, cropped to allow for the same fluidity as the womenswear. Abe spun her own take on the Carhartt Michigan coat for a timeless approach. Heavy knits came in a chalk and midnight navy pinstripe and colour gradient cardigans, with the now Sacai-patented MA-1 nylon cut and sewn into the sleeves of oversized Chesterfield coats.
Since Sacai's Paris runway debut in 2011, Abe has threaded a sartorial disposition in combining what have become staples in cabled knits with traditional outerwear such as denim truckers and infinite mileage of her fabled MA-1 bomber jackets. This season offered a safety orange variation. Despite opting to merge conventional fabrics that Abe's legions of patrons have felt an immediate resonance with, her creations over the past decade have challenged, contorted and capped any notions of tradition and apathetic repetition; a nod to Sacai's evolution since its 1999 tricot inception. To label Abe's creations as mere clothes would be to align them with Paris Fashion Week vestiary rota, spewed out season after season. For Abe's body of work not to adhere to a learned sensibility of genre-bending silhouettes and never-seen-before fabric combinations would mean that she had failed. The rapturous applause at the end of each show would prove otherwise.
Music has, in more recent collections, riffed a chord with Sacai's audience. The women's Fall Winter 2017 collection entitled Wear What You Want When You Want saw Abe take on a cadenced east meets west, meets day meets night, crossover between The Beatles and her clad-combining prowess of trench coats, pea coats and Victorian frocks with simple garments such as flannel shirts and military-meshed green nylon. When asked about her connection with music and its translation onto the runway, Abe attributed this to her long-standing relationship with Michel Gaubert. 'He always mixes the music for the shows that accurately represent the nuances and atmosphere of each season's collection and my emotions at the time.'
Collaboration has gifted Abe's menswear more prominently over recent collections, with graffiti artist Eric Haze prints for Fall Winter 2021, Thomas Mason cotton for shirting and Loro Piana Storm System wool for outwewear. Not to mention, a Dior capsule collection with Kim Jones in 2021, studded Schott Perfecto jackets and Madsaki prints for Fall Winter 2022. The ability to subtly incorporate collaboration elements within the fabrication of Sacai's menswear comes as no surprise and indubitably something garnered under the tutelage of Rei Kawakubo and Junya Watanabe; most evident this season through her collaboration with Carhartt. 'We only want to collaborate with those we have chemistry with in order to create the best products and not to force collaboration' quips Abe on how collaboration is forging Sacai's reputation as an encyclopaedic cultural canister.
Ahead of her Autumn Winter 2023 show, System spoke with Chitose Abe over a rare email exchange to decipher her balance of avant-garde with tradition, why it's important to be different, and how Sacai's regular and radical expression is sheer otherness.
What are some of the themes, references, and motifs behind the Autumn Winter 2023 collection?
Chitose Abe: The collection, from the show theme to the collection design, is inspired by Christopher Nolan's Interstellar.
Why Interstellar ? Do you feel inclined to comment on what you think the future may hold through such a reference, and in the collection?
As you know, Interstellar implies many aspects from climate change, to how to express love in the 4th dimension, but I want to leave the audience to interpret their own emotions about the film and our collection. It's everybody's favourite film!
You've often talked about how your vision for Sacai has to remain wearable and relatable to daily life as a business owner, creative, and mother. How do you balance the new silhouettes you are able to conjure up, season after season, whilst adhering to a form of wearability and functionality?
What I always have in mind when creating collections is the balance between stability, but with a little betrayal. It's the juxtaposition between combining fabrics of conflicting elements and combining them with different silhouettes. Finding the right balance between the two is extremely important. It has to come from my own feelings at the time of creation. I want my clothes to be comfortable, and to fit the wearer from the moment they try them on. I want Sacai to be worn everyday and make people feel positive in the clothing, not restricted, or unconfident.
'What I always have in mind when creating collections is the balance between stability, but with a little betrayal.'
Chitose Abe
Your menswear appears to deal with subculture more prominently, as opposed to the womenswear, which is more focused on silhouette. Is that done consciously, or subconsciously? Your last men's collection altered the conventions associated with Schott Perfecto's, hunting jackets, Loro Piana's Storm System wool, as well as the Madsaki bomber jackets. It evoked a balance of timelessness with 'anti-trend.' Do you feel that menswear should lend itself towards a combination of subculture with avant-garde creativity, in order to create pieces that are universally applicable and understood?
I am not conscious of actively incorporating subcultural elements into my men's collections. I think it is a sense of self-expression that comes naturally, being based in Tokyo. That may come across as subcultural in some cases. Whether it is men's or women's wear, I have more recently been thinking about how to maintain longevity, without becoming oversaturated and over consumed. I want Sacai to feel fresh every season. I feel that we must find a balance between who we collaborate with, whilst maintaining a unique design and timeless items. It offers something that hasn't yet been done, whilst bearing a welcoming sense of familiarity with the consumer.
You've mentioned in the past that you first went overseas in 2011, marking when you wanted to create unique pieces that went against the grain; pieces that injected new forms of volume to classics such as trench coats, nautical tops, and your fabled and cabled knits. For your FW 2011 women's collection, you cut and spliced lingerie fabrics into heavy knits and nylon outerwear. What was it about the notion of travelling abroad, and showing at Paris that brought out such vivid experimentation in pattern making that has gone on to define much of Sacai's sartorial spirit?
The change from a presentation to a fashion show was one of the most significant turning points for me personally. The way of presenting the collection, which until then had been in the form of a lookbook, broadened our approach and starting point for manufacturing. This can be seen through the movement of the model's clothes and the perspective of showing the clothes in motion. I have recently rediscovered my love for showing my collections in the format of a show since being able to travel again following the pandemic.
Your aim to innovate and create something that no one has seen before, whilst being worn for many different occasions, having described yourself as a 'woman with many faces' results in collections that connect with the human condition. Which designers do you feel have achieved this, in the past? I am, perhaps, subtly asking you to tell me which designers you admire, and why you admire them. I am intrigued as to whose work you strive to approach with your own. Or, do you feel inspired by others outside of fashion?
My mother had a sewing job so most of my childhood clothes were made by her. I remember that I hated wearing the same clothes as other children from a very young age. When I was around 11, or 12, I learned about the work of fashion designers on TV, and then my goal was to become a fashion designer. I started making my own clothes that I wanted to wear.
Japanese designers are such incredible completists. Over the years, as spectators we have been treated to numerous variations of the same leather jacket, or in the case of Sacai, an ecstasy of varying silhouettes and fabric combinations, catalysed by one MA-1 nylon bomber jacket. What is it about the fascination around one garment that leads to such remarkable variety, and often a compulsive relationship with one item?
For Sacai, design starts with the idea of how to combine timeless items and make something interesting, yet simple and functional, or something that cannot be found anywhere else. We have continued to pursue our unique style in its own context, in terms of pattern making rather than a focus on history. It has been more than 20 years since we started the brand, and as we have continued, we have found fabrics that symbolise the brand, such as nylon twill, denim, and lace. They have become signature fabrics for Sacai due to their compatibility with other fabrics and the three-dimensional look of clothes.
You've mentioned the nostalgia you experienced during the pandemic. Do you ever look back at your own work? Is there a sense of self-examination at all, or are you always anxious to move to the new and the next, to push yourself towards the future?
Although I often refer to past fabrics and silhouettes as references for collections, I am always thinking about new designs and what I value to make Sacai even stronger. This is not only for how I make clothes, but also for how we present the brand. We are constantly thinking about how we can make the brand more interesting and in-tune with the times and era we are living in. I always tell my staff that I don't want to do the same thing as before because that would be so boring!'
'I always tell my staff that I don't want to do the same thing as before because that would be so boring!'
Chitose Abe
Music seems a particular source of inspiration. You've created collections inspired by The Beatles entitled Wear What You Want When You Want (very much the Sacai ethos) for Women's FW 2017, and George Clinton's One Nation Under A Groove for Women's SS 2020. What is it about music that inspires you? Is there something in its omnipresent connection, its emotional resonance for so many people, that you find attractive?
I have been working with Michel Gaubert for a long time on all of the music for my collections. He mixes the music for the shows that accurately represent the nuances and atmosphere of each collection and my emotions at the time. Working with Michel has made me more aware of the importance of the musical element in taking my collections to a higher dimension. I believe that music is a very sensitive divide that expresses the zeitgeist of the moment.
'I believe that music is a very sensitive divide that expresses the zeitgeist of the moment.'
Chitose Abe
What does collaboration offer you in terms of creativity and newness? You've put together a string of projects with the likes of Nike, Cartier, and KAWS. You were the catalyst for Jean Paul Gaultier's couture resurrection, and you've just collaborated with Moncler, to name a few. Does a desire for collaboration come from your personal nuances with fashion and sub-cult in order to make Sacai a more global entity?
When starting a collaboration project, what I value most is that the project must be with brands that I am personally interested in and passionate about. For example, I wanted to experiment with down so I worked with Moncler, the same applies for sneakers with Nike. We were able to combine elements that we have in common to make the best products. We showed a collaboration with Moncler for this collection, but the reason we worked with them this time was not because I felt motivated by their technical aspects, or product creation, but by a deeper curiosity into what kind of interesting projects we could do with a global brand like Moncler. To reach a different and more international audience, and for them to experience Sacai. Collaborations feel most organic when derived from our world and network, where we know we have mutual visions in-sync with Sacai. We only want to collaborate with those we have chemistry with in order to create the best products and not to force collaboration.
'Fabrics are the best way to express the unexpectedness of appearance.'
Chitose Abe
Could we possibly talk a little about your design process behind the Autumn Winter 2023 collection? Is there a great deal of physical work with patterns and fabric, with manipulating cloth? Or do you work more conceptually? Do you have a large team to help?
Sacai's manufacturing process starts with fabric creation. It goes back to what I was saying about the balance between stability and betrayal. For example, fabrics that look heavy at first glance are actually light, or fabrics that look hard look are actually soft. Fabrics are the best way to express the unexpectedness of appearance.
The collection development process starts with the idea of fabric development and moves to the combination of design with fabric.