'Signature is my life. It's my identity.' Simone Rocha Fall 2023
What happens when Simone Rocha lands upon a collection of conceptual conceptualism.
By Rahim Attarzadeh
Portrait by Ben Toms
Film by Duck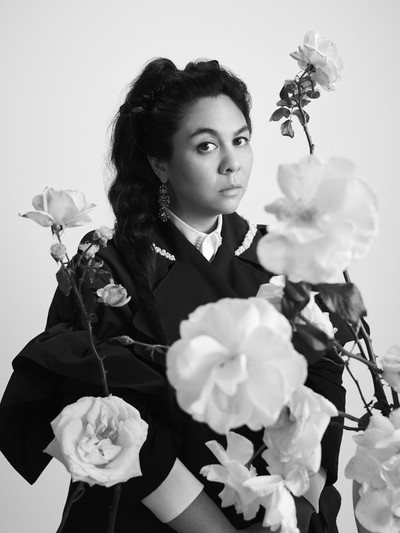 What happens when Simone Rocha lands upon a collection of conceptual conceptualism.
To say that Simone Rocha cares would be an understatement - an overwhelmingly underwhelming one at that. Very few designers nowadays can be marvelled at in sheer wonderment, or as revolutionaries who have gone about changing the course of contemporary fashion. The thunderous applause and beady-eyed praise-heaping 'who's who' of press gatherings at the end of each show supports such a revered testimonial.
Since launching her graduate collection at the Tate Modern in 2010, Simone has taken the world by storm with stratified, laminous, monochromatic creations that have defied conventional notions of beauty, femininity and docility, with radically-subverted distorted ideas on how shape and form should relate. For over a decade, Simone has become a London mainstay and ineludible influence. Without her, a city often regarded as the subversion of sartorially-spiked sub-cults would not have birthed this dusky-coaxed framework of inducement, incitement and real intrigue surrounding each collection. Simone's perpendicular deconstructed conceptualism empowers the clothes to do more than talk, or rather sing in congruous harmony.
With momentous consistency, working mostly in dark hues and using billowing silhouettes, Simone has built an entirely personal body of work that is testament to her sensitive, yet cyclically challenging tailoring. Her pattern-cutting listens to her ingrained desire to convoke fabric into a universal understanding of her Irish-Cantonese heritage. In other words, the less Simone changes, the more she develops, which makes her collections beguiling and bewitching.
For Simone's Fall 2023 collection, there is more. More emotion, more evocation, and deservedly more elation. The designer understands the power of image and the necessity to be open to new ways of achieving the same signature, as shown through her menswear undertaking, which debuted last season and was equally expeditious in receiving now customary exceptional reviews and recognition. 'There's both a contrast and balance between the men's and women's. At the same time, they are a very natural crossover when it comes to the fabrication, silhouette, and handwork' Simone tells System.
The show was an homage to Lughnasadh, which is the Irish Autumn time. A poetic landmark, to which the collection broke folklore and fable to reimagine upbeat exemplars of emotional creation. Those familiar with Simone's work are aware of her existential and empirical feats of fabric manipulation and visual storytelling. Metallic evening gowns, leather blousons, red lace, and shimmering pinstriped coats formed Simone's native premonitions for this season's offering. A punk at heart, her designs remain provocative and fervent, well-informed of tailoring as shown through beaded point-collars, naval satin scarves and interlacing haystack dresses, further pushing the boundaries of what can be accepted as modern fashion through a reimagining of her own past, present and future.
System sat down with the auteur pattern cutter to discuss and splice her monophonic approach of designing the utmost coherence, exuding a noir aura of familiar exoticism and allowing her creations to give the wearer a symmetrical intensity of glamour and grace.
Let's start in the present. Talk me through your Fall 2023 collection. The themes, references and motifs.
Simone Rocha: So the new collection takes inspiration from Lughnasadh, which is the Irish Autumn time. It has all these amazing traditions around them. There is also a kind of ritual and ceremony around this time of year and I've looked at bringing that into this collection. This season I'll be showing men's and women's together again. I am really interested in developing the relationship between both collections.
How do you see the balance and the juxtaposition between your men's and women's work?
Simone Rocha: I think it's exactly those words - balance and juxtaposition. There's both a contrast and balance between the men's and women's. At the same time, they are a very natural crossover when it comes to the fabrication, silhouette, and handwork. As I am designing both collections from one narrative, the men's and women's become their own characters.
I don't want to pry too much, but as this piece will be published imminently after your show, I thought it would be good to speak, even abstractly, about your state of mind at the moment. What are you thinking about and considering that may be reflected in this collection?
Simone Rocha: For me, it's such a privilege that every six months, I get to say something and show that to the world. I want to treat this collection as an opportunity to explore this Irish narrative, which is very close to home. I really wanted to treat it as if it was a play, or a song. My state of mind is this urgency to really show something, even if it is just a fashion show. It's an opportunity to share a story, and one that is personal to me.
Does the process of thinking about garments, and your way of expressing the collection through that storytelling narrative occur separately, simultaneously, or severally?
Simone Rocha: Very simultaneously. From the very beginning, I am always thinking about the narrative of the whole collection and the characters that are represented through the clothes. It's also about who wears the clothes and how they feel within that space. I want the clothes to feel as personal to the wearer as the story and concept does from my point of view. That connection occurring simultaneously with the design process is something that I've always loved and enjoyed.
'Signature is my identity. It's my life. It's as if it's my blood and my collections are my godson.'
Simone Rocha
You've mentioned the importance of your roots and heritage, and incorporating that within the collection. How do you translate something so personal and nuanced into this universally stylistic set of codes that resonates with the wearer? There is a convergence of intimacy from your creations to the industry's reception.
Simone Rocha: That's always been there. This sense of nurturing and mothering the collection. To successfully create a world through my label, how I've interpreted and translated the clothing has to resonate with others. I feel that if I'm making clothes that are stemmed from a motion, or memory, or an urgency to feel emotion, then other people will feel the same way. That's how it becomes universal - when it's not just coming from me.
There are underlying signatures within your work. I won't list what you already know. What is the importance of having a signature, of digging into one theme, and developing this collection-after-collection? Signature is a Simone Rocha sixth sense.
Simone Rocha: Signature is my identity. It's my life. It's as if it's my blood and my collections are my godson. My identity is shown through how I think about clothes. Translating that into clothing has come naturally to me. My collections are an oil painting in disguise. There is this underlying verse of femininity which I evolve, and sometimes challenge every season. I can have this inner-fight with myself, where I felt that I have suppressed this challenge in past seasons. But it is my beating heart. That is an identity I can live with. I'm happy to have those conversations with myself because it means self-progression. Not just in my scenario, but it's important for every designer to feel the same way. It's difficult if you're forcing yourself to find a new language every season. That's when things get complicated!
In an interview you did last year, you mentioned that for you, the personal, if not political, is sartorial. What do you want this collection to concertedly provoke and evoke in the wearer?
Simone Rocha: How I really want people to feel in my clothes is powerful. I want them to know what they're wearing and hold on to that sentiment. It's not throw away, it's throw on. There is a strength to that ideology. What truly inspires me is that there is both a fragility and suffocation to the clothing. I love crossing that line between the two because it creates an armour. However, there is still a vulnerability to the clothes and that's what I want to harness in both the men's and women's collections.
Previous collections would suggest you have literally harnessed the two! How do the fabrics aestheticise that distinction?
Simone Rocha: (Laughs) Yes, literally harness! This collection feels like it's come from the ground up. The roots and the earth. That's then reflected in the fabrication. Whether it's something humble like a wool twill, but then I'd also bring in the lap of the sea and the wet against the land with a buttery Napa, so you feel that smoothness. Sometimes, I just want to do taffeta. Fabrication and emotion are always intertwined.
'Whether it's something humble like a wool twill, but then I'd also bring in the lap of the sea and the wet against the land with a buttery Napa, so you feel that smoothness.' 
Simone Rocha
Do you see an interest in making familiar things look new and fresh? So many designers are fixated with this idea of newness – what is your response to that, does it interest you? What are your feelings on innovation within your signature? Is it something you actively seek in each collection?
Simone Rocha: I'm not anti-newness, but it's not the main objective. Do you know what I mean? As designers, I do sometimes think we need to be challenged and it's just as much our responsibility to challenge others. We all need to be stimulated creatively. But I have to be true to myself. It has to come from the hand and the gut. The challenge is to find new narratives within something that already feels so personal. I'm not going to pretend to be a technology queen! There is a place for newness, but not when it's forced. If the desire to bring out something new overpowers the framework for the collection, then it can be difficult to get back on track.
Your name is one associated with independence and autonomy. Are you more conscious of the importance of ownership and independence, and are they now part of the driving force behind your modus operandi since your label's inception in 2010?
Simone Rocha: Independence is imperative because it gives you power. It gives you freedom, but it also comes with huge responsibilities. It can be a killer.
Simone Rocha: Absolutely. Independence is not something I set out to achieve. It's just very natural for me to operate in this way. I'm very proud that after a decade, I've managed to keep a label that still intrigues, inspires and delivers.
Have you ever at all been concerned about how your work is perceived by the fashion world and your customers? Is industry response, or opinion something that you pay any attention to? Does the personal attachment you have to each collection make you pay even more attention to the above?
Simone Rocha: I think we all like to say no, but that would be a lie. It's impossible when you put so much effort into one collection not to care about the response you get. It's like if you cooked someone a meal and you gave them food poisoning, you'd be affected. It's wonderful to be respected by people in the industry. The thing that means the most to me is the respect from other designers. Female designers are re-emerging and to be aligned with the likes of Molly Goddard, Emily Bode, Martine Rose, and Grace Wales Bonner means something. We have all forged our own labels and our own identity. Telling our stories in our own way.
'How I really want people to feel in my clothes is powerful. I want them to know what they're wearing and hold on to that sentiment. It's not throw away, it's throw on.'
Simone Rocha
How do you approach silhouette as a vehicle that drives your vision for the evocative, that tells those stories? Silhouette gives your collections a voice. Can you expand on your relationship with silhouette for this collection?
Simone Rocha: It's the balance of where it sits on your body, and what you want to reveal, and what you don't. As a designer, the uniformity of those thoughts gives you security. I find there is more security when you use a lot of fabric. It's challenging when you place that on the body. For this collection, the silhouettes are more heavy and anchored. Some of them have more discipline and structure, and that is a lot harder. I love that they are more grounded. I've also looked at volume - what needs to have volume, and what needs to be muted.
We spoke about the emotional connection you have with your clothes and how that translates on to the wearer. With a Simone Rocha piece having such a defined and identifiable aesthetic, and therefore speaking to a more specific demographic, do you think that it's important for you to meet the clients themselves before the show? Do you meet the clients at your stores and at Dover Street Market?
Simone Rocha: What's been amazing about having my own stores and the level of attraction associated with Comme des Garçons and Dover Street Market is that I get to see face-to-face who is interacting with my clothes, and who's buying them. Sometimes it's exactly who you'd expect, but things get interesting when it's someone you don't expect at all. That's truly amazing. Fashion offers a variation of interaction like no other industry. I think it's important not just to see how my clothes look on the customers, but to hear what they think about the clothes. Then, you sometimes hear from loads of kids on Instagram. That still feels new to me!
Someone once told me that Instagram is the skeleton key to the world library of information. Everyone wants to prove they bought the t-shirt, but no one cares for what's on it. Legacy, proof, and self-documentation have ironically fueled a lack of real opinion, or insight. Has social media led you to believe that people do, or don't, really have an opinion? Do you care for social media at all?
Simone Rocha: I think it can be a great platform to share information, but when used correctly. I don't want to say that Instagram is dead. It's just turned into a commerce destination. That's not what it was when it started. Whilst we all recognise the fact that we need to sell clothes, I don't think of Instagram in a 'fashion way' at all. It hinders creativity. It's a pinch of salt type of situation.
'I feel that if you put my collection today, besides a piece from four or five years ago, to a piece from my MA collection, all the way back to my BA collection, you will know it's designed by me.'
Simone Rocha
Family and heritage are very important components of your brand identity and what the name Simone Rocha represents. It seems to me that this has always been very important to you at a time when identity has been challenged in the industry. Has it been a conscious choice and how has working with your family from your label's inception catalysed individuality, where, in some cases, such intimacy could lead to the opposite.
Simone Rocha: Like all families, it can be nurtured and it can be challenging! Ultimately, it is amazing that we have been on the same page for so long, and the creativity that births from that. What's most interesting is keeping both my parents happy when one is Irish and one is Chinese. I'm a byproduct of two completely unique identities and I'd always want to explore that in my work.
As a Chinese-Irish designer, who's collections balance the cultural and sartorial interdependence between the two, how do you see yourself at this time? In terms of identity and creative expression, have you ever gone through a period where you've leaned more one way than the other, despite being born and raised in Ireland?
Simone Rocha: As I grew up in Ireland, it is where I am really, really rooted. It feels like my nationality. I have a very big family in Hong Kong and I've been visiting there my whole life. It just swings and roundabouts some collections. Sometimes, it's exploring somewhere I haven't been. Those collections were more about exploring the journey of how I got there, rather than the destination. It goes back to what I was saying about designing around my emotions. There have been times where I don't want a collection to be personal at all and I look into a completely different subject matter. Those are often part of the family debates!
Has your approach to design shifted over the past decade? Or do you create clothes for the same reason and with the same set of goals and ideals as when you began? Furthermore, what are those goals? What do you want your clothes to express, to educe? It seems apparent that each collection is timeless - they can all sit next to each other in perfect synergy.
Simone Rocha: I feel that if you put my collection today, besides a piece from four or five years ago, to a piece from my MA collection, all the way back to my BA collection, you will know it's designed by me. It's how I genuinely feel about clothes. They have followed different themes, but they all talk to each other in the same way. That is something I will continue to do. It's never going to feel like something completely alien. I just really hope they give people strength. I love it when things don't feel dated.