Fashion Week Diary: STYLE NOT COM
After attending the Spring/Summer 2023 menswear and Autumn/Winter 2022 Haute Couture shows, fashion's favourite fly on the wall shares his thoughts.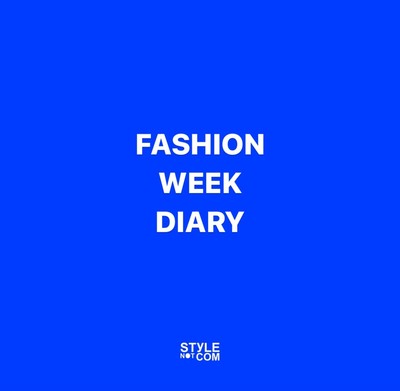 After attending the Spring/Summer 2023 menswear and Autumn/Winter 2022 Haute Couture shows, fashion's favourite fly on the wall shares his thoughts.
Hello Fashion TV, it's Beka from STYLE NOT COM. I'm reporting for System after finishing another fashion week, but, no, it wasn't just "another" one – not for me, or the industry – it was actually a very special edition, filled with everything that we love fashion for. I was lucky enough to attend most of the menswear and Haute Couture shows over the past two weeks in Paris and here are my (still) raw emotions from 12 runway shows of the Men's Spring/Summer 2023 and Haute Couture Autumn/Winter 2022 season – expanded from Paris to Arles and even Marrakech.
Bianca Saunders
Spring/Summer 2023 menswear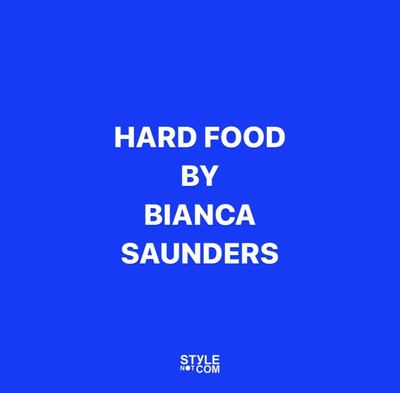 I actually changed my flight from Milan to Paris from 9am to 6am to arrive early and make it to Bianca Saunders' show in Paris. But, then, you all know what's happening in today's aviation world – the flight was delayed, then there was the longest traffic on the road – so, I could not make it there. Disappointing! Especially because I love what she does!
Hard Food was the title of the collection that Bianca Saunders, the British-Jamaican designer, presented in Paris. Hard food is a traditional Jamaican meal, which in reality, when tasted is the complete opposite of its name. So was her collection, even if many of the pieces felt easy and breezy, techniques made them all hard-er. As Saunders mentioned, she had more time and possibility to develop details, including fabrics, that looked smart and beautiful – I loved those small twists on shirts and jackets so much! But, then, what also made people talk was Pam Boy's appearance on the runway – not only once, but twice. He told me he only wants to do that now…(OK, joke).
Later, I was sitting next to Bianca at the dinner and asked about rumors going about her joining one of the major fashion houses, as a creative director. She said: "I really enjoy what I do now". I forgot to ask if and how she spent the €300,000 that she won at the Andam Prize last year, but she looked happy. Anyway, it's an exciting time for Bianca and it will be a pleasure to watch her make her way up.
Y/Project
Spring/Summer 2023 menswear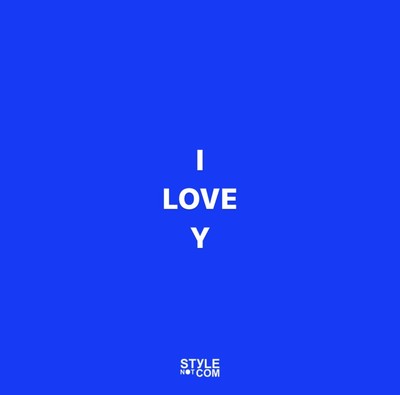 The sound of rocks – that's what we first heard at the latest Y/Project show. The runway was made of them, where, we could also hear plastic shoes made in collaboration with Brazilian brand Melissa, watch the new Jean Paul Gaultier trompe-l'oeil prints along with the brands signature denim sensations, and feel the 'fuck you' with the middle finger earrings. It was great fashion, staged in one of the greatest French high schools – Lycée Victor Duruy.
After the show, I was at the System magazine dinner at Rick Owens' house. I went through the Glenn Martens interview inside the latest issue and suddenly I looked around and saw him sitting nearby. I was like, 'OK, I have questions!'. We talked briefly about a lot, he speaks very fast. We quickly went over the past few months of his career which included showing three completely different brand collections in just 55 days. He told me it was challenging to do Y/Project, Diesel, and Jean Paul Gaultier haute couture at the same time but he nailed it! He's all about the details, so he loved that I noticed him wearing the Diesel logo t-shirt at the finale of the Y/Project show – I thought it was cute. Then he invited me to go to Cicciolina, but I was too tired, so instead, I stayed to watch the beauty of Naomi Campbell for a few more hours, who was in the same room.
While writing this, I am looking at my new fabulous Y/Project double-collar jacket with a scarf (thanks to big discounts this season) and I'm ready to boil in the 37-degree heat. Glenn, I'm on your team!
Dries Van Noten
Spring/Summer 2023 menswear
"Oh, Dries was soooooo good," was a phrase you heard a lot over this season. Who doesn't love some Dries Van Noten? However, this season was a very special collection, a sort of comeback – it was the designer's first physical runway show in more than two years and he brought us to the rooftop of a car park in Paris. As Dries said, you can see all kinds of men in this collection: cowboy, dandy, garage scene grifter, sleepy daydreamer.
And then… Logos? At Dries? A New Dries. Why not? The young kids are crazy for it and if it brings them into Dries' world, they will mature as a perfectly dressed society. I'm personally very excited to see how it all transforms into the women's collection in September.
Loewe
Spring/Summer 2023 menswear
Grass growing on clothes – it might sound like a fiction but with Jonathan Anderson it's an actual fashion. I had to zoom in to the max on my camera to find out if it was actually real plants on clothes and shoes. It turns out that Jonathan worked with Spanish bio-designer Paula Ulargui Escalona to actually grow various plants on actual garments (the process takes 20 days). He later revealed that they plan to sell these pieces in-store, not with grass but it will come with seeds so you can develop your own Loewe greenhouse.
According to Jonathan, we are also now walking screens. Models appeared with Shutterstock videos playing on the screens that were used as face shields or attached to coats. I wonder if there's a possibility of loading your own show onto them – it could be fun, but also a bit scary too. Lots of people said it was Jonathan's best Loewe menswear collection ever. Truth be told – I love Jonathan's work in general, so I more than agree!
Hermès
Spring/Summer 2023 menswear
Receiving an Hermès invitation is a vibe!. It's giving luxe! Then you go to the show, which is staged outside. And it rains. A lot! Although, the weather god Hermes had probably asked Zeus to take care of it, and it stopped, so the show started. I was sitting next to Clara Cornet and as each looked passed we whispered to each other how much we loved the lagoon, lemonade, lilac, and bubblegum colors that appeared in front of us – it was like a rainbow after the (actual) rain. Then, those diamond earrings came out and we were completely sold! It's interesting to see Véronique Nichanian as the creative director of the Hermès menswear line for 34 years, but it looks relevant and fresh.
At the end of the day, these are clothes that many of us (including me) actually want to wear. As a collector of shorts, I don't think anyone cuts shorts like Hermès, or the pants or the jackets - the list goes on. Can I please have a (big) discount to get it all?
Thom Browne
Spring/Summer 2023 menswear
While walking to Hôtel de Crillon, I thought we were going to see the usual Thom Browne presentation/performance, but I was wrong! We were all wrong! Sure, it was a spectacle, but a very different one!
The show started, but then suddenly stopped because some 'guests' (Marisa Berenson and Farida Khelfa among them) were 'late'. The spectacle continued with tweeds after tweeds after tweeds – jackets, shoes, anchor face accessories, and jockstraps! Yes – there's a luxury tweed jockstrap on the market right now! Can it become the new Thom Browne skirt? Who's going to wear it? Only time will tell… After digesting it all in my head, I understood that we have seen a full-scale men's haute couture show there. Imagine if Chanel had a men's line…
Celine
Spring/Summer 2023 menswear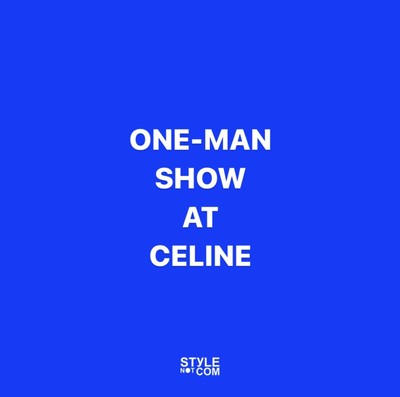 After receiving confirmation to attend my first ever Celine show, I knew it would be a special moment. I prepared myself as if I was going to prom: perfectly shaved, ironed, and moisturised.
There was a lot to celebrate, it was the 20th anniversary of Palais de Tokyo, where also 20 years ago Hedi Slimane first showed his Dior Homme collection. It was also the comeback of the physical Celine runway show. I arrived at Palais de Tokyo and saw a sea, no, an ocean of people waiting/shouting/screaming outside. It felt like a Hollywood movie premiere. I later found out that they had all come to see Lisa from BLACKPINK and V from BTS and had been gathering outside the venue from the night before. When they arrived, guests who were already seated ran out again with the phones to get the best possible angle. Then, the doors closed and the show started.
It was the grand finale of Paris men's fashion week, but I would say it was more of a rock and roll concert rather than a traditional runway parade. From the opening show of lights, Hedi's signature looks, the models' attitudes, and the original soundtrack commissioned for the show – everything had Hedi Slimane written all over it. Probably because he created, styled, staged, photographed, produced, the list goes on… At the finale, Hedi himself looked like a rockstar too and my friend joked that he's the Kate Moss of designers. Kind of true, no? We all know Celine is a one-man show, but he is a great showman!
Jacquemus
Autumn/Winter 2022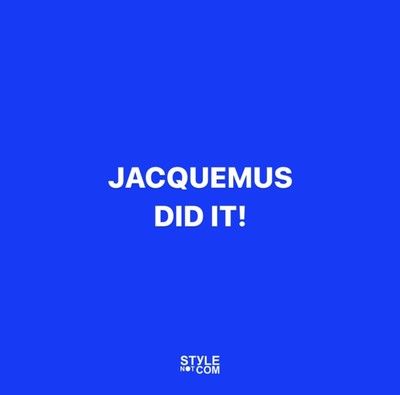 The train from Paris to Nimes – packed with fashion editors, influencers, Loïc Prigent, and Lucien Pages – was two hours late because of an electricity issue, but nobody complained because the love for Simon Porte Jacquemus is much more important than any lost time. We finally arrived and the show production team quickly organised one of the most delicious lunches I've ever had in France.
Before going to the venue, I did some research about Arles (the city where we were staying) and found out that it was the favourite place for Picasso, Gauguin, and Van Gogh because of its special, southern light. It's a beautiful city indeed, and the actual show location was no less beautiful! We were taken to Camargue, to the salt mountains, all-natural, white, and clean like paper – the starting point for Simon while creating the collection which was logically titled, Le Papier. He told me he really wanted to start from zero this time, to feel the new era of Jacquemus while slightly thinking about his early collections that were echoed in some of the looks. He also had his upcoming wedding in mind – which explains the white tulle worn by both male and female models.
The party was right behind the salt mountains – it looked like Burning Man, but more chic! Simon is known for his love of dancing and he also wants everyone to have the best time, that's why we had an unlimited supply of the real hard drinks. Around midnight, it got really cold and windy there and the only choice was to dance to feel some heat. So, we danced!
Chanel
Haute Couture Autumn/Winter 2022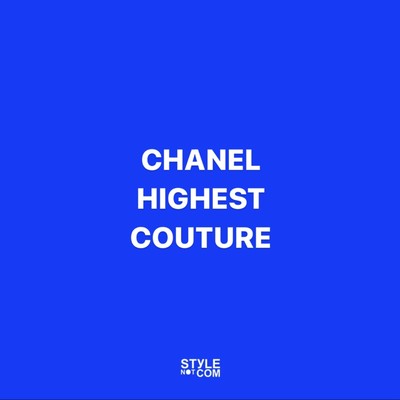 A few days before the Chanel Haute Couture show, I had the honour of visiting Coco Chanel's apartment on Rue Cambon. After spending an hour there, it made me understand how practical she was – everything was made for her own comfort: chair width, table height, door placements. Then you look at her original creations and ideas for the brand and you realise that was just her way of life. After all, she is the woman who sort of invented the strap on a bag because she was tired of carrying it in her hand all the time.
Whatever you might say, at the end of the day, these couture clothes are worn by real women and they are made with exquisite materials and thousands of hours of craftsmanship to fit like a second skin to the wearer. After the show, I had a chance to walk out alongside Cathy Horyn and she mentioned that after all her years in the industry, she is still surprised at how people still call wearable couture clothes boring. In reality, Chanel couture pieces are not just what you see in the pictures, they're much, much more. Details matter, a lot!
The Autumn/Winter 2022 couture show is one of those collections and it will be very popular among Chanel's most important – AKA richest – clients, since it's a balance between the practicality of ready-to-wear and the expertise of couture. The show featured cowboy boots that put Chanel's 'CC' logo mark on the sand (which was the actual runway) and that's everyone's number one wishlist item for next season. It comes with a couture price tag though…
It's a different league, it's the highest couture, it's Chanel!
Balenciaga
Haute Couture Autumn/Winter 2022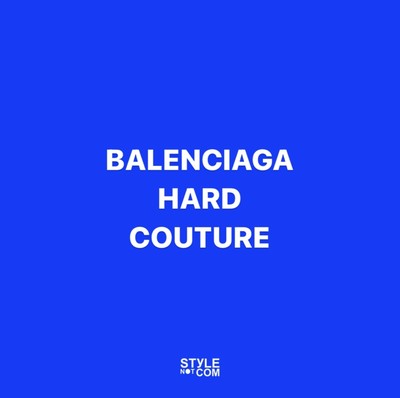 Christine Quinn is not only selling sunsets now, but couture too. So does Kim Kardashian, Dua Lipa, and Nicole Kidman. Even though I'd heard about this cast before the show, seeing them on the actual runway still had that 'wow' effect. I was not among the 154 show guests, but I cleared my schedule an hour before and after the show to watch the livestream – it's a traditional Balenciaga show ritual for me.
Covered faces might not be something groundbreaking coming from Demna, but those face shields (made in collaboration with Mercedes-AMG F1 Applied Science) worn with scuba suits that were like a second-skin for the models still left me impressed. I have so many mixed feelings about those looks – love, fetish, fear – and they perfectly express the desire of being invisible in today's world which has become as exclusive as couture.
Shirts were made with aluminium, belts were used to make dresses, and recycled watches were transformed into necklaces. Then, there was the dramatic finale wedding dress that had 200,000 sequins and over 7,500 hours of embroidery. The speaker couture bag – made in collaboration with Bang & Olufsen – definitely broke the internet and it became one of STYLE NOT COM's most popular posts ever. If you're really into it, it's there at 10 Avenue George V, in a brand new Balenciaga couture store for €8500 (I was expecting more, to be honest).
It was not just haute, but a hard couture show, pushing buttons not only in your eyes, but in your brain too. I could talk about Balenciaga endlessly, so better to stop… for now.
Jean Paul Gaultier by Olivier Rousteing
Haute Couture Autumn/Winter 2022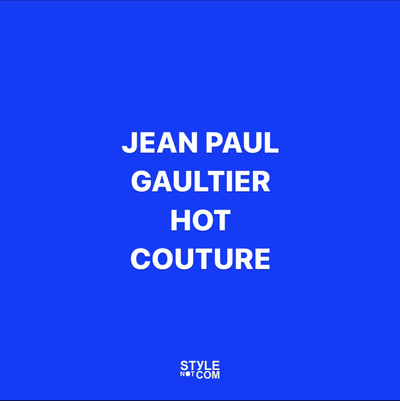 It was a hot, hot couture show at Jean Paul Gaultier HQ on Wednesday evening – starting from the actual temperature in the venue and continuing with the looks that walked down the runway. Paris had been buzzing about the show for weeks, then silver posters appeared in the streets, announcing the grand premiere of Olivier Rousteing's one-off collection for the legendary house.
Olivier mentioned that he created around 200 sketches when he started working on the collection. 58 made it to the runway and one was put on every seat at the show as a memory. The show started with a surprise parade of 14 menswear looks and then we saw perfume bottles and their metal cans transformed into dresses and shoes – the most notable being "Le Male", that Rousteing remembers from his father. Of course, Olivier did not (and could not) forget about the cone bra, stripes, and tattoos – all of the icons from the Gaultier archive.
Most of the reinterpretations looked so good that Gaultier himself could not stop applauding and I heard that he wished that some of Olivier's ideas had come to him first. What's also interesting is that Gaultier prefers not to see any pieces before the show – it was the same with Glenn Martens last season – since he prefers to be surprised.
With this show, Rousteing declared that he is more than what we see at Balmain – where he actually presented his first-ever couture collection back in 2019. After the show, I asked him what the first thing he would do when he leaves and he said "pyjamas and Netflix," – we can do that too!
Saint Laurent
Spring/Summer 2023 menswear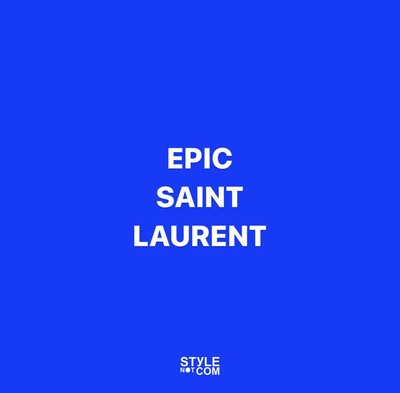 And you thought the season was over? Not really!
Ever since I heard about Saint Laurent hosting the show in Morocco, I felt it would be epic. And in reality – it was! I am lucky I could see it all in front of my eyes, not on a screen, but in Agafay desert, in Marrakech. Driving from Marrakech to the location was an experience itself – you could spot camels, quads, night camps, and then – a huge billboard with Saint Laurent logo.
It's not a news that Marrakech was an endless source of inspiration for Yves Saint Laurent, he used to spend lots of time there and we can clearly see the influence in his collections – but, that was not actually the case with Anthony Vaccarello, who presented his third standalone men's show in Marrakech, after Venice and Malibu. As he said, he trusted more to his feelings, sense of freedom, rather than deep connections of Yves Saint Laurent to the city. Although, brand codes were there – the tuxedos, shoulders, fabrics, the attitude – it was all very Saint Laurent, but also very Anthony himself, who very gently puts his own marks to the brand.
Right after the show, I asked Vaccarello where he could go next, he said, he does not know yet, but considering what we have seen already, we are excited to say 'epic' again.
P.S. To get to the show, I had to travel for 24 hours, through four countries and three airlines, 6292km in total – but, I love fashion that much!
See you on Instagram,
Beka.