Epilogue. Sies Marjan.
The Colors of Sies Marjan – published by Rizzoli – chronicles the prismatic legacy of the now-shuttered brand founded by designer Sander Lak.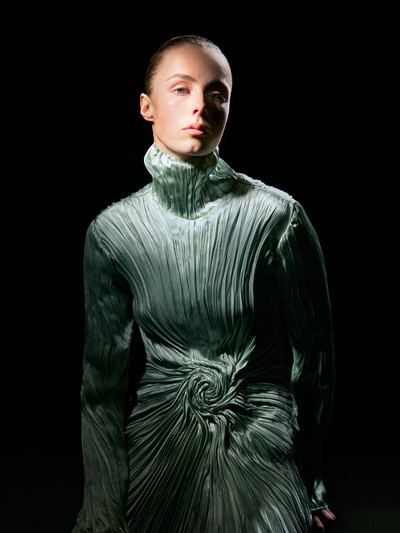 The Colors of Sies Marjan – published by Rizzoli – chronicles the prismatic legacy of the now-shuttered brand founded by designer Sander Lak.
A fashion brand shuttering before its time is an unfortunate thing – leaving fans desperately searching for a few final treasures on eBay or The RealReal.
For Sies Marjan's colourful cult following, this regrettable day arrived on June 16, 2020, after the brand's founder Sander Lak – former design director of Dries Van Noten – announced that the brand was closing after five years. 'What we have worked on has been a dream come true,' he said in a statement at the time. 'We have built a singular brand whose legacy is not just in the clothes and collections but within each person who contributed along the way.'
After arriving in 2015, the designer revitalized New York Fashion Week with his prismatic collections, earning him the CFDA Award for Emerging Talent in 2018. Luxe and loungey, his menswear and womenswear was livened by its adept use of colour: luxurious jewel tones, kaleidoscopic ombrés, and delicate pastels.
Without the proper opportunity to say goodbye to the brand at the time – while we were deep amid the pandemic – what better way to honour the sadly short-lived legacy of Sies Marjan than through its raison d'être: colour. The Colors of Sies Marjan, published by Rizzoli, aims to do just that. 'I really feel like it's the right time,' Lak reflects. 'We closed the business two years ago during the pandemic, which was a crazy time for everyone. On one hand, it was easier because everything felt like it was on fire at the time and my house burned down too, but on the other hand, it also made it disappear with all the other fires that were happening.'
Chronicling the label's upward trajectory, from the debut collection and culminating with 2020's Rem Koolhaas collaboration, that we now know was the label's final outing, the book unsurprisingly traverses through the colours that permeated its collections – upon reflection an impressive feat given New York and the wider industry's affinity for black monochromatic looks.
Among archive imagery – carefully selected by the designer to showcase the breadth of Sies Marjan's offering – the book is punctuated with conversations, interviews, and essays by Marc Jacobs, Isabella Rossellini and Hanya Yanagihara.
Here, System speaks to Lak about his relationship with colour and what the future holds for him now that he's officially closed the book on Sies Marjan.
When did you start working on this project? Was it immediately after the brand shuttered?
Sander Lak: We closed the brand in September 2020 and I just turned my phone off and moved to LA where I've never lived before. The second wave was the worst in LA, so we were all locked in our houses again but isolating made way for moments of healing to try and figure out losing something really personal. That was nine months and when I was ready to jump back into things, nothing felt right. I realised that it wasn't the jobs or interviews but it was me – I didn't finish what I started and hadn't given Sies Marjan a proper ending.
Why did you choose the format of a book to tell the story of the brand?
Sander Lak: I thought about doing a book because I've spent all my money on them and it felt like that would be the most logical thing to do. I held the first copy in my hands two weeks ago and I'm so proud and happy and feel like I can close the chapter of Sies Marjan and move on. There was so much joy working on the book and it was really therapeutic as well because I looked at everything to see what worked and what didn't. A book lives forever and I wanted the brand to live on in that form.
In the book's opening letter, you speak about burgundy being the starting point. I'd love to know more about the process of putting it together and finding the right images from the archive.
Sander Lak: I always select everything by colour, it's like an OCD thing. When I was working on collections for Sies Marjan, I started with colour cards which dictated the fabrics we wanted to see those colours in, and those fabrics and colours dictated the garments, which in turn dictated the inspirations – it was a completely different way of working. When I was going through my hard drive of five years, there were millions of pictures – every fitting image, every single campaign – and by default, I was selecting it by colour and putting them into folders. I didn't want to do chronological order because that didn't make sense, but I wanted to start with burgundy and go into yellow, then navy, and orange because it's a flow that really makes sense to me – it really scratched my OCD colour fixation. Just colour, colour, colour colour. And in between, I did all of these essays and interviews with people and the relationship with colour in their work – Rem Koolhaas, Hanya Yanagihara, Marc Jacobs and Irma Boom – as a way to give it another angle. It's about Sies Marjan, but it's also about colour. It's a reference book for people as much as it's a documentation of the brand itself.
'This project was one of the best things that I've done – a moment that I needed for myself and for everyone else who worked on Sies Marjan.'
Sander Lak
Can you remember when your relationship with colour first started?
Sander Lak: My dad was working for a company that took us everywhere around the world, so I lived abroad a lot and spent part of my youth in Africa and Asia. When we were living in Gabon, we lived in the rainforest and it was so lush and green, there is nothing else but green, it's so dominant and vibrant. Our garden went into the rainforest, so my mum would make us dress in red so it popped among all the green. My brothers didn't really notice, but I was immediately aware and it had an effect on how we perceive things. I started to understand that I could put colours next to each other to make them disappear or make them pop. My sensibility to colour is very heightened and I get an emotional reaction to any colour, but I think that was probably the trigger.
I've always found the connection between queerness and colour really interesting. What does it mean to you?
Sander Lak: A lot of it is societal and history has dictated it too. There's a beautiful essay in the book that Karen [Van Godtsenhoven] wrote about colour and the history of fashion and she talks about that a little bit too. There was a period of time where pink was a real masculine colour and then it turned into a feminine colour, so it's about the label we put on it. When it comes to colour and queerness, I think as soon as they made the rainbow a queer symbol, the relationship was dictated. It's amazing but also a little bit of a shame because I feel like all the colours in the rainbow are more than just queerness, it should be for everyone else as well.
How does it feel now that you're metaphorically closing the book on Sies Marjan with an actual book about the brand?
Sander Lak: It depends on when you ask me. There are moments when I'm so proud and this project was one of the best things that I've done – a moment that I needed for myself and for everyone else who worked on Sies Marjan. It's really complicated though because there are also moments when it's really hard. What is success? When is something finished? When can you be OK with yourself? It's a hard question to answer and sometimes it's really overwhelming. I'm in between those two moments, but I know looking back at this moment, I'll be so happy and proud of myself. It's really hard these days to do anything and be completely satisfied with it because everyone is so loud about their achievements. You end up comparing yourself to things you shouldn't be comparing yourself to, but that's just the age that we live in now.
What do you think this book says about the legacy of the brand?
Sander Lak: The book shows that in a very short period of time we did a lot of things and we were really able to make an impact. The ending is also a beginning. I lost my dad when I was a kid and I learned the lesson that nothing lasts forever and you can't really take anything for granted. So going into Sies Marjan, I already had that in the back of my mind, so you really have to use every moment to make it as good as possible. So that's what this book is about, the celebration of something that doesn't exist anymore. The end of Sies Marjan is a sad thing, but this book wouldn't have existed if it didn't end and what comes next wouldn't have happened if this chapter didn't close. I was forced into thinking that way as a kid and I still believe that everything that happens from this point on will happen for a reason. Building a company and then losing it, is just a part of it.
'I feel like ending on a high, a moment when people were thinking that the brand was really going somewhere was bittersweet, but if you have to end it, it may as well end in that way.'
Sander Lak
In some ways I feel that Sies Marjan ended in the best way possible…
Sander Lak: So many people say that. The last collection we did was in February 2020 and there was the Rem Koolhaas Guggenheim collaboration which was one of the best collections we did, but was sadly never produced. I feel like ending on a high, a moment when people were thinking that the brand was really going somewhere was bittersweet, but if you have to end it, it may as well end in that way.
Lots of people, myself included, are desperately trying to get their hands on the Sies Marjan pieces out there, which I think is a big part of the legacy you've left behind.
Sander Lak: It's funny, I ran into Eva Chen the other day and she was always a fan and wore Sies Marjan a lot. She said 'Sander, please can you start again? I need a full orange look, a full red look, all the full looks. I miss your colour.' It's really sweet and heartwarming to hear that from people and to know that the space Sies Marjan left wasn't immediately taken over by someone else.
When will we see more design work from you?
Sander Lak: I needed to finish the book to be open to something new and for me to really be able to close the chapter. Now I feel like I'm ready for the next chapter and I'm opening those doors and windows to see what happens and what lands. I'm not going to say I want it to be like this or that, I'm just open.