'I just wanted limitless creativity.'
After launching their own brands, make-up artist Isamaya Ffrench and hair stylist Cyndia Harvey are ready to shake up the beauty market.
By Tish Weinstock
Photographs by Charles Negre
After launching their own brands, make-up artist Isamaya Ffrench and hair stylist Cyndia Harvey are ready to shake up the beauty market.
Many industry figures have a similar coming-of-age tale, with the protagonist stumbling upon fashion or beauty for the first time. This aesthetic stade du miroir usually takes place after an encounter with the pages of a magazine, an object – lipstick, perfume, shoe, bag – or an older relative or friend whose striking style casts a spell over the young creative. Hair stylist Cyndia Harvey and make-up artist Isamaya Ffrench lived other stories, however, outside traditional industry parameters. Which perhaps explains why they now occupy similar singular spaces within the industry as arbiters of new ways of thinking that often, sometimes unintentionally, hold the industry to account. Now, as they launch their own beauty brands, they are bucking the system once more.
'I don't like doing what has been done before,' says Ffrench. It is a philosophy that has informed much of her past work and now informs her next chapter: a beauty line called Isamaya. In June, Ffrench introduced the 'Industrial' collection, a five-piece drop comprising a mascara, eyeshadow palette, glow serum, lip lacquer, and brow laminator. While the off-kilter oil-slick hues and cutting-edge formulas felt refreshing, it was the packaging – lids spiked with hard metal piercings, and a bound rubbery figure emerging from the palette – and BDSM-themed campaign visuals, shot by Steven Klein and starring a latex-clad Isamaya, that set the brand apart as something truly new.
Launched a week later, Cyndia Harvey's T.H.O.M – This Hair Of Mine – is more pared back, but no less radical: a luxury haircare brand for those with textured hair. It's a simple proposition, which she believes has until now been glaringly overlooked by the high-end market. The first release is a scalp serum designed to nourish the hair from the root. Harvey is not in her brand's campaign, which she describes as 'punk' and features a female friend with alopecia and a model with a shaved head.
Though the pair share an affinity for shattering norms, their paths to their brands have been quite different. Harvey worked in a hair salon in London and assisted Sam McKnight for five years before deciding to go it alone. In 2016, she caught the industry's attention with 'This Hair of Mine', a powerful visual essay exploring the strength and beauty of Black hair. Since then, Harvey has crafted looks for the industry's most innovative thinkers, such as intricate webs of interlocking braids for Simone Rocha's Autumn/Winter 2022 show or the slime-green roots for Diesel by Glenn Marten's gang of tearaways that same season.
Ffrench got her start through osmosis. After moving to London from Cambridge, word got around that she was skilled with face paint and she soon found herself on sets for i-D and other magazines. Pushing the limits of conventional beauty, often through the use of prosthetics, and sometimes using her own face as a canvas, she built a reputation for an unorthodox approach. Over the years, she has created boundary-pushing looks and developed visionary make-up lines for Louboutin, Tom Ford, Byredo, and Burberry, where she was named global beauty director in 2020.
Isamaya and T.H.O.M aren't just two more beauty brands, vying for your attention in a sea of homogeneity and the swollen commercial beauty market. They're neither selling you some repackaged notion of beauty in the traditional sense, nor are they relying on tired millennial tropes to appeal to a younger audience. They are, instead, the antidote.
Tish Weinstock: Before we get onto the brands, I want to go back to the beginning. What did beauty look and feel like to you growing up?
Cyndia Harvey: Growing up in Jamaica, in my mother's hair salon, beauty was what I saw around me: powerful, matriarchal women. I remember the care that these women put into how they dressed; it was about pride and ritual. It didn't have to be about something 'beautiful'. It would be rooted in something everyday. For example, I would always take pride in making sure my school shoes looked the best they could. That's where I find beauty, in the mundane.
Isamaya Ffrench: When most people ask that, they're asking, 'What do you find cosmetically beautiful?' But to Cyndia's point, beauty is a whole different thing. I didn't grow up in a matriarchy; it was the opposite. Everyone in my family was an engineer. There were no cosmetics in the house. I would go out and fix cars with my dad and help him build stuff. I felt very comfortable in that masculine environment. Beauty is about problem-solving; the industry is about solving problems through creativity – and that's my engineering side coming out.
Cyndia Harvey: Beauty in the cosmetic sense is a luxury and a privilege. I grew up in quite a difficult situation and I started hairdressing as a way to escape. I had no idea about fashion. I only knew about hair within a salon context.
The fact that your initial connection didn't stem from beauty in the traditional sense comes out in the way you both work. Isamaya, when did your relationship with beauty change?
Isamaya Ffrench: I was studying art and product design, and doing a face-painting job on the side. It got around that I could do body painting, so I got asked to do a couple of shoots. I didn't go straight into make-up; I did creative work with face paint. I wasn't doing it in a Pat McGrath or Val Garland way. Instead, I was a young, naive person who didn't care and was having fun. That's why people were like, 'Oh, this doesn't feel very industry.' Of course, that's what the work looked like; I was uneducated and using fucking face paints. I didn't even know what i-D was. Magazines just weren't my world.
How easy was it to get those initial breaks?
Cyndia Harvey: Assisting Sam McKnight opened a lot of doors for me. As a Black woman, I could never have done that independently. When I started to work on my own, it was easier as people like Tim Walker already trusted me, and that was through Sam. I've always really respected someone like you, Isamaya, because you are someone who just came in. You didn't have any background, but you had a vision from the first day and basically inspired an entire generation about make-up.
Isamaya Ffrench: Thank you. It's interesting having this conversation with Cyndia because we've had very different paths. One thing I know for sure is that I don't like doing what has been done before. So, whether I was into make-up or not, I would have never gone down the route of doing traditional make-up.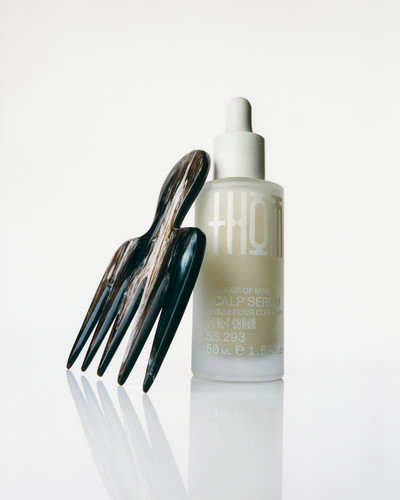 Your journeys have been different, yet you've both recently launched your own 'disruptive' beauty brands. Is there a change happening in the industry and is challenging the status quo a driving force in what you do?
Isamaya Ffrench: Only now with the brand have I thought that I need to do things differently, but that's about instinct, not having some comment or opinion on what everyone else is doing. I don't think that it's ever been a driving force for my approach to work. I have never seen work as a rebellion.
Cyndia Harvey: I agree it's about pure instinct. It just so happens that our instinct drives a different conversation and makes people think. I'm not an activist, and just because our core consumer is an underrepresented group doesn't mean it's an activist brand. In interviews, people want to say I'm fighting for something. I am a Black woman, so that's naturally going to come out in the work; it's just intrinsic.
Isamaya Ffrench: I did an interview recently, and someone asked me, 'Is this a gender-neutral make-up line?' I said, 'It can look good on both boys and girls.' Then the whole tagline around the interview was 'Isamaya's gender-fluid make-up line', and I was like, 'They have really missed the mark there.' I felt really sad. We didn't talk about sustainability or packaging, or the many other important things. I'm about make-up for anyone, but I'm not pushing an agenda.
Without setting out to buck the system, that's exactly what you've done with your brands.
Isamaya Ffrench: The way I do things often gets called out for being 'anti-beauty'. What does that even mean? Beauty is personal and subjective, and the way I am approaching it is more anti-industry. Not to reject things, but just to do things differently. I've had amazing collaborations with brands, but ultimately it's never your own vision. I also wanted to be part of the brand and embody it. Charlotte Tilbury is part of her brand; Pat McGrath, too, although she does it through models. That's why I am in the visuals. Audiences want to be inspired and unfortunately, the majority of the time, you're restricted by certain parameters or commercial constraints, which just totally dilute creativity. I just wanted limitless creativity.
Your first drop takes its cues from the semiotics of BDSM. Why was that significant?
Isamaya Ffrench: Symbolically, BDSM fitted into that idea of what make-up can do for you and set the tone for the brand: confidence and self-possession. I didn't want to do something that felt typically commercial. This collection speaks to people who feel they can be more of their authentic selves with this style of make-up.
'Let's not forget the influence Black hair has had on culture. Yet, Black people are not front and centre when you think of a luxury brand.'
Cyndia Harvey
Cyndia, what was the genesis of T.H.O.M?
Cyndia Harvey: It was more about a personal need to have a brand like this, rather than a need to change an antiquated industry. I work with a lot of high-profile clients, I live a certain lifestyle, and I buy into brands like Barbara Sturm and Augustinus Bader, but there's no elevated experience for textured hair. Let's not forget the influence Black hair has had on culture. Yet, Black people are not front and centre when you think of a luxury brand. I didn't just want to launch a brand with an influential platform. This is rooted in something far bigger. It's an opportunity for me to innovate in a space where no one else is, whether through product, messaging, brand experience or even what a brand can look like, and not just for Black people's hair, but for hair in general.
What informed the brand's visuals?
Cyndia Harvey: People can connect with make-up instantly – it's so visceral – but haircare brands don't have that same kind of charm. So that was the challenge: how do we make people as excited and devoted to a haircare brand as they are to their make-up brands?
Isamaya Ffrench: You've got a wicked logo, Cyndia; I love it. I'm quite jealous.
Cyndia Harvey: Thank you. It was inspired by old African systems. The colour palette was taken from the orange top and green skirt that Angela Davis wore when she was interviewed after being wrongly incarcerated in 1972. For the campaign, we thought there was something quite punk about launching a haircare brand with people without any hair. As a brand, we celebrate everyone as they are.
Do you view T.H.O.M as being disruptive?
Cyndia Harvey: It is, but it shouldn't be. Why does this brand only exist in 2022? Why haven't these products been available for this consumer before? It's important for brands to be inclusive, but that does not mean that one product fits the entire mould. I know that if I use a certain product for all hair types in the way that the marketing tells me, I will fuck my hair up.
What should a beauty brand look and feel like in 2022?
Isamaya Ffrench: It's about being transparent. I don't think there are any rules. You need to be conscious but inspiring, as so much stuff looks the same. It's also important to keep your eye on things like sustainability. It's very hard to do interesting and complicated stuff that isn't extortionately expensive, while also being good for the environment and using recyclable materials. We have a sustainability consultant now who's helping with our long-term goals. Our drops are going to be in limited runs and I want these items to have a second life.
Cyndia Harvey: I agree. It's about transparency. We don't want to be this huge L'Oréal type of brand; we want to be conscious and give our consumers the essentials. Quality over quantity. Anyone can create a brand and just buy a formula off the shelf, but every single ingredient at T.H.O.M has been researched by myself and our chemists. It's built from the vision up.
That certainly comes through with T.H.O.M, just as it does for Isamaya. How do you hope your brands will be perceived?
Isamaya Ffrench: I want to liberate people from how we look at and consume make-up. I want to show that you can be inventive, that there are other ways to do make-up, to do a make-up brand, to do make-up campaigns.
Cyndia Harvey: We want to be a globally successful brand that changes the way people think about haircare. We also want to change the face of luxury in all categories. To think too far ahead is distracting, but we want to make a real and lasting change.
Taken from System beauty No. 1 – purchase the full issue here.