'It's like a members' club, but for non-members only.'
If you want to understand how Demna Gvasalia sees the world, take a look at the people who model his clothes.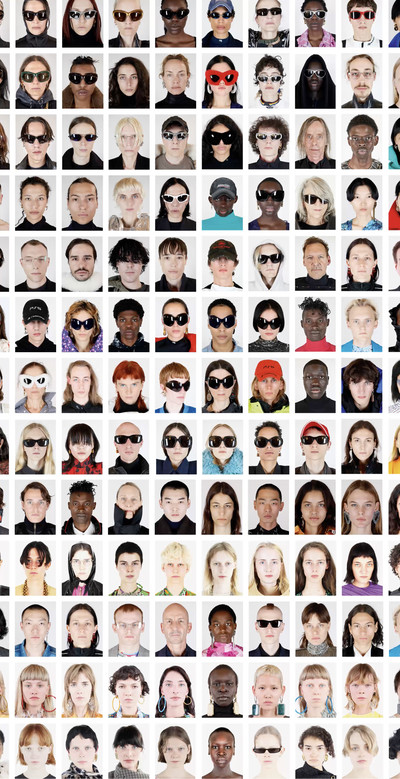 If you want to understand how Demna Gvasalia sees the world, take a look at the people who model his clothes.
Since the very first look of his debut, Balenciaga runway show in March 2016 – a grey padded hip suit on the bespectacled painter and musician Eliza Douglas – Demna has cast his spotlight on an ever-growing cast of unconventional characters.
At Balenciaga, the models are cast not just for what they look like but who they are, what they do, and what they can mean. Whether they're Douglas – cloned 44 times for the Spring 2022 digital show – dads from Zurich, Isabelle Huppert, mechanical engineers, body- builders, or a heart-throb such as Justin Bieber, each model's look and personal style, their idiosyncrasies, and their life stories help Demna define the sense of each piece in each collection, much as they later do for those attending the runway shows, and the audience at large.
The recent Spring/Summer 2022 show – which saw many of the House's favourite models joined on the fake- real red carpet by some of Demna's Balenciaga colleagues, a smattering of fashion-industry faces, and celebrities including Lewis Hamilton, Elliot Page, and Cardi B – was a typically ingenious play of unexpected appearances (in all senses of the word). The multilayered spectacle was another chapter in the house's sly method of using casting to add character-driven narratives, depth, and often, some fun to each collection. (Giving Marge and Homer Simpson their catwalk debut was the show's coup de maître.)
The task of finding the right faces to wear the right clothes falls to Balenciaga's trio of independent scouts: Franziska Bachofen-Echt, Léopold Duchemin, and Eva Gödel, the founder of model agency Tomorrow Is Another Day. The three work alongside Demna and his long-term right hand (and Balenciaga's chief creative officer) Martina Tiefenthaler to hone an atypical casting vision that has helped redefine what a major luxury house's models can look like. As people of other shapes, ages and backgrounds have hit the Balenciaga runway since 2016, the shows have become sites of ever-increasing multiplicity (an evolution, it should be noted, partly driven by the public criticism of those early shows' lack of ethnic diversity).
System spoke to all five and discussed the meaning of beauty, eradicating hierarchies, and why a happy model is a better model.
Demna: For me, casting at Balenciaga is about assembling a diverse group of people who I'd like to hang out with. I don't really have a lot of friends in my life, so if I had a magic power, it would be to suddenly have this big group of friends. Because these are the people I want to dress. I don't like to call them models because many of them have jobs, very often in creative fields, and most of the time they are not professional models. There could be a waiter, then a gallery owner, an art critic, a banker, and then a superstar. What they do is just as important as what they look like or their personal style. In many of the show notes we've included what their jobs are: 'Eliza, singer, artist…' They are people of all ages, who have their own opinions, their own style, and their own ideas. Often, we'll give them a collection look to wear and they'll be like, 'Really? I was kind of thinking it would work better with that piece over there…' They style their own look and how they want to wear it. It's so personal. They're all so different and they're all such individuals, and over the years they've really become part of the family. Literally, in five minutes' time, once I've finished this interview, I'm going to see a load of them for a fitting session downstairs, and it's like catching up with friends and meeting new ones. I'm going to do a first fitting this afternoon with a physics teacher, which is so exciting. We hang out; we listen to music; we pick out looks to try on. They love coming here. They're excited about what they're going to wear next, and what the format of the show will be.
Martina Tiefenthaler: We use casting as a way to say what we're about – or what we're not about. It's a fantastic tool that everyone in the fashion industry has – which some know how to use and some don't. You really need to spend time on it. So many houses hire casting directors and outsource that process. Here it is different: we don't have a casting director; we have the scouts. Eva has been in this line of business forever, but Léopold and Franziska haven't. We just knew them, they know what we're looking for, and because we don't outsource, we are able to communicate our vision in an extremely sincere and authentic way. It comes more directly from the minds of the same people who design the clothes that the cast members will be wearing. It is all one.
How did you begin working with Demna and Martina?
Franziska Bachofen-Echt: Everything happened organically. I was invited to come in as a model for a Vetements casting many years ago and later I was asked to come in again for Balenciaga. I started talking to Demna; he thought my Instagram was funny and I became one of the Instagram contributors way back when they started their new social media strategy. Eventually I texted Martina and said, 'Listen, I have a lot of interesting people I would like to propose for the casting.' Soon afterwards I got a phone call saying they wanted me to be part of the casting team.
Eva Gödel: When I was 15 or so, I worked after school at a skate shop in Cologne and we had all this clubwear like Hysteric Glamour, 3000, Liquid Sky and Gimme Five. All the kids came to the shop, because when you bought those brands you would get into the clubs, even when you were young. Techno was big in Germany at the time; it was 1994 to 1997, and I would photograph the kids coming to the shop and put the Polaroids in the window. That became a reference for me. And I loved Kids and Gummo, Harmony Korine's film, and I remember thinking how interesting the casts looked.
'I don't really have lots of friends, so if I had a magic power, it would be to suddenly have this big group of friends. They're the people I want to dress.'
Demna
Was there much of a fashion scene in Cologne at the time?
Eva Gödel: There still isn't really any fashion in Cologne; it's all about art. For example, Rosemarie Trockel is a really old friend of mine, and she was actually the first person to book models from me, for her photography work. In 2000 or 2001, Raf Simons was my favourite designer and I used to go to his stock sale in Antwerp, back when I was a student and he was there himself. I asked for his email
address, because he had no website at the time, and then I scouted boys and emailed him my selection. A few days later, he asked if I could bring those five boys to Paris for his show the following week. So I rented a van, drove the boys to Paris and they walked the show. The next season, Rick Owens contacted me. I don't know how he had heard of me, but I was excited that he had, and I had boys walking his first ready-to-wear show in Paris. At the time, it was totally anarchic. It was refreshing because it was mainly all supermodels back then, and these boys I scouted added a whole different dimension to menswear. One by one, more clients came. When Kim Jones started his own collection, he contacted me. Each show was like a piece in a jigsaw puzzle, adding to my agency and database. One time I was in a bar with some of the boys I had scouted and we met Lotta Volkova. She wanted to know which agency they belonged to; I told her they were with me and the next night they modelled for the presentation of her label Lotta Skeletrix in a pub. Then, when Demna started Vetements, he began booking models from me for the shows, and that's continued ever since.
Léopold Duchemin: I grew up in the middle of nowhere in the south of France, in this vineyard far away from everything. Fashion was something I could never understand. When I turned 14, I moved away and this opened up different avenues. In 2011, I interned with Marie-Amélie Sauvé, and I was a student at the Duperré School of Applied Arts in Paris. Demna and I had a lot of mutual friends and went to the same parties. He was just part of my environment. In 2015, I was asked to be a fitting model for Vetements for a season. In 2018, he asked my best friend, Dora Diamant, and I to work on the casting for the Autumn/Winter Vetements show. Neither of us had ever worked in casting before, but Demna had the intuition that we would have an eye for it. The next season, he asked us to scout for Balenciaga. We worked side-by-side until Dora passed away in 2020. She had the most special vision, which I'm trying to channel through my own work; she had such a strong capacity for seeing beauty in people. She would have crushes on people all the time and worked in a really emotional way, which is almost non-existent in casting. Demna has never said this to me, but I think our view on friendship and how we perceived new people, our way of networking organically was something that resonated with him. For me, his vision felt really close to the way my friends and I were dressing. He was the first designer I felt an allegiance to. It was like a cult, at the start – like a members' club, but for non-members only.
Balenciaga often adopts a conceptual, narrative or storytelling approach to casting its different shows. Is this something Demna and Martina brief you on or is the casting and scouting process done separately?
Franziska Bachofen-Echt: Eva, Léopold and I each receive an initial brief from Demna and Martina, with room for personal interpretation. There is a clear, mutual understanding of what we are looking for, which makes it easy for me to feel comfortable enough to follow my gut and approach the task. I forward suggestions to the team on a weekly basis; Demna then tells me who he likes. From there, an internal team takes over and takes care of logistics.
Eva Gödel: There are seasons when the brief is really specific and other seasons when they just tell me what the project will be like and what their ideas are. I send suggestions, then they select. One of the really good things about Demna and Martina is that they know exactly what they want. They are so idiosyncratic in that way. I can trust them when they say they want this model or that person; they never change their mind just before the show, which a lot of other clients do. They have an idea in mind as to which characters they need for the specific clothes and they develop an outfit for each character. I actually just found my briefing notes of the show with the models walking through water [Balenciaga, Autumn/Winter 2020-2021], and Demna was looking for classic, biblical faces, and darker, devilish looks. He said, 'Think David Bowie aged 25.' Sporty, athletic, a 'super-hetero' hockey player, bodybuilders, football players, monks, priests, nuns, super-androgynous boys and girls, and then super-slim body silhouettes to super-big body silhouettes.
Martina Tiefenthaler: We really briefed the scouts for that collection. We were like, 'It's very dark; it's going to be in water; it's going to be tense and inspired by Catholic clothing and nuns; it's going to have this kind of heavy, covered vibe.' Then there have been other seasons when we've said, for example, 'a wide mix of all the different areas of the world'. For the fitting we are doing for our next show, Demna just said, 'Strong people.' [Laughs] That was the only brief! Eva said, 'Can you be more specific? Physically strong? Mentally strong? Emotionally strong?' And we were like, 'No, we can't!' [Laughs] But at other times we have been super precise, like when we worked with Ralf Moeller for the water show, and asked our scouts, 'Please try to find bodybuilders.' We've worked with the scouts for so long that they really understand what works and what doesn't.
Léopold Duchemin: That show with the water was a very specific moment in my life. Dora was really sick, and though she was very involved, she couldn't come to the show itself. It's not one I will ever forget, also because it was extremely dramatic and visually beautiful. Walking on water – that's something only Demna would dare to do. The details of a show are super top secret until the very last moment. It's not that I don't want to know – they don't tell me, and I don't ask. Because I don't get information about what it's going to look like – what the set or the lighting will be like – I just embrace it. On the day of the show, I get so excited; it is like Christmas. I never know what form it will take. I love that so, so much; it keeps me on my toes.
'Often, we'll give them a collection look and they'll be like, 'Really? I was kind of thinking it would work better with that piece over there.''
Demna
In what ways do you think Balenciaga's casting has progressed the conversation in terms of who can walk in these kinds of shows?
Martina Tiefenthaler: Casting at Balenciaga represents freedom: the freedom to show our understanding of beauty and human beings. I'm so happy about the way we find people; it's such a nice way of doing it. We want distinctive people; it's not about looking for standardised measurements. I had experiences in companies before where every model had to be the same height, and we were measuring the distance from the floor to the hem of the pants on every model as it had to be the same. I was like, 'My God, what are we doing? I don't want to show a collection on clones.' [Laughs] And then, of course, we did exactly that with the 'clone' runway show at Balenciaga [Spring 2022]!
Eva Gödel: Back in the day, the perfect model image was the Davidoff Cool Water guy, but luckily we have moved so far away from that now.
Franziska Bachofen-Echt: People who have never been seen on a catwalk before suddenly get this platform. There are some older people doing the runway now who tell us, 'I'd never have thought that I would be having this kind of exposure now!' I don't know if designers like [Vienna-based label] Wendy Jim would have found the space to grow if it hadn't partly been for the direction of casting that Vetements and Balenciaga have taken.
Martina Tiefenthaler: The way Demna and I choose models and style them together, we are creating characters. That's why we often go back to all these cultural references we work with. Maybe someone looks a bit more punk, the other looks like an art collector – and she actually is an art collector! That, for me, is the best moment: when I see the collection, I have all the shoes and accessories, and I see them come together on all these real people.
Léopold Duchemin: Demna is always questioning society, so I look for characters who can depict different aspects of society. I look for people who have something to say but who wouldn't traditionally be put on a runway – I try to give them a 'visual microphone'.
How do you find new faces who could embody the Balenciaga 'character' for each show?
Léopold Duchemin: I'm always looking for profiles of people who could embody the archetypal Balenciaga character, always trying to be attentive to people I meet or see on the streets, or on social media. It's instinct; it's an attitude. It could just be the way they move or talk. I have been doing it for so long now that it has altered my perception entirely. I used to be in my own bubble, but now if I enter a restaurant I immediately scan the room. I am always spotting people; I don't always go up to them, but I can't not do it. It can be someone any age, man or woman. If it is someone on the street, I know exactly what to say now, but I used to be so awkward! If I am sent somewhere for scouting, I go out and meet people and add them on social media. Social media is always involved, even if I am scouting people on the street.
Franziska Bachofen-Echt: At the moment, I find most people online. Street casting has become trickier with the pandemic: you can see someone who might work, but then you ask them to remove their mask and suddenly you are looking at someone completely different from who you were anticipating. The right people can be anywhere really. I recently watched this very scary horror film, The Conjuring 3. Eugenie Bondurant plays a wicked witch in it, and I was like, 'Oh my God, she is so amazing!' So I contacted her on Instagram, and luckily, she replied and accepted the offer to walk the Balenciaga show.
Eva Gödel: I just can't do it through photos or Instagram; I have to meet people in person. How can you have an instinct when you're looking at people through the monosyllabic Instagram lens? I go
to events where there could be people with the style I'm looking for, or gigs with people who share the same music taste as me. Mainly, I look at what is happening on the street. The street is the catalyst; it's also the best place to see older people who I find interesting. One thing that has changed is that for years the only applicants to my agency were people I didn't think were that interesting and who just wanted to be models. It was soulless. Now, the applicants are often people who identify with what we are doing here. Young people are more aware of fashion than they used to be, too. If I scouted a boy on the street in 2001, when I started my agency, he wouldn't know what Louis Vuitton was. Whereas these days, if I go scouting at a festival wearing a Balenciaga cap, the kids are all like, 'Wow, cool hat, how much do you want for it?' With Balenciaga, Demna gave fashion back to young people.
Do you prefer to go out on location-centric trips, where the people you cast are obviously very specific to the location? Do you have favourite cities for scouting?
Léopold Duchemin: I've always been fascinated with Helsinki; it is just such a specific vibe there. New York is amazing because it is so diverse and multifaceted. People there have such great style and attitude: the way they walk in the clothes, the way they hold themselves. The clothing amplifies their fearlessness, but it's not the reason they are fearless to begin with.
Eva Gödel: I love all the different European countries. When we had the first Balenciaga men's show, it was all about Europe for the casting, all kinds of mixed Europeans. I had a boy from Scotland who was half-Indian and half-Scottish. We want that mix of nations – authentic diversity from a borderless Europe.
Given that many of the casting are not professional models, how do they react to the experience?
Léopold Duchemin: All of the people I have scouted who have gone on to do the show have told me it was one of the best experiences they've ever had in modelling; they are really taken care of. Balenciaga is such a different brand, compared to the others. There is this overwhelming sense of pride when walking a Balenciaga show, and that is because of the platform Demna gives them.
Eva Gödel: Balenciaga really takes the time with the fittings and they hire me to train the models to walk, so they can exhibit the confidence that Demna's clothes give them. It doesn't matter if someone is already known or a big art collector or has never done anything like this in their life before – it really touches them. Even successful lawyers or architects tell me later that they are grateful, that it made them feel good about themselves. Demna doesn't take models for one season and then drop them, either. He asks them to come back, so it feels like friends and family. Like, even if there is this myriad of individualities expressed through the casting, the whole Balenciaga cast fits together like a family, like a gang or a tribe, together. A single gang going down the runway, even if they're all different – with Demna as the creative glue.
'It could be a waiter, a gallery owner, an art critic, a banker, or a superstar. I'm about to do a first fitting this afternoon with a physics teacher.'
Demna
Franziska Bachofen-Echt: After every show, video or lookbook, I feel like it was such a good experience for everyone involved. To be a part of something like the 'red carpet' show, for example – walking on the red carpet, with the models, designers, celebrities, friends and family was such a surreal and fun experience for everyone! Balenciaga is going to become bigger than fashion. It's going to be about the artists, the gaming metaverse, the overall collaborations they put forward, the models: not everyone will think of Balenciaga just through the clothes.
Eva Gödel: There have been a lot of firsts. One that was really special was the children's collection [Spring/Summer 2018]. The obvious thing would have been to call children's agencies. But I said I have a lot of models who already have children, who used to be models at my agency or are still models at my agency, and we know a lot of models who have younger brothers and sisters. Using the kids of our models made such a difference. When you saw those men walking in the woods with their children on their arm and how they grabbed the clothes – that was one of the most touching moments of my whole career. If Demna thinks an idea is good, he will take it all the way, even if no one else has done it before. We will never go back; there will be still glamorous and classic models, but there is room for everything now. The obvious, beautiful, classic look is just not interesting enough. The world is too vast.
Demna: Ultimately, when I build a cast, I ask myself, 'What is beauty?' It's about questioning that. I've always been someone who looks for beauty in places where other people might not. I don't believe someone should tell me what beauty is. There is beauty in everything, and very often the models we choose are not seen as fitting the standard parameters. That's the link between myself and Cristóbal Balenciaga: he used to dress women who were absolutely not considered beautiful, and he loved it. They say that he loved a little belly on a woman or a hunched back. They were called the 'monstres de Balenciaga' – so harsh! – but that was his challenge: to make them into Balenciaga icons. I have heard this about my cast, too, how I'm pushing the line between ugly and beautiful, but I never think about it that way. Back then, the world was elitist and exclusive and very narrow-minded. There was no Internet; people's opinions were formed in limited ways. In today's world, my mission as a creative is to challenge that kind of perception of what beauty is and what it's not – just as Cristóbal Balenciaga did.
Taken from System No. 18 – available in digital
here
.