'They are trained like artists more than fashion designers.'
From Van Gogh to Demna, Antwerp's Royal Academy of Fine Arts continues to nurture fine artists.
By Jorinde Croese
Reportage photography by Catherine Smet
Portraits and collection photography by Ronald Stoops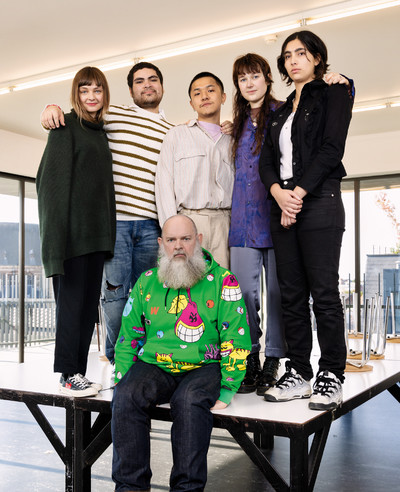 From Van Gogh to Gvasalia, Antwerp's Royal Academy of Fine Arts continues to nurture fine artists.
Back in 1663, Flemish artist David Teniers the Younger tried to persuade the Spanish king to start an arts academy in Antwerp inspired by Italian and French contemporaries, saying that it would bring forward 'good and great artists'. The pleading worked; David got his academy and kept his promise (the Royal Academy of Fine Arts Antwerp's alumni include Vincent Van Gogh). Exactly 300 years later, the fourth-oldest arts academy in Europe added a fashion department, now most often associated with the Antwerp Six: Ann Demeulemeester, Dries Van Noten, Dirk Van Saene, Dirk Bikkembergs, Marina Yee, and Walter Van Beirendonck. Alongside Martin Margiela who graduated soon afterwards, these designers changed the way the world thought about Belgian fashion design with their maxi-minimalist, Japanese-influenced style. Later graduates such as Kris Van Assche, Haider Ackermann, and Demna Gvasalia were also educated the Antwerp way, with a tight focus on creativity, storytelling and individuality, buttressed by the school's fine-arts tradition in which drawing classes are still key.
Walter Van Beirendonck has taught at the Academy since the 1980s and took over as head of the fashion department in 2008, while continuing to run his namesake brand. And whether it's his own work or his students', Van Beirendonck's ethos remains the same: unconstrained creativity. System spoke to Walter Van Beirendonck about the ebbs and flows of his mentoring role and how he sees the future of both the Academy and creative education at large, before inviting five of today's fashion students to share their own thoughts and current collection work.
To find out more about the new crop of Royal Academy of Fine Arts Antwerp students, read the full conversation in System No. 18. Click to buy.
Taken from System No. 18 – available in digital
here
.