'Where are the girls who look like me?'
Guerxs started as a manifesto. It's now Mexico's go-to casting and modelling agency.
By Ben Broome
Portrait by Zora Sicher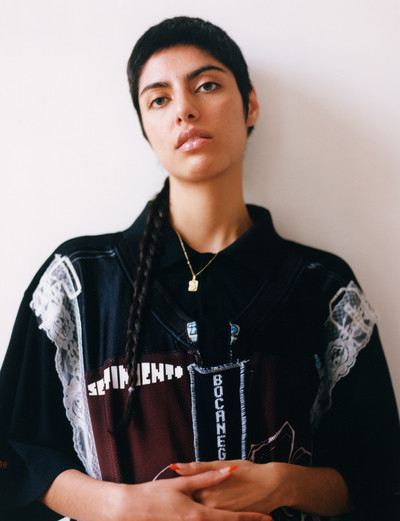 Guerxs started as a manifesto. It's now Mexico's go-to casting and modelling agency.
In 2016, Maria Osado wrote a manifesto. She was 18, born and bred in Mexico City, with an interest in the global world of fashion and her possible place within it. Unable to find any diversity on the glossy pages of fashion magazines, she started a modelling and casting agency and called it Guerxs (pronounced ware-ass).
I'm a curator and in the years I've known Maria I've grown to appreciate the similarities in what we do. Maria grafts for her models with the same passion and conviction that I think I have when working with artists. Ferociously nurturing and protecting her culture and community, she has an uncompromising approach that has secured her a seat at some of fashion's more inaccessible tables.
What started as a written statement of frustration, anger and intent six years ago has evolved into one of the most forward-thinking modelling agencies in fashion, one flying the flag for the overlooked communities of Mexico and Latin America as a whole. With Guerxs' models on the international 'high-fashion' stage and working with photographers such as Tim Walker, Tyrone Lebon and Harley Weir, and a client list that now includes Gucci, Bottega Veneta, and Burberry, it would seem that the rest of the world is finally taking notice.
Tell me about the early days of Guerxs.
Maria Osado: Guerxs started in 2016 as an online manifesto. From Instagram you could click on a link to a website where I'd posted my words. I was 18 years old; I didn't know anything about running a business, and I had no intention of seeking approval from the fashion world. It was very real, a genuine reflection of my perceptions. I had no filter. If I wrote that text today, it would be very different!
How did it evolve from manifesto into something resembling an agency?
Maria Osado: I had the text, but I needed something actually to exist in time and space that reflected my ideas. I was asking: 'Where are these people at? Who do I want to see represented? Who do we not get to see?' I wasn't trying to convince anyone of my own personal vision, I was just asking: 'Where are the girls who look like me?'
What were you trying to say in that manifesto? Could we go a little deeper into the Guerxs philosophy?
Maria Osado: The Guerxs manifesto was specifically addressed to the media in Mexico. I would read magazines and think, 'Whoa, okay, beauty and whiteness are very connected.' Mexicans are both light and dark skinned, but statistically, you're more likely to get a good job with the former. It's something we see all the time: from magazines to billboards to TV shows, everything is styled with a white-centric vision. I wasn't against seeing white faces, I was only asking, 'Where are the other people at?' Guerxs as an agency began as an evolution of that vision. When I started it, I was thinking about colourism, but also different types of gender expression and body types. I realized I was overlooking the impact of economic background on representation in modelling. You'd only hear about the girls who had access, who had money, connections or an in. These stories didn't resonate much with me. When I began signing people I didn't want models who only aspired to be models; that's not a reality for many of the people I work with. It was almost the opposite: 'Oh, you never thought about modelling? Let's work together!'
I know from speaking with you that certain social issues are heavily ingrained in Mexican culture. There is a stark class divide, distinct racial divisions, and widespread hypermasculinity. How has Guerxs begun to disrupt such entrenched systems?
Maria Osado: These structural issues are bigger than Guerxs. Is fashion the battlefield? No, but the fashion industry can reflect these changing systems in the most visible way. When I started Guerxs, I was young. I had an idea; I put it out into the world and then waited to see what happened. There was a lot of pushback. Magazines wouldn't hire me here and it took me a really long time to get any Mexican clients; they doubted me the most. I had some very uncomfortable situations where the models would arrive at a fashion week and people would say, 'No, you're not models', and not let us in. Mexico's fashion industry only wants to understand diversity from an angle convenient for them. People would tolerate darker skin tones or indigenous features, which is, of course, a great thing, but if you gave them more things to digest they'd say, 'Oh, you can't be a bigger size and be queer and…' My attitude was: take it all at once, digest it right now. It made my job really hard back then. Six years later, I've learned so much. I can't always be so angry – I was so angry! I'll forever be radical within fashion, but I recognized that anger wasn't helping Guerxs evolve and grow in the ways I wanted it to.
'I had uncomfortable situations where our models would arrive at a fashion week and people would say, 'No, you're not models', and not let us in.'
Maria Osado
What made people finally begin to listen to what Guerxs has to say?
Maria Osado: Unfortunately, the fashion world works through validation. You have to be validated by the accepted system before anyone listens. For instance, I was 19 when I first worked with Harley Weir. I knew she was a good photographer but not much more about her. That editorial I worked on with her meant something for people in the fashion world. In Mexico, there's a mindset that the most valuable acceptance is from the Global North; people feel that if you make it there, you can make it anywhere. At the time, I found that really sad because I wanted to work in Mexico; I was extremely committed to my country.
The similarity in how we operate is partly why I wanted to interview you. We both have a responsibility to the people to whom we give a platform. As a curator, I have a responsibility to the artists I work with; I have to think about their best interests before I make any decision. Equally, as the founder of a casting agency, you have to think first and foremost about the models you work with. Especially because Mexico seems to have a spotlight on it at the moment. I was reading that in 2021 Mexico City was one of the most-visited cities in the world by US tourists. How do you feel that tourism affects you and your business? Is it a good thing?
Maria Osado: It's inevitable. Mexico is emerging as a global capital where people come to live and exchange ideas. I benefit from this. Guerxs is a business working with foreign clients, so it would be hypocritical of me to oppose tourism, but I do hope that foreigners coming here assume more of a responsibility to understand our society. Historically, foreigners have taken so much from the people of Mexico and left them so little. Many foreigners come here, stay with friends who don't speak Spanish, eat the tacos, pay with dollars, and then leave. And then what? What's left?
What would be your advice to a creative director of a brand visiting or shooting in Mexico? Is there a way to do it ethically?
Maria Osado: I'd say: work with Mexicans, get them involved in your creative process. We're often the only Mexicans on a shoot, and although the visual representation through casting is important, if the people making the decisions don't understand the culture, how much is actually changing? Representation, for me, started with the models, the faces you see on the billboards, but right now the bigger challenge is: who's sitting at the table? Are those people Mexican? I don't think it's only Mexicans who can talk about Mexico, but let's exchange ideas: we should have a say in how we're represented.
You've experienced plenty of bad practices from brands working in Mexico, especially the exploitation of Mexican culture. As a figurehead of Mexico's fashion community, do you feel a responsibility to call out those brands?
Maria Osado: Absolutely, but we do it out of sadness, out of anger, out of really not wanting to be seen like that. The reality is that even though I'm not getting paid to consult for them – and we should, because that's a job in itself – I have to speak up when I see Mexico and Mexicans being represented in an exploitative way. Of course, I feel responsible, but there's only so much I can do. This kind of exploitation happens everywhere in the world, but especially in Third World countries. Right now, the spotlight is shining on Mexico, but who's next? Are they going to take everything from here and move onto the next country? That's what scares me. I hope that this attention from the Global North brings about more opportunities for Mexican creatives to do more, to get hired and to do what they love, because it's a fucking struggle to have a job in a creative industry in Mexico. I see my friends struggle, especially those who don't come from a comfortable situation where they can afford to work for free. They have to live: they can't be an intern; they can't not get paid. I didn't go to fashion school. My parents didn't work in fashion. What I do came to me in an organic, natural way, but I know I'm one of the lucky ones.
'Sure, there are many top Latina models, but the other side of Latin America – the one that's not all 'glam fab' – is yet to be introduced.'
Maria Osado
Guerxs models all know each other and they're part of a creative nucleus. What you're doing is championing and giving a platform not only to models, but also artists, set designers, fashion designers, and others. You're at the centre of this network of incredible people; how did you grow that community?
Maria Osado: I'm a part of many different communities, and that came from my reality. I was a teenager in Mexico City: hanging out with high-school friends, going to [record label] NAAFI parties, interning for my first mentor (and now big sister) Carla Valdivia. Those moments were my introduction to the scene I'd later become part of. The internet also played a key role in the process of finding my people. I don't feel the same way about the internet now, but I can say for sure that without social media, I probably wouldn't be doing what I'm doing now. Instagram allows you to tag locations, so I could look up a place I liked – a club, a bar, a store – see who was going there and reach out to them if they seemed cool. I met amazing people that way. I know many people were introduced to Guerxs through the internet, too; they got to know the agency online and then would come to these casting calls we held every year, like an anniversary party. I would buy tons of crazy cakes and host full days of casting. That's where I met a lot of the kids who I currently work with. It's amazing how the internet can actually play a positive role in community building.
You studied architecture at UNAM, a public university in Mexico City. Did you have to choose between life as an architect and your work with Guerxs?
Maria Osado: I studied architecture, and although I didn't finish school, I must say that I was really fucking good at it. Since I was little I've always been very committed to whatever I set my mind to; I've always been very focused. I found architecture fascinating, and I still do, but as soon as I started working on Guerxs I realized that I'd found something that resonated with my heart. I still get into conversations about architecture, and I have a lot of friends who are architects. When I was studying I didn't sleep for years because I was doing both Guerxs and architecture school, and it was very unhealthy. It got to the point where I had to choose one or the other.
How do you measure the success of Guerxs?
Maria Osado: For me, success is when I see other people believing in the kids who I believe in. It also has a lot to do with opening the door for the person who comes after. When I enter the room, I leave the door open so someone else can enter, too.
We moved to New York at a similar time. I moved in May 2020, but I couldn't handle it and left after six months. What's your relationship with America and New York now? Has it changed over the past two years?
Maria Osado: It has informed my practice so much. The same way all these New Yorkers are coming to Mexico, I like to think that us Mexicans should be occupying their spaces, too. We need to position ourselves to take these opportunities. It's hard to break through into an industry as competitive as the one in New York; it's like cracking the code of the Matrix. Mexicans living in Mexico often don't understand the Latin American experience in the United States and the opposite is also true – it's not possible to experience both sides of the coin. For me, moving to America meant meeting New York's minority communities, getting to know those realities and learning what life is like as a first-generation migrant in the United States. The USA is proportionally still very white, but in New York City, almost a third of the population is Latin American. Where is that representation in the fashion industry? There are many top Latina models, but the other side of Latin America – the one that's not 'glam fab' – is yet to be introduced. People aren't talking about it enough. I want to be a part of jumpstarting that conversation in the United States.
I know that your partner – artist Aspen Kincaid – lives in New York. Obviously, he was one reason for your move to the States, but were there others related to Guerxs?
Maria Osado: I'd been going back and forth to New York for so long anyway and I could see Guerxs growing. I had planted many seeds and I was seeing results. I had an important realization that New York could be my home and my place of work. I do pretty much everything, casting wise. I work with a lot of communities that are not even Latin American. There's so much diversity in New York, so many different realities colliding. There are Middle Eastern diasporas, East Asian diasporas – it's endless. I obviously cannot speak for everyone – I've never tried to do that – but with Guerxs, everyone's invited and everyone can be involved.
'Representation started with the faces you see on billboards, but now the bigger challenge is: who's sitting at the table? Are those people Mexican?'
Maria Osado
Am I right in thinking that Guerxs represents 'Latinx' models as a whole? Obviously, you focus on Mexico, but do you cast elsewhere in Latin America?
Maria Osado: The 'Latinx' term is interesting because it's not something I'm even familiar with. It's a term that was birthed in the United States and a lot of Latin American people don't identify with it. 'Latin American' is the term that resonates with me. Back to the question, though! People want to move to America to chase the American dream; well, Mexico gets to be that for a lot of Latin Americans. Mexico is seen as the United States of South America. This informs a lot of my work because I don't want only to talk about Mexico, I also want to take into account perspectives from all over Latin America. For me, travelling is deeply political. I'm trying to expand Guerxs, and I would love to go to Bolivia, Peru and Ecuador. I would love to work with models in all these different countries, but first I have to do the research. I don't want to be that tourist who just arrives and takes, takes, takes.
Tell me about this shoot for System. Is it a pictorial representation of exactly what you do in terms of bringing your community together and giving Mexican talent a platform? Who's involved? What was the process?
Maria Osado: The team for this shoot represents relationships that I've built over the course of my life. Victor Barragán is one of my closest friends and collaborators; he doesn't call himself a stylist, but I wanted him to style this shoot. I wanted a different point of view from someone who embraces so many of my own ideals in his own way. Zora Sicher, the photographer, is one of my best friends and, being from New York, she embodies this balance between my life in Mexico and America. It's so important for me that Mexicans and non-Mexicans collaborate, do projects together, and have these conversations. This shoot felt like one of the first times that I've had the creative freedom to speak from my own perspective. Usually, I'm working for someone else and executing someone else's ideas. This was an opportunity to share exactly what this specific time in Mexico means to me. One of the shoot locations is a theme park full of miniature iconic monuments from all around the world. You have the Eiffel Tower, the Statue of Liberty, the Hollywood sign. For me, this shoot, and Guerxs as a whole, is about seeing Mexico in the world, but also seeing the world in Mexico. Another of the locations is the house my uncle built. He was an architect and spent 20 years of his life putting it all together. It's a sanctuary; the house has never been seen, so shooting there was a very personal experience. It's as though I'm taking you to see my family; I'm showing you what my world looks like. It's an intimate thing. Each of my friends who visits Mexico has to meet my grandmother. I wanted that sense of intimacy and family to permeate into the shoot's visual language.
My favourite memory of being in Mexico with you is that incredible meal your grandmother cooked for us!
Maria Osado: Beautiful. That, for me, is what makes us closer.