'I don't think big. I think huge.'
CEO Pietro Beccari on his mission to make Dior more, more, more.
By Jonathan Wingfield
Photographs by Juergen Teller; creative partner Dovile Drizyte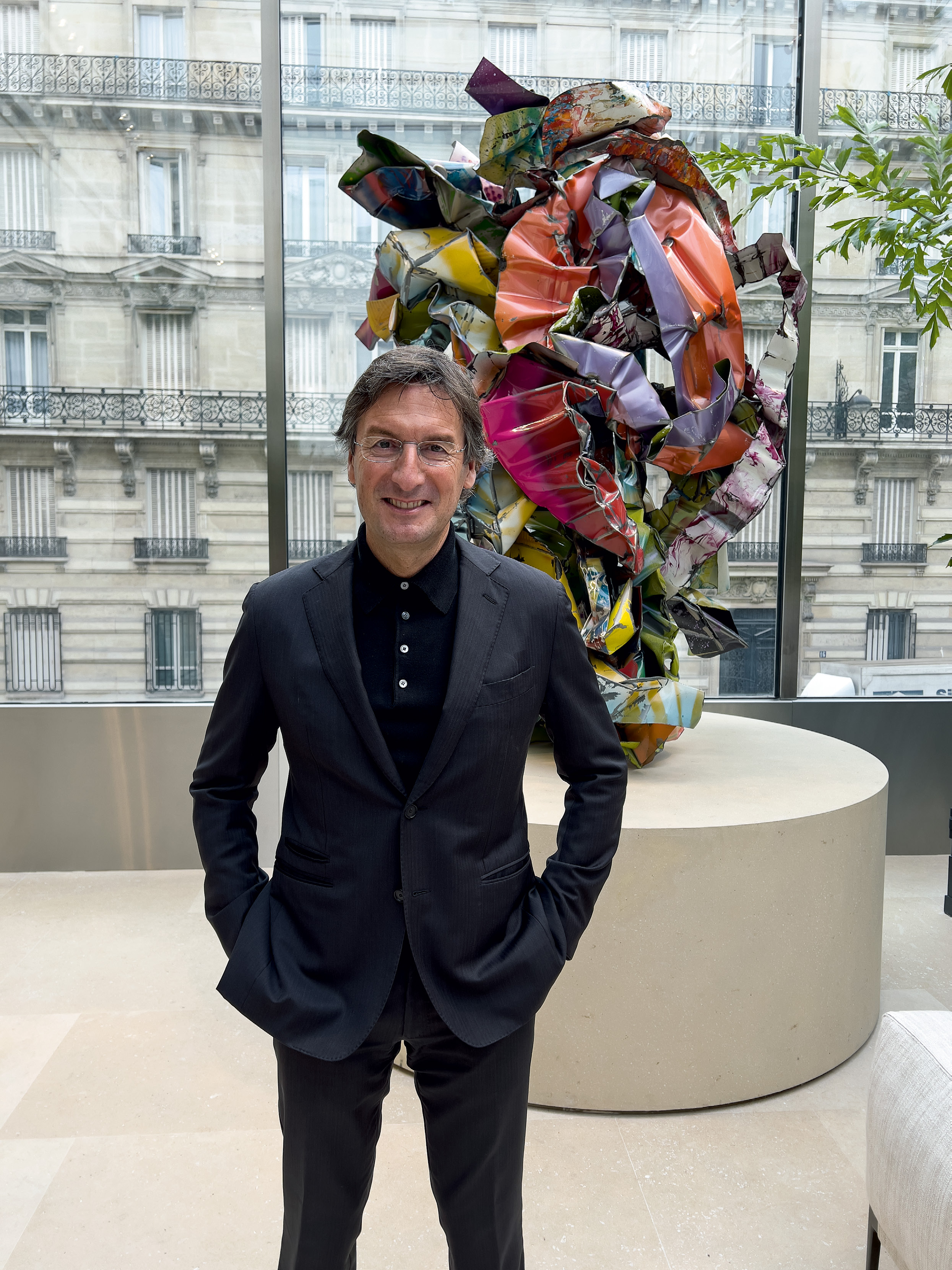 CEO Pietro Beccari on his mission to make Dior more, more, more.
'It had to be 30 Montaigne,' Christian Dior wrote in his memoirs about the hôtel particulier in Paris's eighth arrondissement. 'I would set up here or nowhere else.' So, on 16 December 1946, with Paris still recovering from wartime hardship, the designer opened his label in the townhouse, elegantly renovated with pearl-grey walls, multiple chandeliers, and, as he wrote, a 'flood of small palms'. Just two months later, the clothes that revolutionized post-war fashion would emerge from 30 Montaigne's three ateliers – two flou for soft fabrics and one tailleur for suits – when Dior showed his New Look.
Over 75 years later, Dior's 30 Montaigne has undergone another renovation. This one is the dream of Pietro Beccari, who joined the house as CEO from Fendi in 2018. Beccari is known for his ability to marry audacious marketing-led ideas with grounded business decisions – in the last two years Dior has seen revenues nearly double – but the crowning achievement of his ambitious vision is the total transformation of the building so beloved by Christian Dior. Opened in March 2022 – 'only four months late' despite Covid, Beccari says proudly – the project can be seen as a confident bet on the continuing importance of 'experiential retail' in an era of booming e-commerce and social-media virality. In the gargantuan 30 Montaigne boutique, menswear and womenswear have a wing each, while homeware, jewellery, shoes, and beauty each has a dedicated space. The building also houses the Monsieur Dior restaurant and a Dior café, which sells a cake named after the designer himself. There's even a private penthouse suite for VIP customers, offering 24-hour access to the store, personal shoppers, and chefs.
Then, there's La Galerie Dior, a spectacular 2,000-square-metre constantly evolving exhibition space that explores Christian Dior's savvy business mind and pioneering fashion vision, and how that has been interpreted by his six womenswear successors: Yves Saint Laurent, Marc Bohan, Gianfranco Ferré, John Galliano, Raf Simons, and Maria Grazia Chiuri. The gallery's sheer grandeur, splendour and size has already made it a landmark on the Parisian tourist trail.
Beccari recently took System for a stroll through 30 Montaigne where he discussed overseeing the project's construction during lockdown, his first ever meeting with Bernard Arnault, and what it means to 'dream Dior'. Meanwhile, photographer Juergen Teller shot a portfolio of pictures that captures the space both during construction and upon completion.
Styling by Jean-Michel Clerc. Models: Ruth Bell at Elite, Selena Forrest at Next, Sora Choi at Ford, Essoye Mombot at Oui Management. Hair: Caroline Schmitt at Art+Commerce. Make-up: Jindian Yang at Art+Commerce, Elodie Barrat. Nails: Nelly Ferreira. Photography assistants: Tarek Cassim, Tom Ortiz, Clément Dauvent. Hair assistant: Hyacintha Faustino. Nails assistant: Delphine Aissi. Post-production: Catalin at Quick Fix Retouch
Taken from System No. 19 – purchase the full issue
here
.