Futuro Optimisto
Charaf Tajer in conversation with Loïc Prigent.
Photographs by Zhong Lin
Styling by Ola Ebiti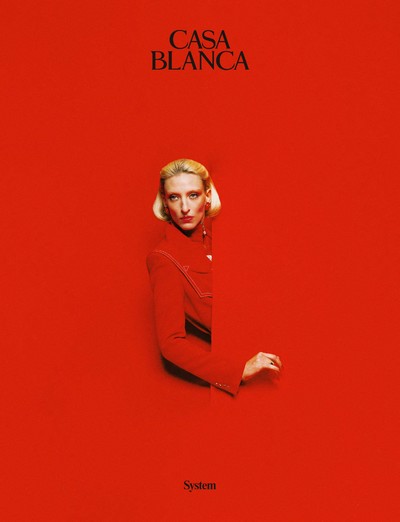 Futuro Optimisto! Optimistic Future! It's a welcome statement at the start of a new year. Especially after twelve months that have, for the most part, been defined by crisis.
It's a statement that also captures the spirit of Charaf Tajer, the French-Moroccan designer behind the fast-rising luxury label Casablanca. The brand – which has become synonymous with immaculate tailoring, figurative prints and bold colors – refuses to conform to the pessimism of the news cycle, offering instead a idealist vision of cross-cultural collaboration and unbridled joy that resonates with fashion insiders and consumers alike. After all, its daring flamboyance is fabulously apt for a post-pandemic world.
'The importance lies in showing what I find beautiful in the world – not the dystopian end of the world, which is all ugly and horrible, and where we're all depressed,' Tajer told filmmaker and writer Loïc Prigent when they met in late 2022. 'We live in an exceptional world.' This booklet is nothing less than a reminder of the world's exceptional beauty and optimism.
A look at the photographs of Zhong Lin will surely affirm it. Surreal and dream-like, she captures Casablanca's compositions, which are unlike anything else in fashion. Aqueduct arches, refracted spectral lights, and warped checkerboard flooring against a backdrop of deep red, orange, and blue hues. Toads, iguanas and praying mantises resting on sharply-tailored jackets made from tassels, beads, tubes, and sequins. A kaleidoscopic explosion of upside-down psychedelic imaginings.
It's testament to the fantastical versatility and depth of Casablanca's world. One where everyone's invited. Just days before Loïc met with Tajer to talk about the opportunities of building a brand based on curiosity, the designer was in Damascus, Syria, attending pacifist parties organised against a backdrop of ongoing war. For this is the inspiration behind Casablanca's next collection, a collection about joy and unity even in the most challenging of times, which will show in Paris days after System is released. The message is clear: collective self-expression can be a radical act of love. Never has this reminder been more necessary.
A lump sum of €3,000 is what French-Moroccan designer Charaf Tajer started his luxury label Casablanca with in 2018. Five years later, the brand is generating more than €45 million in annual revenue.
The growth of Casablanca speaks to the brand's undisputable relevance, tapping into the growing demands for women's resortwear—a category fueled by wealthy consumers returning to luxury lifestyles post-Covid and aspirational, Gen-Z shoppers entering the workforce—as well as the reboot of menswear to include more bold, and gender-fluid ensembles. Casablanca caters to both. Silk printed shirts and tailored pants have become characteristic of the French label, which are often adorned with big, abstract prints, intricate embroidery, and vibrant colors.
But Tajer's genius stretches beyond beauty. At the heart of the designer's mission is a deep cultural curiosity, and a desire to create space for the exchange of ideas. Every collection adheres to a theme informed by, as the designer puts it, 'movements that aren't supposed to be there.' Casablanca's Spring 2023 collection, for instance, was a psychedelics-inspired homage to the vaqueros of Mexico. Now, Tajer is at work on his next show in January, which is informed by the pacifist parties he attended on his trip to Damascus, Syria.
Below, Tajer speaks with documentary filmmaker and writer Loïc Prigent about transgressive cultural movements, transformational psychedelics, and transcending dystopian outlooks to find beauty and optimism in a world that all too often appears to be neither.
Loïc Prigent: Oh, what a lovely shirt! What is it?
Charaf Tajer: It's a shirt made of knitwear—from Damascus.
And what were you doing in Damascus, if it's okay my asking?
The next collection is inspired by a group of people who, during the war in Syria, were partying, taking LSD, having plastic surgery, and dressing really colorfully with crazy hair styles. Those people survived the war in part because of the partying. They were rebels in a pacifist way. I met this group of people—who are still doing these completely illegal techno raves and disco parties—and that is why I was in Damascus. And the show in January will reflect on my trip.
Have these people named their group?
No they haven't. It's an underground movement that forms illegally. I found the story just mad. I met them when some of them came to Paris as political refugees. As I was already in the Middle East, I thought it was a good time to go to one of their parties—a techno party in Damascus.
What does it look like? What codes are taken from this group for the collection?
We invented codes because there is limited documentation of these parties. It was my first time there. I've been working on this collection since last July.
Is it normal that you spend so much time working on a collection?
Yes, I always start work [on my next collection] just after a show.
Yes, I do a lot of research in the first two months. Then, I start designing and sampling. The general idea for this collection is really about love; it's against war and against the very idea of fighting. It's about being liberated through partying, and about self-expression.
What was it like being in Damascus?
Frankly, this morning I was still in a state of shock. I met people from all social backgrounds: kids who have to go into the army; people who are artists and who are more bourgeois; politically-active people. And the spirit is generally so positive—compared to Paris where people love complaining about nothing. The guys there have nothing; they're like in the shit, but they still have such a positive mindset and that is really touching. I've always been close to the youth, and I spent quite a lot of time with young people over there. Frankly, it breaks my heart seeing how they don't have the same opportunities as we do, and how complicated their existence is. At night there's no electricity, their currency is worthless, they have no prospects in life, most schools have been closed. It's very difficult. So, you come away thinking: how come I got lucky to be who I am—and not be in their shoes? You really come face to face with that reality. It's amazing to experience that, but at the same time this morning I was really down. I'm processing everything I saw there. The young people in uniform really touched me, too. They have to go to war even though they don't want to. There are portraits of Bashar al-Assad everywhere. It's crazy.
What was it like going over the frontier?
On the way there it was quite violent.
Because there was a traffic jam and people started shouting. There are armed guards everywhere, so there was a lot of tension. Also, it's obvious I'm not from there, so they asked me lots of questions like, What am I doing there? They've met French people, and so they would get confused because—even though I'm French—I look Arab. So they would be like, What's that about? There were bribes coming from people who wanted to get through the frontier quickly. You can imagine: getting into an unstable country from a country that's also completely unstable. Then there's this no-man's-land that lasts for about 20 minutes between Lebanon and Syria. When you get to Damascus, it's really beautiful, but at the same time really protected. There's been no bombardments in the center of Damascus, but as soon as you get to the suburbs there's so much destruction. You can see the traces of combat everywhere. I've never seen that before.
What made you decide to treat that as your theme for the next collection?
I met Maya Chantout, who was part of this movement and who told me of its existence. She'd left the country, having been lucky enough to get out. She got to France, went to fashion school, and then started working at Hermès, and then at Celine. Now she's a freelancer. When we met she had this really Parisian aspect to her, and then when she told me her story it really touched me. We're always talking about looking for the beauty in the world, and I think what's happening in Damascus is also beautiful. We talk about the bombardments, but people are still partying. It was a really touching story, and so I thought creating this collection is a way to show that beauty—the pacifist resistance of these people—from a different angle.
That makes a change from an idealized Hawaii.
And what will the prints be like on the famous silk Casablanca shirts?
There's reappropriated propaganda, an architecture theme—it's still Casa, just applied to Damascus. It's joyful, but there is one shirt where I draw a contrast between the people dancing and the fighter planes just above them. There's a Casa money print, which was hard to do. I've always been fascinated by and really studied the detailing on bank notes. It's just wild how they're made: the scanning, the mini monograms, the writing. I really enjoyed doing that.
You are so going to become a bank note designer one day, I can just see it.
It's the craziest iconography made of intricate details and holograms that make it impossible for them to be copied. I found this graphic designer—I didn't work with him—who has a site, specializing in copying bank notes. On his website you can see all these bank notes he's worked on from around the world. The bank note codes are completely mad.
Concert tickets can be like that—to avoid fraud.
Yeah, I think that's the step before. The ultimate step is definitely bank notes. I was looking into forgers, and even printers. For example, there are these printers that are illegal to own. I saw a documentary about gangster graphic designers who do forgeries.
I also didn't want to do any Arabic type prints or Arabic ornamentation—I avoided all orientalism as I didn't want to go down that path. That's how I came to the money prints, I was looking for a parallel range of ideas instead.
Because I find it too tribalist, and a bit too easy. I wanted to create other iconography for the jacquards and prints. I didn't want to fall into the Arab for Arab's sake. But you'll see in January.
How many of you are there in London now?
Wow, how many people are you employing every year?
We've employed a lot of people in the past four years and then there's the freelancers, too. We're at least 60 people at Casablanca.
Wow, that's huge. And there's no financial backing?
No. We had a small investment in the beginning, but now we need to raise in order to evolve. I want to open shops, and production is super complicated.
You always need to borrow more than you've got.
Yeah, if you sell for $25 million this season, you have to have $12.5 million in your bank to push the production forward. You don't always have that as a young label. We're not there yet and we're totally autonomous, so we have to borrow money and pay it back quickly. It feels like gymnastics.
The last time we saw each other via Zoom, I was fascinated with the tailors in London who create suits for you. Could you talk about them a bit?
We've got a 20-person strong atelier made up of the pattern-makers, machinists, people specialized in tailoring and evening dresses. All the samples for the show, apart from a few things that are done elsewhere, we do ourselves. We have a versatile, well-trained team. They all come from Burberry or other big houses, and they're all really passionate about what they do.
It really puts you in the designer category, having such a highly trained atelier.
We had this right from the beginning. As soon as I had my own office in London four years ago, I had a little room with a machine—a mini atelier. I've always wanted to do this. I didn't want to feel frustrated, waiting for three weeks to get your stuff back from Italy after sending it off. I wanted to create something more similar to a house. To be like a house, you need an atelier. The atelier grew really quickly, and that really makes a difference.
You have these strange, really unique trousers—I've never seen anything like the ones you make at any other show in Paris.
Is there something specific you look for in the trousers?
I think those trousers are one of the categories we need to work on. But it depends on the collection. The last collection was vaqueros-inspired, so we found these slightly weird shapes for the cut in Mexico. And yes, we did accentuate the crotch length. We made trousers that are a bit above the ankles and a bit flared. As we're still in the process of defining the Casa style, we sometimes do things that stand out—but I don't really have a specific style of trousers.
They're neither sportswear nor workwear, so it seemed to me that there might be a particular identity with the tailoring of the trouser.
Yes, tailoring is very important for us even with sportswear. We apply lots of tailoring proportions to sportswear to make it a bit more chic. Sports is something noble especially when thinking about the first guys who played tennis—they were super chic. I want to go back to that but in a modern way. So yes, even when making our tracksuits, we use tailored volumes and details for a sporty elegance.
Yes, the hoodies and the T-shirts are great. There are so many motifs, you can really feel the intention.
Yes, even the fabric is really well-developed. We've developed all our own jerseys. They're not at all a second category—they're just as important. I think there are two sides to the brand: there's the side which is very tailored and then there's the sporty aspect. That's what makes the spirit of the brand.
And are these photos inspired by psychedelics?
Yes. In fact, with System, I wanted to talk about psychedelics with a professional.
A psychedelics professional? Well, that's not me. I've only taken mushrooms twice.
What have you learnt about them?
What have I learnt? So many things, starting with the fact that it's great therapy. Through psychedelics I learnt how to let go of my ego.
Yes, they're the best. Psychedelics taught me a lot of compassion, how to see the world differently. They also taught me how to put things into perspective, not stress anymore, and how to focus on the important things in life. I'm still learning how to not be scared, how to get over certain fears that I've cultivated—they really help with that. Psychedelics are really important to me, especially mushrooms.
What sort of psychedelics do you recommend?
It depends where you are. But generally speaking, they're all good—especially in Mexico and in Hawaii. I think psychedelics are a bit like wine: it's best to drink locally. For instance, when you're in Italy, you drink Italian wine and eat Italian parmesan. Mushrooms are like Mexico's parmesan.
They truly are interior experiences; so personal. They help you analyze yourself and discover the world through a different point of view. A shaman once said to me that shamanism is the art of going far in a place that we don't know, but that the whole art of shamanism is about bringing something back with you. The difficulty lies in the fact that you trip, and then you forget that trip. So it's important to keep something from the experience by bringing it back into your life.
Holding onto the sensation, like a mental nugget that you can bring back with you.
I read that they've given mushrooms to people at the end of their lives, people who had terrible cancers. They were given mushrooms only to realize that they were just dust in a sublime cosmos. That helped them calm down.
Yes, I've seen that kind of thing, too. Here are the pictures.
She's wearing a blue door print against a blue door. The arch within an arch.
Yes, it's arches within arches.
Futuro Optimisto. It's the vaqueros collection we've done.
Can we talk about this picture where the girl is covered with lights, almost like a carapace?
When you're tripping on psychedelics, you have moments where you feel like you're part of the architecture. This picture is a psychedelic visual that we reproduced with the camera, one where you become part of a universe; where you realize you are blending into the world you are a part of, which in turn makes it easier to accept. One way of getting over difficult challenges is to accept you are part of everything. We wanted to integrate the design into this spirit of fractured lighting.
There is this cosmic aspect, even with a Casablanca T-shirt.
Yes, there's always a cosmic message. It's really important for us to show this.
It's like we're the opposite of Balenciaga—the true opposite of Demna. They have a point of view that is honorable and valid, but it's the polar opposite to us. I'm not talking about their polemic, but about the way they dress like skinheads listening to techno music with a totally dystopian view of the world. We have a totally different point of view. We want to show the beauty of the world with no limitations. We travel a lot and meet people who do things very differently, like the shamans I mentioned alongside other artists. For me, the importance lies in showing what I find beautiful in the world—not the end of the world, which is all ugly and horrible, and where we're all depressed. I want to share this notion that we live in an exceptional world with an abundance of beauty.
Above the clouds, always above the clouds.
Yes, I don't know if it's above the clouds, but I'm always taking time to acknowledge that it's not all shitty. If we want to pass on any sense of hope to the next generation, to pass on a sensitivity to questions of culture and nature, we have to give them a taste of what is good. Referencing certain artistic movements and types of architecture, showing nature in a particular way, is a way of saying that this world belongs to us. And it's beautiful, it's not empty. We can draw inspiration from everywhere. That's the message of the brand.
'Referencing artistic movements and architecture is a way of saying this world belongs to us. It's beautiful, it's not empty.'
Charaf Tajer
Do you ever see Casablanca as an art teacher who could inspire pupils by offering them good references and, in so doing, showing them the way?
For sure. Maybe not a teacher, but definitely a platform on which people can say, Oh yeah that's cool too. It gives people an excuse to talk about different subjects, like finding beauty in Formula 1 racing or by giving a glamorous, psychedelic edge to the vaqueros or through these hippies in the Arab world who are partying against a backdrop of war. That's what interests me and that is what this brand/platform is based on. It's about giving the keys to people who don't necessarily know about these movements. Casa is a medium. I don't know if teacher is the right word because it sounds a bit pretentious, but the brand creates a dialogue and a space for us to share ideas.
'It's about giving the keys to people who don't necessarily know about these movements. Casa is a medium.'
Charaf Tajer
Can we talk about Casablanca's embroideries in the spring 2023 collection, which for me are on a par with Lesage when they worked with Saint Laurent in the 1980's on certain jackets?
Thank-you for referencing Lesage. That's an honor. I went to visit their atelier recently and I hope to work with them next year. What do you want to know about them?
How much is it retailing for?
I think around €30,000. It's all hand embroidered, I don't know how many hours of work it took.
The gradations, sequins, tubes, beads, this level of sophistication is really extraordinary. That's the jacket you want to wear when you take mushrooms, for sure!
If you take the right mushrooms, that's the jacket you get to see.
So what about this rabbit?
Those are animals that are part of this psychedelic vibe. Have you ever been to Oaxaca in Mexico? At the beginning of the 20th century, an artist called Pedro Linares created this whole imaginary world of animals, and now it's become something of a tradition, like a horoscope. Only we have the 12 astrological signs and they have 365. Everyone has two animals each, and people even adopt them. So, we developed these particular drawings with local artists there for the collection. They created four or five totally psychedelic animals like this that have found their way into the collection.
Is Casablanca interested in a new culture like that with every new season?
Yes, it's what we've done since the beginning. I don't know if we'll continue, but I hope so. I was at a conference the other day where we were talking about fashion, and someone said to me: You travel to somewhere different all the time with each new collection—why don't you talk about Morocco? And I was like: I do, but I can also talk about other things—I don't see why just because I have Moroccan origins that I always have to talk about Morocco, and not explore the world? Morocco is an amazing place where people go on holiday and the culture is super cool, but as a Franco-Moroccan I want to explore the world.
'I don't see why just because I have Moroccan origins that I always have to talk about Morocco, and not explore the world?'
Charaf Tajer
Is the Moroccan aspect of Casablanca this explorer aspect?
Maybe. Maybe, that's what it is.
There's also that optimistic aspect, the sunshine, the colors, that determination to look for something optimistic in a world that often isn't. And audacity, too.
Yes, audacity is very much part of it—audacity and panache. Those are both things that often get lost in the world today. Humor is another thing that's often missing, not irony, but humor. I think it's as cool to do a collection based on vaqueros as it is to do one on Air France, which is a subject that can be perceived as quite austere with the blue, gray, white and red colors, and the uniforms. But I see so much poetry in the world of French aviation, the belle epoque of the Concorde. It's as interesting as the psychedelia of the vaqueros. I can explore both equally.
'Audacity is very much part of it — and panache. Those are both things that often get lost in the world today.'
Charaf Tajer
Place Vendôme, Chanel, the Ritz, the Hermès silk scarf: they're like the starting prism of your world.
Yes, it's a mixture of things. The Hermès silk scarf is a bit like the architecture of the brand. Inside it, we put what we want. We can talk about Lake Garda, about psychedelic animals from Mexico, about Tokyo or Monaco. We can talk about a thousand things.
I think it's interesting to give some depth to the conversation, too. It's not just about where beauty comes from. It's about the movements that aren't supposed to be there, like these hippies in a country at war. We're not talking about Syria itself, but about these people who want to escape fear through love. For me, there's nothing more beautiful than that. They are an oppressed people, faced with things that no one is ever ready for. I met people who have been to Burning Man, who party, who live their lives normally, some of them were plumbers, others architects, artists, painters—they are just normal people. But no one wanted to talk about the fighting planes overhead.
People who are in their 20s there have only ever known that state of war.
Yeah when they were seven or eight years old, war had already begun. But what I want to say is that it could be you or me. Oftentimes we have this vision of a refugee as someone we know nothing about, and I want to draw attention to the fact that these people we talk about on the television have a boyfriend or girlfriend. They have their families, their work, their lives. They're obliged to leave their home or stay in horrible conditions. I also met people who have left their lives in Canada to come back to Syria, who said: If we're not here to represent the culture, then cultural society will just collapse.
You have to really love your country.
Yes, you have to love your country and your people. But they're not masochists. They just believe they have a role to play in, for instance, organizing weekly concerts. I met this guy who has rebuilt his family home, which was not destroyed by the war but from old age, to throw weekly concerts that are free to attend. He brings in amazing musicians all to continue the creative conversation of Damascus. He doesn't earn any money doing this—he used to live in London, but he went back to cultivate the artistic fibers of the city. It was really touching to meet people like him because, in a world where people are really quite selfish, they've found this passion to give to others.
Yes, they really are a noble people.
Can we talk about the toad—is it part of the hat?
No, it was a toad that we had on the shoot.
It must have a name. I can find it if you like. But once again, it's a psychedelic allusion because there are methods where you lick the back of a toad.
And you reach a superior state?
Yes, but that's not mushrooms, that's more to do with ayahuasca.
Is that something you've tried?
Not yet. But I thought the animal was very beautiful, so we brought it along.
Yes, it was with its owner. There was one guy who complained about the horses in Casablanca's last show. Like, what are you doing to those animals?
There were three or four horses going round in circles on the runway—and people thought it was cruel to the horses?
Yeah, it pisses me off a bit. They were horses who work in cinema, so they are treated super well. They do that all the time, and their trainer was with them. Everyone was very happy. Animals are magnificent—there are so many species and so much beauty—and frankly, as long as the animal is well looked-after with lots of love, I don't see why we can't show this beauty. We take care and work with people who truly love animals, with specialists.
Would you say that the hats and the psychedelics were a way to move away from classicism towards creating these slightly crazier shapes?
It was the first time we had someone who makes hats on the team—this amazing guy, Noel, who I think you met when you came to the show.
Is he on the team or was it just for the collection?
Oh wow, so you really are a big house with an actual hat guy.
Yes we have an actual hat guy. He works part time for us.
It's normally only couture that has someone designated for hats like that.
Chanel actually has its own house of hatmakers.
Yes, and so does Hermès. The hat completes the look. It's complicated to do as it can easily fall into the carnivalesque. We're pretty close to having a hat like that—if you made that hat three or four centimeters taller, with a smaller brim, it would instantly be something else.
It's already pretty Tim Burton-esque.
Yeah, it's completely surreal. But, having someone who knows the tones and the proportions of hats really helped me. I didn't want a shy hat, but I didn't want a Halloween hat either.
A good balance. You're the one who ultimately decides the balance at Casablanca.
With tassels and beads—it's pretty crazy. Karl [Lagerfeld] would have loved to shoot this outfit.
Really? If you're bringing Karl into the conversation—he defined the codes of fashion today. It was him that first started the notion of having a creative director in a house. There had been people who'd worked for big names. But he was the star creative director, who was almost more important than the brand itself.
Once, after a Chanel show, I was invited to lunch in the Grand Palais and we met there. I was with a friend who I'm really close to. So, I went and Karl was sitting opposite me.
Yes! We spent a few minutes with him and then he left, he was a bit tired—it was towards the end.
'I'm inspired by Karl Lagerfeld. He's a part of pop culture. I'd like to be a continuation of that. A style that isn't deconstructed but isn't old and dusty.'
Charaf Tajer
Sometimes he was tired after the shows, too tired to talk to the press. What did you talk about?
We didn't talk much. We said hello, and then it was a conversation around the table. He was talking about music with Pharrell and asked what we thought about the music at the show. Then he said his goodbyes and left.
I'm really inspired by him. It might be because of him that we always have such strong themes in each collection. He really defined a way of being a creative director that didn't exist before. He's a part of pop culture, all the while being a really classical guy. I like those two aspects. I'd like to be a continuation of that style, a style that isn't completely deconstructed but also isn't old and dusty. I can see myself a lot in the way he thought, in the way he integrated architecture and design. He would often talk about drawing, about comic books, about caricatures. He had such an incredible repartee. You met him a lot didn't you?
Yes, I knew him well, I watched him work a lot. So, for the moment, there's been just one post-Covid Casa runway show, is that right?
Well, I can't wait to see your show.
I can't wait to do it, too. We're going to have a pretty crazy set design. It'll go so well with the story.
Casablanca
Founder and Creative Director: Charaf Tajer
Art Direction: Sid Oudainia Beaulieu
System
Editorial Direction: Rana Toofanian
Editor: Daphne Milner
Transcription: Rebecca de Volkovitch
Team Credits
Models: Maggie Maurer at IMG Models, Paul Hameline at Success Models, Anita Pozzo at Women Management.
Musician: Tsunaina.
Photographer's first assistant: BigWang.
Photo assistants: Vincenzo Sassu, Olivia Tran and Thomas Jardin.
Set design: Sophear at Art + Commerce.
Set-design assistants: Benjamin Vasseur and Hubert Leccia.
Styling assistants: Holly Bartley and Alexis Landof.
Make-up: Min Kim.
Make-up assistant: Beatrice Han Ching.
Hair: Jacob Kajrup.
Hair assistants: Sofien Semmache and Gwendoline Joncour.
Nails: Delphine Aissi.