'Why did you choose them? They're not even pretty!'
Chinese casting director Denise Hu on bridging the gap between local identity and Western model standards.
Interview by Blake Abbie
Portrait by Yi Tuo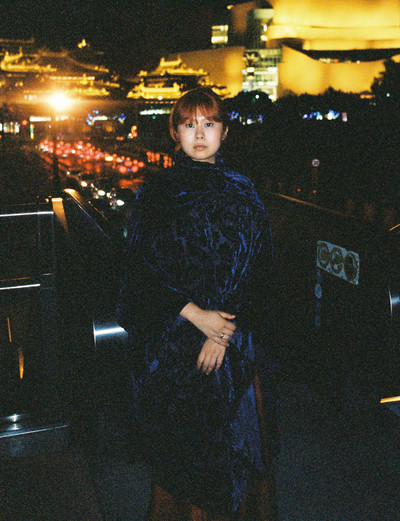 Chinese casting director Denise Hu on bridging the gap between local identity and Western model standards.
Denise Hu might currently be one of the fashion industry's most powerful casting directors, yet few people outside of China know her name. Working in what is undisputedly the fashion world's powerhouse economy, Hu's eye is guiding who Chinese people see on their billboards and ultimately influencing where their money goes. Hu has worked on countless mini-campaigns with Loewe, Bottega Veneta, Fendi and other Western luxury brands to make sure clients – both in China and in the Chinese diaspora – know where to shop for important gifting festivals, such as Lunar New Year and the multiple Valentine's Days. She has also worked on the commercially crucial restaging of European runway shows for Chinese clients and editors unable to leave the country due to Covid restrictions. Working with European designers is only half of the equation, however; Hu is also helping to establish what it means to be – and look – Chinese. Her casting for designers such as Xander Zhou, Xu Zhi, and VII Victor X Wang is creating a national dialogue while becoming an important cultural export. With Chinese consumers caring about what is being sold to them and how they are represented internationally, Hu must find the delicate balance of who the market wants to see and who aligns creatively with a brand or editorial.
27-year-old Hu started her career street casting – which is how we first connected when she cast me for a runway project – but in 2011 moved to the UK to study fashion design. Quickly realizing that sewing was not going to be her path, she moved back to China and began working in casting almost by accident.
Blake Abbie: How did you get into casting?
Denise Hu: Officially with Yang Li, when he and stylist Ellie Grace Cumming came to China in 2017 to shoot a book with the French photographer, Antoine d'Agata. We had a mutual friend in the UK, and I ended up helping with casting on the project. We shot every day in Beijing for two or three weeks. It was crazy and exciting. A lot of people from all over China came to Beijing for the shoot. It was all street-cast people with probably only five to ten professional models.
Street casting was also how you started working with Balenciaga, wasn't it?
Exactly. Walter Pearce [from Midland casting agency] asked me to help out for Balenciaga back when Lotta Volkova was casting. We knew each other from Instagram and we street-scouted together in Shanghai at the beginning of 2018. Walter needed someone who knew the underground clubs and other places where cool people hung out. The following seasons were with Léopold Duchemin; we went to so many different cities in China and also Korea. We had a good time working together. Walter had already been to China to cast a shoot with Feng Li and Vanessa Reid for System. He posted something on Instagram saying he needed models, so I sent him some people I knew in Chengdu where they were shooting. Walter was wanting to street cast, but the production company they were working with didn't understand what street casting meant. They didn't understand why Walter was looking for people on the street.
When did this shift towards 'street casting' start in China?
Probably about five years ago. Most Chinese productions and clients thought it was strange to find people on the street to model for them. Traditionally, they would really only look at modelling agencies. The people who sent out casting calls were only there to organize with the agencies and wouldn't be asked for any creative input by the clients. Nowadays, that's changed. I often get requests for '慒嬣扺椇灚' – which can be translated as 'amateur-feeling model' or a 'street-cast look'.
How is casting viewed in China?
In China, the role of casting director has never really been considered a stand-alone job. Casting is often combined with other responsibilities like producer, show director, stylist or consulting editor. At the end of September during Shanghai Fashion Week, I had a client who asked me to manage the entire backstage of their runway show: 'I just want to contact you, one person, for the whole project, for the models and catering – the whole backstage!' Clients sometimes think all things related to models is my job, but I can't do that! Some of my clients still don't recognize my job, so when I bill them they'll ask me to write 'producer' on my invoice or it won't go through because casting isn't in the budget.
How do the open-call castings work for runways?
When we cast for a client like Gucci – when they did the reshow of its Aria collection in Shanghai in 2021, for example – we have all the 'professional' models fly in from all over the country. The client pays for any travel expenses and a per diem. For a show like that with 100 models, we probably see about 600 people in two days by going through all the photos and PDFs of all the models in China and some online casting. Then we select around 300 to see in person. There are shows in China that can have up to 350 looks sometimes now!
China is incredibly diverse ethnically. In casting for the Chinese market, is there a requirement to represent China in a specific way?
It's actually quite open, which might surprise the West. The requests from a lot of clients are for diversity. Other than the Han majority, China has 55 ethnic minorities and clients here want to be able to book people from places like Tibet or Xinjiang, different faces that may not be the 'Chinese' in the way Western people think. Especially when casting groups of models, each person can stand for a different market segment. I think that's what touches different types of people and makes them feel they're also part of fashion and its magic. Clients are also open to different body shapes, plus-sized or shorter models, definitely in commercial campaigns or magazines but also on runways. This is really why clients want to work with me. Everyone has access to agencies' rosters online now, so clients need someone who knows people outside the industry – not really even just someone who is able to do street casting, but someone who has the network of key opinion leaders [KOLs], influencers, or talents like dancers, DJs or musicians. Chinese clients now actually require a wide range of people. I was just working on this show for Peacebird, one of China's largest high-street brands, and they asked me for football players, frisbee players, musicians, models, and of course, KOLs. People, especially consumers in big cities, want to see different types of people. They don't want to see everything only on supermodels because that's not how they are themselves.
'Consumers in big Chinese cities want to see different types of people. They don't only want supermodels because that's not how they see themselves.'
In the early 2000s in China, the covers of magazines like Vogue China, which launched in 2005, featured only supermodels.
For China, it was supermodels first and then came the superstars, like actors and musicians. Look at supermodels like Emma Pei and Jerry Fu from that era though, and compare them to current supermodels – a new type of beauty of China has been discovered. Also, everyone can be a star now with social media – there are so many talented people!
There are more and more KOLs on runways and in campaigns in China, too.
All the shows I've done recently have had KOLs. The last runway I cast was for DNT – Do Not Tag, a brand started by Han Huohuo, a famous blogger from the early 2000s. His goal was to get the runway onto Weibo Hot Search – the trending topics of the day – so we had a few celebrities and a lot of KOLs walk the show. There were probably fewer than 10 professional models out 66 looks. The models are definitely starting to feel the competition.
I look at model agencies, of course, but also on the street, in nightclubs – anywhere! They're friends or friends of friends, and of course, I also look on social-media platforms, like Xiaohongshu, and WeChat posts. Anyone can be cast. Do you know how professional models get signed to an agency?
There are modelling competitions…
And there are also university courses called 'clothing performance' – models go to university to study.
Which universities have modelling courses?
A lot of them, at least four in Shanghai, but they're all over the country. Agencies visit these universities and fashion schools to select models from these courses. I've asked what they learn there and was told: how to walk, how to present yourself, English, and just a little bit of art history. It's easy for these young models to apply because they're tall and skinny. That's the main requirement.
'Models in China go to university to study 'clothing performance' – they're taught how to walk, how to present yourself, English, and a bit of art history.'
I suspect that for many people this is the only way to be discovered.
Maybe, but also in China, anyone can give anyone a job. It's not like it's only the production or modelling agencies that can give the casting director a job. Anyone can give a model a job. The model can give a photographer a job. That's what it's like in China now. Everyone is giving someone else a job as long as they get their commission. Anyone could be anyone's agent. So far it's only in China; we're not letting anything come in and we're not really letting things out. At the moment, it seems like we're just playing with ourselves!
Is there a difference in how a Western client or a Chinese client sees models?
Western clients generally know what they want. When they see model videos, they don't even need to see people in person because they have a more defined understanding of what they want. For some of my Chinese clients, I really have to help them to clarify what exactly they are looking for. There is definitely a difference between the two in terms of what beauty is.
I think the most attractive part of Chinese beauty is that it's not too much, not too little, just right – reserved, subtle, thought-provoking. There's a difference between high-end fashion and commercial beauty. It's always about finding the balance. Working with clients here, they probably want some edgy people, but not too edgy. There's definitely a line, but Chinese commercial clients are keener on conventional beauty that the mainstream market will understand: elegant, sweet, young. For Western clients – and this has happened a few times – they'll like a certain type of person and then people in China will be like, 'Why were they chosen? What's so special about them?' Some people might consider them not beautiful, possibly even ugly. When we did the scouting for Balenciaga, there were some models we chose who Chinese agencies asked: 'Why did you choose them? They're not pretty or anything.'
'I think the most attractive part of Chinese beauty is that it's not too much, not too little, just right – reserved, subtle, thought-provoking.'
Do you find there's a disconnect between the Chinese market and its casting needs and Western markets?
Some brands divide their marketing campaigns. For larger first-tiered cities like Shanghai, Beijing, and Hangzhou, they'll use a China-focused 'high-fashion' campaign with Chinese models, and for second- or third-tiered cities, they'll probably choose a campaign with Western models or models with big eyes and sweet faces that are traditionally 'beautiful'. People online in China can be quite critical about models with small eyes. 'Why are they in the campaigns? We want to see beautiful people in China.' That kind of thinking is quite controversial because a lot of the good models, even like Ju Xiaowen, have smaller eyes. In 2021, Mercedes-Benz had an advertisement with a model with smaller eyes and netizens thought the company was perpetuating a stereotype that Western people have about Chinese faces. The backlash to that one photo was so bad that they had to pull the ad.
These kinds of stories definitely show how powerful and influential the online Chinese community is. They can really drive brands to actively change course.
Yes. After the Mercedes ad, quite a lot of my Chinese clients told me they want only bigger-eyed models.
How is it to cast and work with KOLs and celebrities?
Some of the celebrities can be quite picky, really tricky, but most of the KOLs and celebrities are quite easy to work with. Did you see issue zero of Perfect magazine? There's a story with five young Chinese actresses that I cast with stylist Jeff Lee. We had a lot of fun with them, even if one was a bit pretentious. When they were trying black lipstick on her, she was really not happy. 'Models service the clothes, but the clothes service the actor', her agency told us after the shoot, but that's not quite right. [Laughs] Most celebrities I've worked with so far have been fine to work with, but they do care about who they stand next to. If they are in a lineup, they can't be on the ends, or if they were walking out in the finale of a runway, they have to be in the middle, definitely not on the sides!
I was thinking about all the campaigns for all these shopping festivals, like Chinese New Year, Chinese Valentine's Day, and 520. There are so many and brands rely on them for a massive portion of their revenue.
Yes, I've done loads of these campaigns; they're quite interesting. This time last year, I cast the global Chinese New Year campaign with H&M. We shot around 40 people in China and it was seen everywhere. I'm currently working on the Bottega Veneta Chinese New Year campaigns for next year.
You worked on Bottega Veneta's most recent Chinese Valentine's Day campaign in August, with the straight, lesbian and gay couples.
Yes, they're not kissing or hugging each other; they're just smiling couples on leisurely bike rides together. But you can see they're real couples, right? It's great how we found a way to present this love almost vaguely – but not that vaguely at all.
While there are no laws about sexuality in China, there are government 'requirements'. Do you find it difficult to work around these?
The LGBTQIA+ community is quite big in China, and people want to express themselves. So I really don't think we should shy away from it. Smaller designers shoot Pride campaigns, but more mainstream brands like Li-Ning or Nike might still be wary of doing that.
Are there things that you're explicitly asked not to do?
We don't shoot people smoking cigarettes in magazines, and no tattoos. It does kind of depend on the publication or brand, though. For a magazine like Nylon it could be fine, but probably not for Vogue or any bigger brand. For some models it might be fine to have tattoos, but for celebrities it's not. The singer and actress Faye Wong's daughter, Leah Dou, who is a musician, always has her face tattoo retouched, even in videos. A lot of people have tattoos in China; it's very normal now. During a really 'sensitive' time, models and celebrities couldn't even have bleached hair. I'm not happy about it, but I wouldn't personally get myself into trouble by pushing against these regulations because it's not something I can change.
Do you think things will change?
Before 2004 it was open, but now it's getting to this point where people have to explore where they can. We can see what's happening in the outside world and we do our best considering the requirements. Chinese people are actually really open-minded. We have a lot of other things we can try to do. It's funny how everything is actually out there, how we're actually having fun – but have to pretend we're not.
Taken from System No. 20 – purchase the full issue
here
.