'It's not a bag, it's a Baguette!'
Interviews by Kim Hastreiter
Photographs by Collier Schorr
Styling by Katie Burnett
Back in 1997, Silvia Venturini Fendi, an heiress to the Fendi empire, had not long been in her role as head of accessories. Her new design was a petite shoulder bag in soft leather that nestled under the arm as easily as a French loaf: the Fendi Baguette. A light, modern and cheekily named expression of Fendi's classic luxe values – and an alternative to Prada's then-ubiquitous black nylon bags – the Baguette quickly became the bag to have for industry insiders and consumers alike, rocketing brand sales and proving Silvia's design instincts.
Meanwhile, on the other side of the Atlantic, New York stylist Patricia Field, who had made a local name for herself with her eponymous clothing and accessories store, was offered the role of consultant stylist and costume designer for a new TV series called Sex and the City, a sassy and oh-so-New York snapshot of four women's lives in the late 1990s. Field armed the show's main protagonist Carrie Bradshaw, played by Sarah Jessica Parker, with a Fendi Baguette, projecting it as the ultimate aspirational fashion accessory. Famously in season three, a mugger demanded that Carrie give him her bag. 'It's not a bag,' she replies. 'It's a Baguette.' A legend was born – and sales exploded.
Triggering the birth of the 'It bag' era, Fendi's value increased, in doing so accelerating its acquisition, in 2001, by LVMH. Indeed, the broader shift in the luxury sector since then towards accessories as sales drivers has resulted in an industry that according to estimates is currently generating $490 billion annual revenue.
One person observing this from afar was a young Central Saint Martins design student, Kim Jones. After graduating in 2002 and launching his namesake menswear label, London-born Jones has since risen through the designer ranks to become one of the crown princes of LVMH – initially in 2011 when Marc Jacobs placed him to oversee Louis Vuitton menswear, through to today in his parallel artistic director roles at both Dior Homme and Fendi's women's collections.
To mark the recent 25th anniversary of the Fendi Baguette, Silvia Venturini Fendi and Kim Jones were aligned: create a standalone Fendi collection that honoured New York, aided and abetted by the prince of downtown design Marc Jacobs; the emblem of uptown luxe, the LVMH-owned Tiffany's; and of course the unofficial face of the Baguette, Sarah Jessica Parker. They then staged a celebratory runway event during New York Fashion Week last September, creating a social-media-friendly love letter to the city that first gave its heart to the Fendi Baguette.
Keen to keep the Baguette's New York celebration going, System asked downtown legend, founder of Paper magazine and self-prescribed 'cultural disrupter' Kim Hastreiter to speak with Silvia Venturini Fendi, Kim Jones and Marc Jacobs, and select an idiosyncratic cast of New Yorkers to gossip about the city they call home, before inviting photographer Collier Schorr to capture them all with their choice of – what else? – Fendi Baguette.
Silvia Venturini Fendi, a granddaughter of the Roman house's founders Adele and Edoardo, had only been head of accessories and co-designer of the women's line for three years when she hit gold. In 1997, Silvia changed the trajectory of the Fendi family business and became a legend when she designed the Baguette, the instantly iconic 'It bag'. Having always loved the Fendis and what they've done over the years, it was a pleasure to talk to Silvia about both the Baguette and New York City back in the day.
Kim Hastreiter: When did Fendi first come to New York?
Silvia Venturini Fendi: The first store to sell Fendi in New York was Henri Bendel in 1975.
Kim: Bendel's was such an incredible store in those days. So many brilliant people got their start there.
Silvia: In my family there was always this story that my mother and my aunt Carla came to New York and took a hotel suite to show the collection. Bendel's didn't come to see them and the others who did come were more conservative and said that it was not for the American market. My mother and Carla thought it was impossible that these people didn't like these things and that it was because they didn't really understand the collection. So they went around looking at shops, and when they saw the Henri Bendel store on 57th Street, they loved it.
Kim: Bendel's always sold new stuff that no other store had. It was an amazing store. Did you ever hear about Henri Bendel's open call?
Kim: Well, every month, in the 1970s and 1980s, Bendel's would have an open-house day where anybody, no matter who you were or where you came from, could stand in line and bring anything they made to show the buyers. Every month all kinds of people came from far and wide to line up on the sidewalk, holding garbage bags or cardboard boxes filled with dresses, accessories, sweaters and stuff they made. You just had to wait in line and if the buyers liked what they saw they would buy it on the spot from anyone. They discovered so many amazing unique talents this way and it made their store so unique and fresh. The jewellery designer Ted Muehling was discovered this way. He waited in line with a paper bag filled with the jewellery that he'd made in his Brooklyn kitchen, and they bought it all.
Silvia: This I didn't know. My mother and Carla brought their collection over to Bendel's to show, but they were told the buyer wasn't available, so they asked for an appointment with Mrs Stutz who was the president.
Kim: Geraldine Stutz was a visionary.
Silvia: So they arrived with the luggage, unloaded the furs and when Mrs Stutz saw the collection, she said, 'I want every­thing – and I want to give you all the windows at Christmas.' So they left all the collections there and went back with empty suitcases. That's how everything started.
Kim: That is beautiful; I love it. New York, New York!
Silvia: New York has been very important to us.
Kim: Do you remember when you first came to New York City?
Silvia: It was in the early 1980s. I decided to work instead of studying, as I was very interested in fashion. My family said, 'OK, you have to study but you can work for us during the holidays.' So I travelled with the trunk shows and we used to do one in New York every September. I also had a lot of fun, because I was 18 and 20. It was the Studio 54 moment, and I remember we were doing the fittings at Bergdorf, so I would come directly from 54 to Bergdorf in the morning dressed in my disco evening attire, with my high heels in my hand. And the security man would say, 'You went out all night!'
'I'd come directly from Studio 54 in the morning to do fittings at Bergdorf, still dressed in my disco evening attire, with my high heels in my hand.'
Silvia Venturini Fendi
Kim: I worked as a sales girl in those days at [Upper East Side clothing store] Betsey Bunky Nini on Madison Avenue. I would also stay up all night going to clubs and then go straight to work, dressed insanely.
Silvia: It was part of New York; it was so exciting. I was going to The Roxy and the roller disco.
Kim: Then came the Baguette! Congratulations on 25 years of this iconic bag. Why do you think the Baguette became such an enduring success?
Silvia: I think it was a kind of alchemy, but one of the simplest reasons was that it was the right bag for the right moment. It was in 1995 or 1996 when it was all about minimalism and everything started to be very ergonomic, especially with all the new devices being invented. At that time the black nylon bag was very popular; everyone had those.
Kim: Designers were obsessed with Y2K madness. Yes, it was that big Prada black nylon moment. Plus lots of Velcro and futurism.
Silvia: Exactly, which was never really the aesthetic of Fendi. We wanted to do something that was really Fendi. Karl and the sisters were doing eclectic furs, and we wanted something new in a bag where you could have your hands free, so women could walk with their hands in their pockets like men! That's why I wanted a very short strap, so you could wear it high under your arm. And in order to fit under the arm, the bag had to be soft and be treated as if it were not a bag, but more a garment. We experimented with different fabric and materials. I consider the Baguette a manifesto of identity and individuality, because it is always the same but always different. You choose the one you like, the one that suits you and talks to you in the end.
Kim: There were feathers and there were beads. They were like art. Were they one of a kind?
Silvia: That was the idea. They were very hard to find because the variety of components made them difficult to produce. There was a scarcity, so we started doing these waiting lists.
Kim: That made people crazy to get one. What was the tipping point moment when all of a sudden, the bag became 'It'? Was it when it was featured in Sex and the City? Patricia Fields, who styled the show, made that happen, right?
Silvia: Yes, Patricia! We were the first to lend her clothes and she always thanks Fendi because once we did it, all the other designers followed. When I read the story, with all those women, I thought it would be so good for Fendi – it is a show celebrating women. So I said give them everything they want. That moment when Sarah Jessica Parker says, 'This is not a bag, it's a Baguette', was exactly how I felt about the bag.
Kim: Was it that TV show that named it the Baguette?
Silvia: No, it was us. We named it that because of the attitude and the way the French hold a baguette. It's like a little bag in French; it's a baguette. I learned from Karl always to have these little jokes with names.
Kim: There is a big resurgence of the Baguette these days.
Silvia: Once again, it's timing. We started to see them on the vintage market, so we understood something was going on. This Spring collection includes interpretations of it by Marc Jacobs, Kim [Jones], Sarah [Jessica Parker], and even Tiffany's. We wanted to speak about New York City, which has been so important not only for the success of the Baguette, but also the history of Fendi.
Kim: Your latest collection was a love letter to New York. You not only showed it here, but your collaboration with Marc Jacobs even extended to a little capsule collection, which was fantastic.
Silvia: When I think about New York, I think of Marc, Sarah, and Tiffany's. Growing up, if you went to New York, you went to Tiffany's. I remember when I was 14 and my mother bought me the key ring that had the key to our house on it, so I could go out at night. I still use it.
Kim: What would your perfect day be in New York City?
Silvia: I'd go to Central Park because to me, New York is Central Park. Kim and I went together today to see the roller disco and we stayed there for hours. The last time we had two or three days in New York, there was a window of three hours and we stayed for three hours in the crowd watching them dancing. I also like to walk in the streets stopping with all the crowds together at the traffic lights and then starting altogether again. There is a sense of community, a sense of belonging to a crowd – it is so different from the Italian way of life. Street fashion really started here in New York and then spread all over.
Kim: And that is where fashion comes from much of the time. America is naive in a way because it doesn't have the baggage or the history. Also, the high-low concept came from here. Like wearing a skirt from a thrift store with a Fendi bag, that's very New York.
Silvia: This is the only city where you see creativity in the street like this. It is very exciting.
Kim Jones is a man after my own heart. I've loved him for years from afar but had never met him until now. I just had this feeling about him because he is so connected in what he does with culture, and so am I. After our conversation about his new Fendi collection, I realized my instinct was 100% dead on. Like me, this British designer of both Fendi womenswear and couture and Dior Homme is an obsessive collector of stuff and people, with culture seeping out of everything he does. I was so excited finally to have a chat with this super-good guy.
Kim H.: I guess the question to start with is why are you celebrating the Fendi
Baguette with a show in New York?
Kim J.: Because the Baguette became almost like a character on Sex and the City, the show about New York City that everyone was obsessively watching in the late 1990s. So I thought I would go back and look at what was going on then, in 1997, and what was going on in and around New York.
Kim H.: I've always thought of you as being a great collaborator. You've worked with some of my long-time friends like the artist KAWS, Janette Beckman, Futura, and others. I've always admired and related to you even though we'd never met until today. You have a great eye and such a passion for culture and art, which is also my language. I love that you did this latest Fendi collaboration with Marc Jacobs, Tiffany's, and Sarah Jessica Parker. What makes these collaborations great for you?
Kim J.: When I thought of this New York show, I thought about how there was always the uptown and the downtown here, and the crossover where people from different backgrounds were mixing together in night clubs. That was always really exciting to me; it always seemed so cool. When we opened the big Fendi store in New York last September, I just looked out of the window, and I saw Tiffany's and obviously Breakfast at Tiffany's and I was like, 'Oh, the Tiffany Baguette.' So I called Alexandre [Arnault at Tiffany and Co.] and said, 'I think we should do a Tiffany Baguette bag, but make it quite like fine jewellery. Then I started thinking of downtown, and the king of downtown to me is Marc Jacobs. I really loved what Marc's been doing in his collections recently, so I just said, 'Will you design a collection for Fendi?' It's not really a collab; he has done his version of a celebration of the Baguette, and I've done mine. And then Sarah Jessica Parker did one, too, of course.
'Sarah Jessica Parker in Sex and the City being held up for her Baguette by a mugger was probably what made the bag so iconic and desirable.'
Kim Jones
Kim H.: Are you moving the Baguette forward or just celebrating it?
Kim J.: Everything I do in fashion has a past, present and future. That is how I work. When I started working at Vuitton, which had an archive, they did an exhibition, which was all vintage bags and trunks, and I was like, 'You need to have the new ones in it, too. You need to think about what will be in this collection in 20 years.' I was looking from a curator's point of view. Sarah Jessica Parker in Sex and the City being held up for her Baguette was probably what made the bag iconic. But the functionality of it was very different from other bags at the time, its softness.
Kim H.: What was your impression of Fendi when you were growing up?
Kim J.: I always associated Fendi with bags because that is what I saw. I met Silvia Fendi about 12 years ago and I just thought, 'What a chic woman.' She was wearing this safari suit, at a conference. The Fendis are really like family now.
Kim H.: How old were you when you first visited New York?
Kim J.: I guess I must have been 17, I think. I stayed in a hostel near Times Square. I probably came here to go to the different clubs, and for the excitement. I just wanted to see it all. Midtown was still quite rough; there were all those porn shops and it just felt exciting. I like the rough with the smooth, otherwise cities get too Starbucks, and that's boring.
Kim H.: Which clubs did you go to?
Kim J.: Pyramid and places like that.
Kim H.: Did you ever go to Wigstock?
Kim J.: No, but I would have liked to. That was just a bit before my time, but I looked at pictures of it.
Kim H.: I met Leigh Bowery at Wigstock.
Kim J.: I have a big collection of his clothes! They are held in a museum.
Kim H.: He was a mind-blower. Do you know Stephen Tashjian, aka Tabboo!? He's such a great artist. I love his work.
Kim J.: I know of him, but I don't know him personally.
Kim H.: Oh, you have to meet him. Tabboo! used to do a column for us in Paper.
Kim J.: I used to buy Paper at Tower Records in London, in the imports section; I've still got them all.
Kim H.: Amazing! You know those are collectors' items now. I sold Paper and left the company five years ago and never looked back.
Kim J.: I have always been an obsessive collector and those magazines were how you could see what was going on.
Kim H.: What is a perfect day in New York City for you?
Kim J.: Walking around, looking at people, going to shops.
Kim H.: Where do you see the most interesting people?
Kim J.: All the roller skaters dancing to disco in Central Park on a Sunday afternoon. There's this old woman dressed up like she's an ice skater, just dancing around and smiling; it's amazing. I could just sit there for hours. Last summer we went to Washington Square Park and there was a naked person walking through.
Kim H.: Oh, I know that guy. He lived in the park naked for the entire first year of Covid. I live on Washington Square Park. It has gotten much more gnarly; it has a sort of homeless encampment in one half of it now. It's like the old New York. So your perfect day is just walking around? Anything else?
Kim H.: You collaborate with a lot of artists I see. Do you collect?
Kim J.: I've been collecting. When you go into my house there's a Bruce Nauman, which is the two TVs next to each other, which I used to go and look at in Tate Modern when I was at Central Saint Martins. I was obsessed by it, and then one came onto the market, and I got it. I've got a mix of things in my bedroom: a Picasso, a Rodin, a Gaugin, a Magritte, an Edvard Munch, paintings by Peter Doig…
Kim H.: Whoa! You weren't joking when you said you're collector! You're a man after my own heart. So you mix new and old.
Kim J.: I like paintings from the interwar period. Then I have a library, with all first editions that have all been inscribed. I've got Vita [Sackville-West]'s copy of Orlando, there. The library is in a house that I bought in a village called Rodmell, which I'm going to turn into a study centre, so all the books will stay there, and with the British Library and Sussex University. So people will be able to go there. I collect ceramics, too.
Kim H.: You have to think about what you are going to do with it. I am also an obsessive collector and I am dealing with this right now as I am getting old. I'm actually doing a book and a big show about it called STUFF.
Kim J.: My dad died a few years ago and left a complete mess with his will. So I instantly sat down and wrote my will and decided what I'd leave to the people I love. All the Bloomsbury stuff is going to the Charleston Trust, and my collection of Jack Kerouac – all the inscribed copies, the letters – will go to the Jack Kerouac Estate, because they are opening a museum and we did a project with them. There are these chunks of things, like that goes there and that goes there.
Kim H.: You have to document it. You also need a book.
Kim J.: Yes, I'm going to do a book: a book of paintings, a book of clothes, a book of books. They become amazing reference materials.
Kim H.: Do it! I loved meeting you, Kim, you are not disappointing me at all. You are a man after my own heart.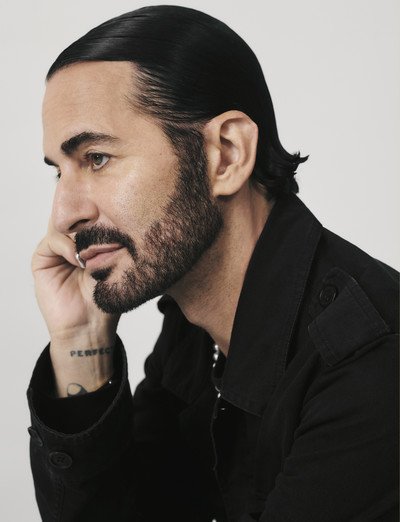 I first met Marc Jacobs in the late 1970s or early 1980s, when he was just a born-and-bred New York City kid working at a wonderful family-owned Upper West Side fashion store called Charivari. Marc has always been a bundle of energy and it's been so much fun to watch yet another talented New Yorker move from enthusiastic 20-year-old to fun tenacious young creative to internationally renowned designer to legend. This happens in New York in many different fields. It's part of the DNA of our city, I think, and I've seen my share of kids who were laser-focused, working to the bone, and eventually evolved into superstar game changers. So I was super excited to catch up with Marc and knock heads with him about his new, super-fun little capsule collection that Kim Jones asked him to design this season for Fendi. Part of the house's 25th festivities for its Baguette, it's also a celebration of New York City itself. Kim told me that he could think of no one who represented New York City better than Marc – and Marc didn't disappoint.
Kim Hastreiter: Marc! I've known you for so many years and it's incredible looking back at what you have done. It's a mind-bender. I remember your very first show somewhere in Midtown when the girls climbed on the top of coffee tables so people could see the outfits. You were a baby!
Marc Jacobs: That was at the Century Cafe, with all the polka dots and the smiley faces.
Kim: Yes! Now here's this wonderful little capsule collection you designed for Fendi's first New York show, which Kim Jones featured at the end of his show here. How did this happen?
Marc: Kim and I have a long history – not as long as yours and mine – but we are friends, and we are part of the same friend group, which includes our beloved Andre Walker, my dear Kate Moss, et cetera, et cetera. Also, when we were doing Marc by Marc in New York, there was a bunch of British people like Katie Hillier, Alastair McKimm, and Kim who were all part of the same friend group. I knew Kim's menswear, and a couple of years after I got the job at Vuitton, the menswear designer there was no longer doing the collections, so I thought, 'I want to hire Kim to do Vuitton men!' Of course, that changed our friendship because we became even closer. What was wonderful was that we had the same friend group and then Kim and I suddenly added this great professional relationship. Kim did an incredible job designing the menswear at Vuitton and it just became this crazy extended family and community. Now, years later, Kim is here designing Fendi, as well as Dior Homme, and he asked me one day if I'd like to do a little capsule for Fendi. At first I was a little intimidated. I think I felt a bit of fear of stepping outside my comfort zone because I have, these days, found such a nice calm and quiet place in working on my own line and doing my own thing, especially after all the craziness of my former days, and my former habits. It felt a little daunting, but Kim was just like, 'We're friends, Marc! Don't worry, we'll take care of everything; you'll be supported.'
Kim: Did he tell you this was about the Baguette?
Marc: Well, once I got over the fear of stepping out of my playground into his, Kim told me about celebrating the 25 years of the Baguette, how important New York was to them, and that they were going to show here. How Sarah Jessica Parker mentioned it on a Sex and the City episode and that's how it became an 'It bag'. Kim told me he thought between our friendship, my New York City roots, and how much he respects what I do, he couldn't think of anyone he'd rather have participate in this. You know, I really just trusted him and as soon as I said yes, I decided I was going to embrace it and have fun. All through the fittings in Rome, Kim always told me it was going to be so great, and everyone from the Fendi team in Rome was so excited about making something special with me for their first ever show in New York.
Kim: Fendi has always seemed to me like a big warm family business.
Marc: When I was growing up in New York, I learned so much about fashion via my grandmother. She taught me that Fendi was this revered house and had these extraordinary furs because of Karl Lagerfeld who was at Fendi then. It was before he was at Chanel. To me, Fendi was legendary like Karl Lagerfeld. So when I thought about the opportunity to join Kim and Silvia Fendi, I just thought, 'This is like my dream as a kid to be a part of this historic house and legendary name.'
Kim: Kim seems to love collaboration.
Marc: He is just a wonderful person – who is also a great designer. There's also something about Kim which I've never possessed: his sense of business acumen and merchandising, which I totally respect. Kim is really great at that. When he wants to make a creative statement, he's also very aware of how to make it commercially accessible, too.
Kim: So Marc, talk about what you did for this collection.
Marc: First, I did my take on the baguette. One of the most popular bags we have at my company Marc Jacobs right now is one that says 'The Tote Bag' on it. It is a very accessible piece, so I thought, 'Let's do the Baguette with the same language.'
'I wanted to do a bit of a broken-down, rough, cooler New York vibe for this little Fendi capsule because I knew they already do 'polished' so well.'
Marc Jacobs
Kim: But you did much more than just the bag.
Marc: We did everything! I designed a whole small capsule collection, showed within the Fendi show. I did accessories, shoes, hats, the clothes, everything. I decided to start with something we've now become known for which is the Marc Jacobs monogram that just repeats in large type MarcJacobsMarcJacobsMarcJacobs. I thought, 'Let's do FendiRomaFendiRomaFendiRoma in the same way, all in one word.' We did everything in white chalk. I wanted it to be the colours of the city I see as I come along the West Side Highway where all the people and workmen on the street are dressed in grey, fluorescent yellow and silver – you know, the construction workers and the people on the street – so I felt like these are the colours of New York City to me. We took that palette and worked it into this jacquard and wove in fluorescent yellow fabric. That was then destroyed and overprinted in silver, which was then enzyme-washed so it became like this kind of a New York street feel, which is what I wanted to bring to Fendi. I wanted to do a bit of a broken-down, rough, cooler New York vibe for them because I knew they already do 'polished' so well.
Kim: You are a born-and-bred New Yorker. What is a perfect day for you in New York City?
Marc: I wake up early, have a double espresso, then I go to see some art in some galleries in Chelsea, or maybe a museum. After that I do a little bit of shopping, either at Dover Street Market or up on Madison Avenue, and in between have a delicious healthy lunch. If I'm uptown it would be at The Mark, probably, or The Carlyle, and if it were downtown it would be at The Smile or Sant Ambroeus. Then I'd probably shower, put on something fabulous, and go to see a play on Broadway, or off-Broadway. I love theatre. When my dad was alive we went to the theatre a lot. He was an agent at the William Morris Agency. To this day I get dressed up to go to the theatre. I don't wear sneakers; I wear nice clothes. I am very into the whole ritual of what it means to go to the theatre in New York. I've always revered it because I was brought up with it, and so it holds a very special place in my heart. I also kind of cry no matter what I've seen, no matter what the topic is. I cry at the end because… I have such a primitive connection to being in a room with live actors. It feels the same as what I have for fashion. I always think of fashion as if I am directing a play doing the costumes and the sets, and the lights. That's what a fashion show is for me – it's the closest thing I can get to doing a Broadway show. I love live performance more than anything. Then, I'd go to dinner, maybe at Joe Allen, and then go to bed. That would be a perfect New York day.
'I make things, I make art, I model,' says Indira Scott. So much more than just a huge 'It model' and a face of Dior, she wears her New York City badge of honour with pride when she hits the streets. Sure, she was in the right place at the right time but then New York fell in love and Indira shot to stardom. Today, underneath it all, she's still a soft, yet tough and beautiful New Yorker. A chick from Jamaica, Queens, who grew up in a hippie family surrounded by tough streets, whose beauty emanates from her deep experience of the city. She seems to love both blending in and watching, and shining bright and leading the way in this crazy city, no matter where she goes.
'My family were hippies, but I grew up in the hood in Jamaica, Queens. It was this extreme balance of tenderness at home and rawness on the streets.'
Indira Scott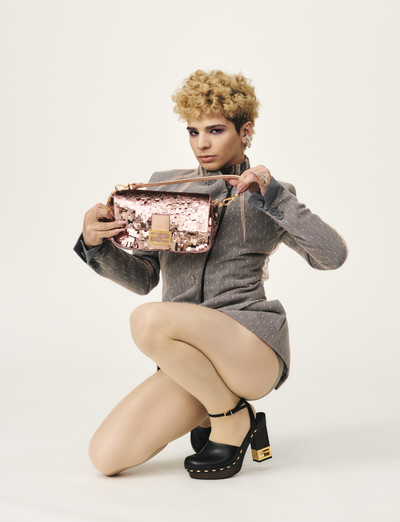 The 21-year-old firecracker known as Honey Balenciaga (née Gonzales) was born to dance. As a gay Puerto Rican teenager growing up in the rough Hispanic neighbourhood of East New York, Brooklyn, Honey discovered her true self in high school after enrolling in a free African dance class in SoHo. While there, she also learned about the exploding vogue and competitive ballroom scene on the West Side piers, which were filled with young kids training to become 'house members'. It inspired Honey and her art, and once she began practising freestyle there, her reputation rose like a rocket ship, opening doors to competitions, and eventually TV, brand collaborations, and performances at BAM and the Whitney. Today, her acceptance into the gay family structures of the legendary House of LaBeija and now Balenciaga seems to make her happiest.
'I was on the pier voguing and my gay mother was watching me and was like, 'You vogue so sweet, it's like honey.' When she said honey, it just clicked.'
Honey Balenciaga
Before there were supermodels, there was Pat Cleveland. After growing up in Spanish Harlem, she became one of the first African-American fashion models to achieve large-scale success. She began to design her own clothes as a teenager and was working a model by the age of 15. She later signed with Wilhelmina Models and Cleveland's face was soon on the cover of every fashion magazine possible in the 1970s. Today, she writes, sings and, yes, still models.
'I knew Charles James when he used to live on the sixth floor of the Chelsea Hotel. I'd stand on the table in his room and Antonio would sketch me.'
Pat Cleveland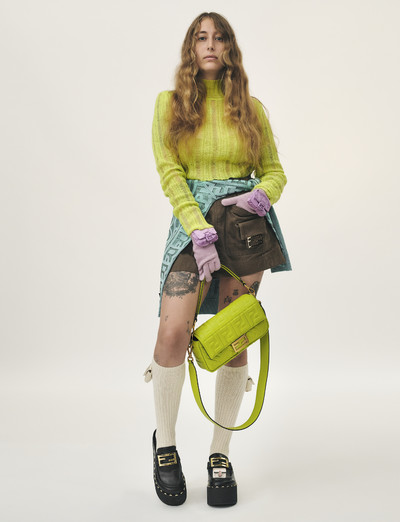 Milah Libin is a girl after my own heart: a born-and-bred downtown creative New Yorker who dreams big and to whom nothing seems impossible. This is such a New York City quality. Fearlessness, drive, love of work, and love for and inspiration from this big, crazy, creative city. Milah is just one of those native New Yorkers who knows she can do anything if she works hard enough. She saw her parents do it in Brooklyn; she saw her grandparents do it on the Upper West Side. It's a family trait, I guess. Lately in her spare time, on top of a full-time job, Milah edits and publishes two art magazines – one called Dizzy, and the other, a children's magazine, called Mishou. She recently also launched a free online TV channel through Dizzy featuring experimental films, documentaries, artist-studio visits, and cartoons for kids. I love Dizzy; I love Mishou; I love Milah. And I thank God every day that people like Milah still live and work in our textured patchwork hometown.
'I ate so much pizza growing up – I probably had a slice every day. My dad was literally John Travolta, eating two pieces of pizza on top of each other.'
Milah Libin
Meet Calvin Royal III, indefatigable, graceful, poised, and only the third African-American to become a principal dancer with the American Ballet Theatre. He first moved to New York in 2006 when he was accepted at the troupe's Jacqueline Kennedy Onassis School. He was later awarded the $50,000 Leonore Annenberg Arts Fellowship, which he used to work and study at the world's leading dance and ballet institutions, including the Royal Ballet in London and the Mariinsky Theatre in St Petersburg, Russia. After New York's siren call drew Royal back to the American Ballet Theatre, he was promoted to principal dancer in 2020, partly thanks to his being, as the New York Times critic noted, 'the most elegant male dancer in the company'.
'I was offered a scholarship at the American Ballet Theatre school. Being around the famous dancers who I'd only ever seen on VHS tapes was amazing.'
Calvin Royal III
Meet the inimitable and talented writer Bob Colacello. He started his career as the young new editor of Andy Warhol's Interview in the 1970s when the magazine was having a really weird Republican moment. Gerald Ford was president at the time and had four sexy kids (the gays went crazy for his sons), and an alcoholic wife who would later found the legendary rehab the Betty Ford Center. If ever a Republican was going to represent glamour, it was that moment, so Bob and his boss Andy Warhol dove deep into it. Colacello's fascination with this 1970s Washington D.C. glamour escalated even further in the 1980s, when Hollywood movie star Ronald Reagan was elected president. Colacello's book about the Reagans, Ronnie & Nancy: Their Path to the White House – 1911 to 1980 was a hit, and he is currently working on a sequel.
'My parents said, 'We forbid you to meet with this creep Warhol! He does movies about boys who want to be girls!' I mean, Andy was controversial.' 
Bob Colacello
Joey Arias is a legendary New Yorker and an incredible artist adored by many. He's a brilliant singer in a style that is jazzy, hilarious, outrageous, and almost indescribable. Imagine Yma Sumac singing Led Zeppelin. Joey is a true original, performing, writing music, and most of all, making the world laugh really hard. As he describes himself, 'I'm my own public-relations person.' To be transparent, I moved to New York with Joey in 1976 – he is still my bestie – and lately a whole new generation of creative babies are discovering him, because he is one of the most unique hilarious and brilliant performers of our time.
'In 1976, Fiorucci was the hottest spot in New York. The manager would grab me and say, 'I need you to help my friend… Lauren Bacall!''
Joey Arias
Jocelyn Wildenstein is a celebrated New York socialite famous for her outrageous feline looks and her beyond-extravagant lifestyle. (In 1999, she calculated she was spending $60,000 on her phone bill and nearly $550,000 on food and wine a year.) Wildenstein moved to the Upper East Side in 1978 after she married her billionaire businessman husband Alec, who was from a family of renowned art dealers (they divorced in 1999). We caught up with Wildenstein recently to see how the other half lives. After all, what would New York City be without a fabulously wealthy socialite in the mix?
'We were walking on Fifth and boom, there was Nureyev! He was with Jackie Kennedy at the time. He was so beautiful as well. Such charisma!'
Jocelyn Wildenstein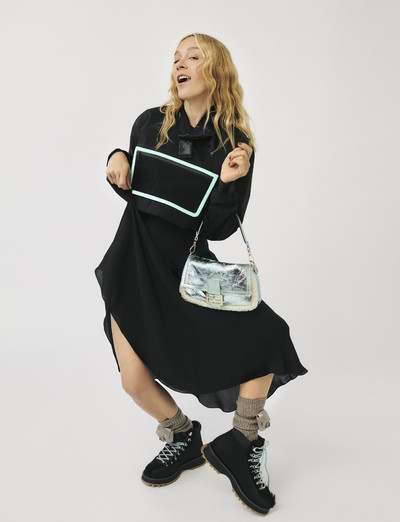 Chloë Sevigny has been a hardcore downtown New Yorker since the day she graduated high school and moved here. I first met her in the 1990s when we shot her in Washington Square Park for Paper, modelling Kim Gordon's clothing line, at the time called X-Girl. In those days, Chloë was part of the young street-skate posse hanging out in the downtown streets and parks that Larry Clark's classic New York film Kids focused on. Decades later, Chloë has evolved into one of our more famous downtown hometown girls with a major acting career, in classics like Whit Stillman's The Last Days of Disco and Jim Jarmusch's The Dead Don't Die. The difference is that, while continuing to act in successful films and TV shows, she's remained firmly part of New York's art and underground cultural community. Her climb has been intuitive and far from an LA-type career path. She's a tried-and-true New Yorker – and she is busy. When I asked her what she was up to at the moment the first thing on her list was 'trying to figure out how to discipline a small child' (her son is now hitting two years old). She is also finishing up a short film she directed that was written by and stars John Epperson, aka Lipsinka, called Toxic Femininity. Plus, to top it off, she is gearing up to play the role of the legendary waspy blond socialite C.Z. Guest for the second season of the FX series Feud, based on the book Capote's Women, or as he liked to call them, 'swans'. It promises to be another glimpse of uptown moneyed women during the late 20th century in, you guessed it, New York City. While I see Chloë every so often in the hood, it was fun to catch up properly.
'The most famous New Yorker I ever saw was Joe DiMaggio. It was in Ray's Pizza. But in the original Ray's, the one that's not there any more.'
Chloë Sevigny
Another great New York kid on an upward trajectory is Arsun Sorrenti, the son of well-known photographer Mario and lovely
artist mother, Mary, who I've known since she was a kid. He's got great DNA for sure. Born and bred in NYC, he may have low-key style, but he has the cool New York hustle and ambition down. So it's no wonder Arsun is gaining recognition for the music he writes, performs and records. Arsun sings beautifully and listening to him it's pretty apparent his hero is Bob Dylan, which he told me is true. He spent a lot of time this past year out on the road, opening for Cat Power. Not bad for a 24-year-old. When not touring, Arsun hangs out in the East Village and sings live at the club owned by his girlfriend's father.
'My all-time favourite musician is Bob Dylan, but I have a lot of musician friends. You can tell in their lyrics they're writing about New York.'
Arsun Sorrenti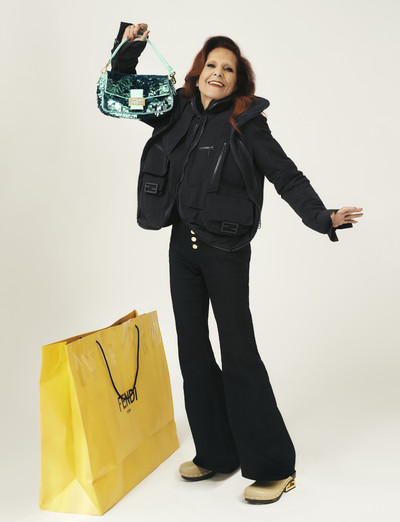 Patricia Field is a true New York fashion mother. Her shop on East 8th Street in Greenwich Village was the stuff of legends. So many stories. Like the time in the late 1970s when Keith Haring did the windows or when Jean-Michel Basquiat followed suit and sold his new line of clothes there. Or that time when Jean Paul Gaultier went shopping in the store and spied a pair of Andre Walker's genius 'pantyskirts', only to appropriate them into his next collection (the kids went nuts and not in a good way; we all protested big time). Then there was the time when Stephen Sprouse declared bankruptcy and Pat convinced the Hasidic job-lot-bankruptcy-schmatte salesmen to hold the bankruptcy sale in her store. Once again, the kids went wild (this time in a good way) because everything was so cheap! Pat loved that because the kids all loved Sprouse, but it was always too expensive for them, so she saw it as a way to 'give back' to them. I bought so much stuff at that sale! Patricia Field the woman and Patricia Field the store were the centre of the New York City universe for downtown kids between 1972 and 2002. That was only the beginning. When she closed the store in 2002, she had already begun to do the styling for a little TV show called Sex and the City, which then became a monster hit, as well as the rage for fashionistas. It had Pat's crazy style fingerprints all over it. I can't wait to read Pat's new memoir – Pat in the City – which comes out later this year. There's so much more, but you'll have to order the book to find out the rest. It was so fun to catch up with her about her love for our fair city.
'I worked for Alexander's department store in the South Bronx, which is no longer there. I started as a department manager and then I became a buyer.'
Patricia Field
All clothing and accessories from the Fendi Baguette 25th Anniversary Collection.
Hair: Aimi Osada, Tamas Tuzes.
Make-up: Aimi Osada, Dick Page, Janessa Paré.
Nails: Frances Liang.
Photography post-production: Two Three Two.
Special thanks: Shelley Durkan, Nicky Elder, Cristiana Monfardini, Hugo Scott, Shea Spencer.
Taken from System No. 20 – purchase the full issue
here
.