Junya Watanabe runway archives 1993-2022
To celebrate three decades of Watanabe's Paris womenswear shows and the continuing power of his runway visions, System selected 10 key collections and asked an all-star cast to discuss them and the designer's inimitable work.
Interviews by Rahim Attarzadeh
After hiring Junya Watanabe as a pattern-cutter at Comme des Garçons in the mid-1980s, Rei Kawakubo invited the designer to establish a label under his own name in 1992. Having showed a first collection in Tokyo, he came to Europe in March 1993 to present his debut womenswear show at Paris Fashion Week. Over the ensuing 30 years, the designer has built a reputation for powerfully inventive collections that explore his cultural and sartorial obsessions – from punk to British tailoring to military wear – that he transforms into clothes that do the talking so he does not have to.
To celebrate three decades of Watanabe's Paris womenswear shows and the continuing power of his runway visions, System selected 10 key collections and asked an all-star cast to discuss them and the designer's inimitable work: Watanabe's Bunka Fashion College professor Dr Sanae Kosugi; Japanese fashion doyen Taque Hirakawa; early adopter and founder of i-D Terry Jones; long-time supporter and stylist Amanda Harlech; fashion critics Tim Blanks and Robin Givhan; archivist and superfan collector Rory Cole; regular collaborators hair stylist Tomihiro Kono and make-up artist Isamaya Ffrench; fellow designers Kim Jones and Simone Rocha; and, finally, Watanabe himself.
Autumn/Winter 1993
'Origins and pattern-making'
Taque Hirakawa, fashion journalist: Junya Watanabe is one of the few truly artisanal pattern-cutting designers; he knows how to combine confidence, insecurity and reality with the intense labour of creating exactly what he wants to design.
Dr Sanae Kosugi, Watanabe's teacher at Bunka Fashion College: At Bunka, Junya would dedicate every moment he had to studying. I could immediately tell that he was someone whose mastery of technique meant he could express his design ideas in clothing. In fact, the designs and sketches that he did were so accomplished that they were always stolen and copied by other students in the class.
Terry Jones, founder, i-D: From the very start Junya had a very respectful approach to creating new silhouettes that I am sure he inherited from Rei Kawakubo. You didn't get a sense that he ever trod on her toes or tried to do what she did, though.
Taque Hirakawa: Junya subtly incorporated Japanese pop and street culture into the overall brand world of Comme des Garçons. He then skilfully blended that same culture into his own vision of the world and made use of the differences between the two. The basis of how he differed from Rei Kawakubo was that he learned what Rei could not do. Aware of his own difference he made artisanal clothes under Rei Kawakubo, while creating a reality that allowed for sufficient 'pattern-making'. The collection that I remember most and would like to see again is his debut collection for Autumn/Winter 1992, the one he presented in Tokyo before showing in Paris.
Tim Blanks, editor-at-large, The Business of Fashion: I don't know how many years he was a pattern cutter for Comme des Garçons before starting his own label, but it must have been an education in how to make the unworkable workable.
Terry Jones: We started attending Junya's shows in Paris from the very beginning, and it was immediately obvious from that very first season that Junya didn't conform to trends. Each time he showed, we looked forward to what we were going to see, because it was very clearly something he was creating for that exact moment.
Junya Watanabe: I cannot answer about how my thoughts have changed over the years, but what I can say is that my interest in making clothes has been consistently based on pattern-making. Each of my collections is based upon the pursuit of how to approach that skill in the most interesting way possible.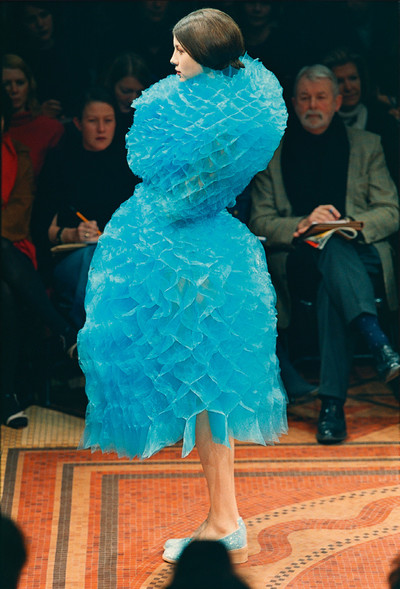 Autumn/Winter 2000
'Techno Couture'
Taque Hirakawa: I've always thought that it was probably in 2000 that Junya started to show the world his skills to the fullest.
Tim Blanks: I've read that he admired Pierre Cardin and Issey Miyake. If you strip out whatever the fabrics are and whatever is going on at a surface level, there is something not looked enough: Junya is a quintessential modernist. His attitude is all about combining things and hybridizing all these different elements and bringing together Japanese tradition and Western influences. I also read that he describes his work as monzukuri, which means manufacturing or making things. That is how Issey described his work, too. If he was ever asked what he did, he said that he 'made things'. That's what Junya does as well, he makes things.
Amanda Harlech, stylist and creative consultant: Junya dissects the templates of couture: Vionnet bias, Dior New Look, New Romantic, or Galliano's Incroyables – but with the razor blade of punk. Through this investigation of craft and couture, he has an understanding of the songlines of folklore within 21st-century culture – how everything changes and yet remains.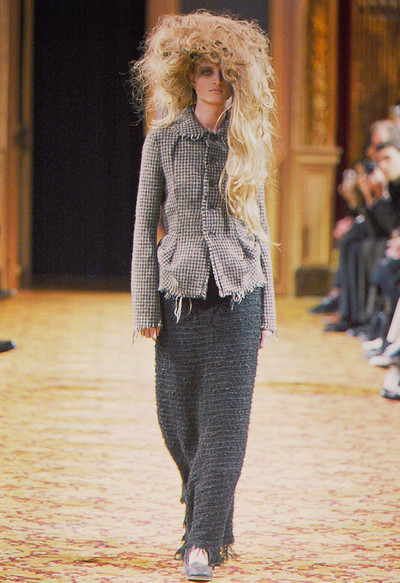 Autumn/Winter 2003
'Classic clothing interpreted in my own way'
Junya Watanabe: Although I have not mastered the art of tailoring, I have deepened my interest and my knowledge by deconstructing many authentic, well-tailored garments from flea markets and antique shops that I have visited in London.
Tim Blanks: What makes Junya's work so idiosyncratic is the precision in his design. You never grow tired of the themes and references. Like the whole Edwardian reference, which is also seminal in Japanese fashion. It was a period when Japan was opening itself up and making first contact with the Europeans. That's why you get all of the school-uniform stuff, the frock coats and the tailcoats. Junya followed on from Rei with this. He's an absolutely brilliant storyteller. The images he gives, the images you walk away with, are just so vivid, especially the silhouettes.
Robin Givhan, senior critic-at-large, The Washington Post: He reimagined a New Look jacket in this collection. His version had these provocative darts at the bust line that came to a sharp point. The jacket itself was cut from a boiled wool that was beautifully ravaged with bits of shredded fabric hanging from the lapel and the sleeves. As a critic, I thought it was a marvellous subversion of fashion history, and as a consumer, I was enamoured. I bought a black jacket from the collection and wore it to our office in New York. The security guard, trying to be helpful, started to point out dangling threads. He stopped himself mid-sentence: 'That's fashion, isn't it?' I think Junya would appreciate that double-take.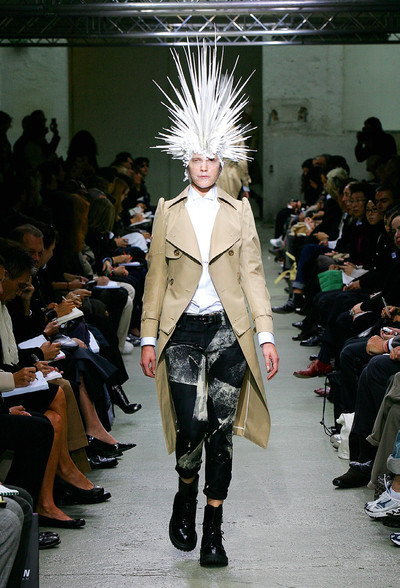 Spring/Summer 2006
'The Mad Capsule Markets'
Tim Blanks: What I love most about his work is that it seems to be the most perfect synthesis in fashion between high and low culture. His collections are infused by a spirit that I think is consummately punk – he is fashion's punk savant, after all – topped off with the most perfect technique. This collection in particular was all the things we love about Junya. It's his ability to take a pre-existing sub-cult and filter it through his own internal subcultural point of view. It's an alchemical transformation – I think Junya is a fabulous fashion alchemist, even if as time has passed in both men's and women's, his vocabulary has become a lot more schematized.
Simone Rocha, designer: I remember seeing this show, the one with the beautiful giant mohawks – the 'incredible sculpted-leather biker show'. It was one of the first fashion shows I ever saw in person in Paris, and it has always had a place in my heart. What I've felt in Junya since then has been a stronger androgynous energy and a use and embrace of characters.
Robin Givhan: I've always been impressed by the way he's toyed with the tenets of traditional fashion and subverted them, by his ability to take classic shapes – a trench coat, for instance – and rethink them in a myriad of ways. The one that stands out most is his fascination with punk. It's not just a subculture in his hands. He transforms it into a standard, into a dominant sensibility, and then views the world through that lens.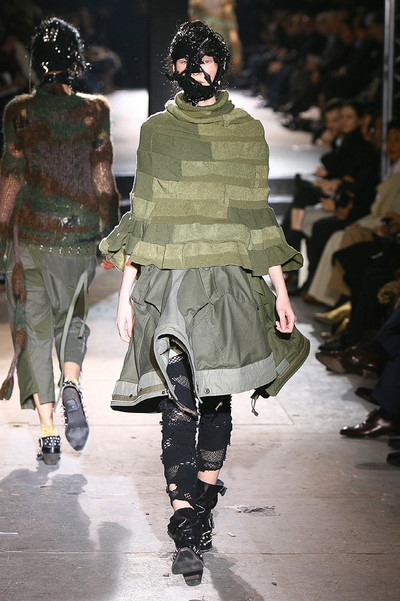 Autumn/Winter 2006
'Deconstruction and reconstruction'
Junya Watanabe: I am very interested in military wear as uniform. I have looked at a lot of military wear in flea markets and antique shops since I started making clothes. The 2006 collection was about deconstruction and reconstruction of uniforms, which I then used as decorative details on the garments.
Tim Blanks: I thought this collection was quintessential. The way he incorporated traditional Japanese techniques and concepts into his clothing to then create an army-surplus or Travis Bickle look. Army surplus is another one of the things he has gone back to over the years. The consistency of his inspirations suggests that it might be easy to form a profile of Junya. Even knowing very little about his actual life, you have more of a sense of him as a human being than you do with some of his peers. One of the things with Junya is that you just know him without knowing him as a person. You love him as a person just from looking at what he does.
Rory Cole, archivist, collector and founder of Junya Watanabe World: Looking back at Watanabe-san's creations from all seasons, one begins to understand the physical construction and how his work processes have evolved and adapted over time. I find his works so intriguing because of his ability to take the ordinary and recognizable and reinterpret and reinvent them in a way that creates a universe around the 'theme' itself for each collection.
Kim Jones, creative director of Dior menswear and Fendi womenswear: Junya seems timeless to me, almost ageless. Someone who doesn't know Junya would not be able to know his age. His timelessness is his beauty.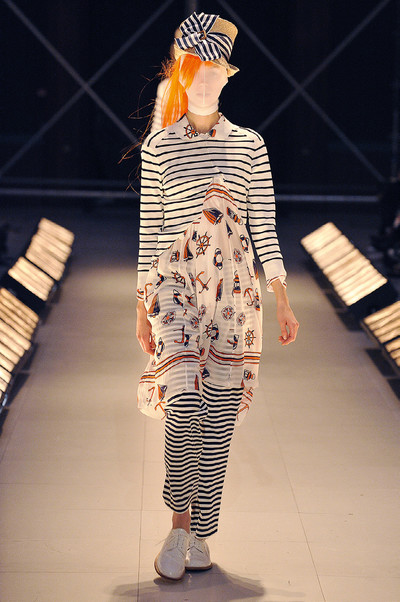 Spring/Summer 2011
'Tokyo Doll'
Junya Watanabe: It is a process of digging into one small theme and making it stronger.
Terry Jones: I think Rei was inspired by Sonia Rykiel and how certain themes ran through her collections – all those stripes and sailors' outfits – and I think it is similar for Junya. For him, it was all linked to the explosion of punk and the New Romantics.
Tim Blanks: The Breton stripes with sailors and anchors is another theme that comes back a lot. Those kinds of single-minded collections, like this one, those that started from a very early defined point and then spun off into Junya-land were the most memorable. I think that the way he chooses his references is very personal. At no point in his creative process does he sit down and say, 'This will really strike a chord this season.' There is a sort of randomness to it. It's quite audacious in a way.
Rory Cole: I am not saying every season is the most experimental and worked on, yet as they come and go, his ability to employ a working style and practice of such variety vastly outweighs any notion of repetition.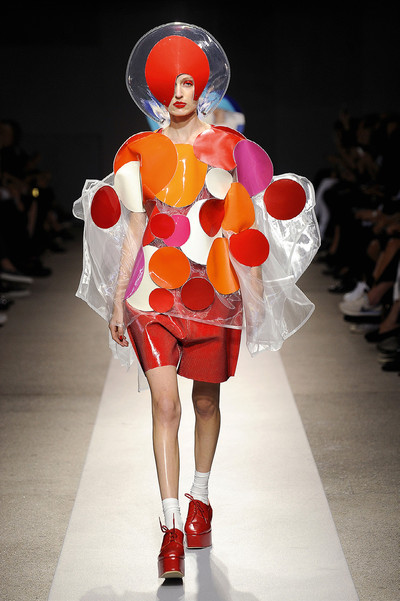 Spring/Summer 2015
'Graphic Marching'
Terry Jones: Junya's collaborations with the hair stylists, wig makers, and make-up artists have played an incredibly important role in making his shows as unique and memorable as they have been.
Junya Watanabe: The hair is designed to make the clothes look as strong as possible. I usually start to develop the image one month before the show and before communicating with the hair designer.
Tomihiro Kono, hair stylist and wig designer: The way we've worked together has been unique. He never tells me the theme of a show, doesn't show me a sketch or a dress – or even a piece of fabric. So I have to come up with my own idea – very random in the beginning – and propose many designs until Junya says yes. That process of collaboration always makes the outcome more interesting and different. I've created mainly graphic, geometric and mathematical designs of head props for Junya Watanabe. For this particular show, I was trying to create something that we'd never seen before and as I had never created anything flat like that, it was a big challenge. The concept of the head prop was a variation of a bob hairstyle but floating in the air. Junya didn't show me what kind of dresses he was making, so it was very impressive to see all the results in Paris when the clothes and head props matched perfectly together. Hair and make-up have always added a significant part to his creative vision, including the versatility of characters.
Isamaya Ffrench, make-up artist: This was the first show I ever did with Junya and the most memorable. I stuck pieces of clear Sellotape across red lipstick, which created a 2-D lip effect because it flattened the light in a way where you saw the prints of the lips coming through the lipstick. It felt like a radical moment creating something unusual with very simple methods. I always look forward to receiving his brief a few weeks before each show, wondering where he will take us next. I'm never going to do natural skin with him. It's also incredibly stimulating to look at a niche source of inspiration, whether that's a specific time and place, a style, or the psychology of a character, but to always find a new way to interpret it. It has to be seen through another lens – otherwise, how can you create something new?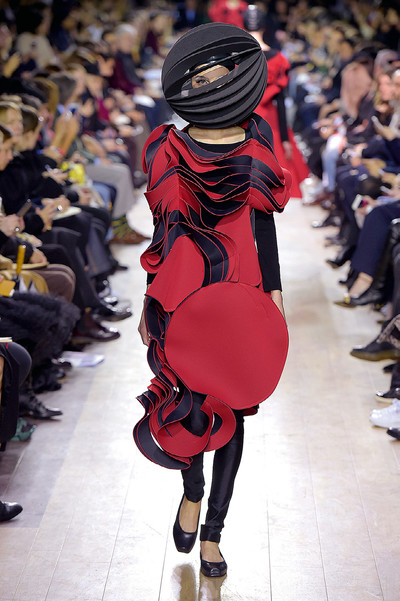 Autumn/Winter 2016
'Geometries and grace notes'
Amanda Harlech: He looks at the mathematics of fashion – its geometries and grace notes – and changes the beat, dissecting them and collaging them into new configurations that sing to us.
Junya Watanabe: As I do not work based on academic ideas, I guess it is just a coincidence if this is seen in my work.
Tomihiro Kono: It's always very challenging working with Junya – and I mean that in a positive way – because it makes me expand in so many different directions. I always have to come up with a hair or wig design that suits the clothes, but the amazing thing, and I think the most important part about the way we work together, is that Junya never shows me the collection. It's more about a feeling between us, an energy, working in silence. It's always very special.
Rory Cole: It almost feels in some regards like he is creating the full costume cast for a cinematic film. His collections have such a unique existence and interpretation that each is a separate planet in the overarching solar system of Watanabe-san.
Tim Blanks: Junya can unleash the dogs and the demons in his clothes, but they are so beautifully realized that the chaos is controlled.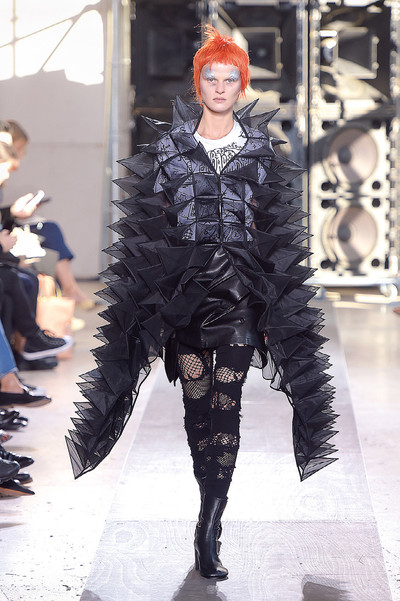 Spring/Summer 2017
'Spontaneous punk creativity'
Junya Watanabe: I do not think deeply about the meaning of the word 'punk'. I do not make clothes in rebellion against anything. Punk is now just an approach in fashion terms. I'm not interested in whether my creations are radical or not.
Amanda Harlech: Subversion, subculture and punk is vital to Junya. His time spent in Berlin over the years – drawn to the city's appetite for subculture – has never left him, just as my punk reflex to couture is to wear it with trainers or a huge sweater.
Isamaya Ffrench: I love the tension between the deep intellectual process and the total spontaneous punk creativity behind all his collections, including this one. He's fully involved in all aspects of his craft. When I set up my kit and try different looks during a make-up test, he's in the corner, carefully observing everything for the whole time. No other designer does that. When I ask if he likes what I just did, he asks me to explain the look, what was on my mind, and we discuss the theme. Then he tells me what he likes and doesn't like, and we try more things. He doesn't tell me what to do; he's very respectful. It's crucial to him to see the characters he had in mind come to life to make sure they're perfectly aligned with his clothes; that's what makes the difference.
Tim Blanks: I think it's very much in the vein of making a new cult out of old cults. It's one of things I find most interesting in fashion – when you can create a fashion cult from something else.
Kim Jones: There's always something so familiar, yet so modern and new, which is very hard to carry out. I love that youthful spirit of Junya and his unexpected approach.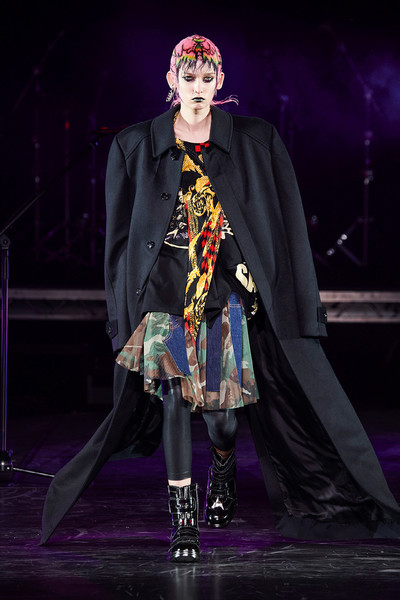 Autumn/Winter 2021
'Immortal Rock Spirit'
Tim Blanks: To make a band T-shirt become the most desirable item of clothing you have ever seen, transforming it into something as chic and extravagant as haute couture is classic Junya.
Rory Cole: Watanabe-san has this ability to transform 'dumb clothes', as he puts it, into magnificent and challenging wonders of adornment. He has declared that he sees his job as being but a worker, which partly explains his ability to produce incredibly varied seasons as often as he does.
Tim Blanks: Issey Miyake deliberately set out to find a traditional Japanese technique that could rival jeans; Junya's version is patchwork, which is boro, that really traditional Japanese philosophy of the value of the worn and the used, the beauty of things that are mended. There is a lot of that in his use of patchwork. It is one of his most graphic hybrids of East and West. If Miyake was trying to find something post-denim, Junya kind of takes it back to its roots and then creates a new hybrid out of that. He is the designer who is probably most associated with patchwork.
Amanda Harlech: It's a boro reverence of the past and a way of holding on to an emotional memory. The integrity of his searching – origami, boro, and his fascination with the reasoning behind construction, spliced with colour and texture – is the equivalent of a musician's mathematical understanding of the rhythm of life. Like watching a snowflake react to both Mozart and heavy metal, Junya reveals the way each molecule of our being responds to the time we are living through, with patchwork as a leitmotif.
Jamie Hawkesworth, photographer: I had dinner with Junya in Tokyo a few years ago after taking his portrait, and he asked me if I liked the food. I said, 'It's nice, but I prefer a cheese-and-pickle sandwich.' The next day I was hanging a show and a cheese-and-pickle sandwich arrived from Junya. We have been friends ever since.
Simone Rocha: Ultimately, what I love in his work is his commitment to creativity.
Junya Watanabe: While I am seen as a creator in the eyes of the world, I am not using design to express myself.
Taken from System No. 20 – purchase the full issue
here
.