'The puffer jacket has become as important as underwear.'
Dingyun Zhang on dreaming up paper sneakers for Kobe, designing them for Kanye, and the fearlessness that comes with wearing his signature colossal puffers.
By Hans Ulrich Obrist
Photographs by Drew Vickers
Styling by Vanessa Reid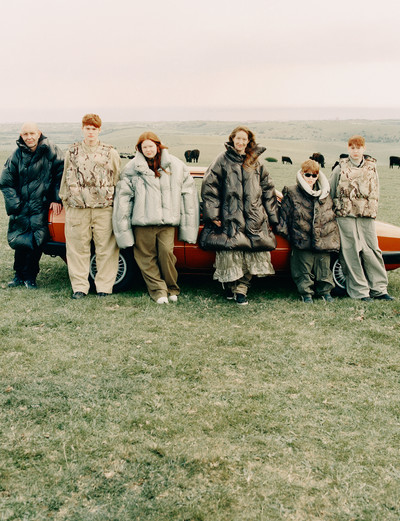 Dingyun Zhang on dreaming up paper sneakers for Kobe, designing them for Kanye, and the fearlessness that comes with wearing his signature colossal puffers.
In 2016, Kanye West flew Dingyun Zhang to his HQ in Calabasas, California, for a meeting. West was looking for 'incredible, highly sensitive people' to join Yeezy's design team; Zhang, then still only a student in London, was hired the same day. It was an instinctive choice that was quick to pay off: Zhang went on to work on the hugely popular Yeezy 700 Wave Runner series, among other commercial successes.
A free-thinking visionary with a radical approach to practical design, Zhang has established himself as one of fashion's fastest-rising designers in the two years since he graduated with his MA from Central Saint Martins. His colossal puffers and oversized track pants are coveted among the fashion elite, worn by the likes of Gigi Hadid and Kim Kardashian, turning up in Vogue, and going viral on Instagram. They also caught the eye of Moncler maestro Remo Ruffini, who chose Zhang to create a collection for Spring/Summer 2022.
Zhang's trajectory towards early success can be traced back to his childhood creative experiments in China and his time at a fine-art college in Somerset, UK, where he says, he learned that making art made him both happy and free. It is a creative liberty he continues by subverting conventional design rules in his clothing, and using next-generation bio-materials and futuristic silhouettes to show how creativity can be reimagined to help us better navigate the world. During a recent whirlwind trip from Beijing to Europe, Zhang spoke with curator and Serpentine Galleries artistic director Hans Ulrich Obrist about turning high art into wearable fashion, creating for the metaverse, and designing puffer jackets for all seasons.
What was it that first triggered your interest in fashion?
Dingyun Zhang: As a child I was heavily into Japanese animation and manga, and that combined with my interest in footwear design. Those were the key childhood influences that motivated my interest in fashion. My parents not buying me the sneakers that I wanted as a child also motivated me to design my own basketball shoes. I had to wait until Chinese New Year for maybe the one pair that I wanted, so I would evaluate details and designs, then create my own cardboard and paper versions of the basketball shoes and sneakers that I couldn't have.
I read that the Nike flagship in Beijing was really important for you as a kid.
Dingyun Zhang: It had this big poster around the building, and when I walked past it on the way to school, I would see the latest shoes on different basketball players. I was inspired by the Kobe basketball shoes at the age of 12. For me, sneakers were like museum objects, to the extent that I couldn't actually bring myself to wear the ones I bought. I was always sketching and imagining what the next Kobe shoe would be like, and making my own paper versions. Fashion was a way for me to experiment with different shapes and textiles within the world I was creating for my footwear designs.
What prompted you to move to the UK? It has had such an exciting fashion scene for many years and it just continues generation after generation to be very magnetic. Obviously, you went to Central Saint Martins.
Dingyun Zhang: I first came to the UK when I was studying for GCSEs. I already had this feeling as a kid that I had been born to express myself and have a creative vision, and I thought it would be great to learn how to expand and define my ideas in a competitive environment, especially in the UK's art and fashion schools. Although I always wanted to go back to China to develop a creative entity here.
Can you describe your time at Central Saint Martins? Because there was a moment when you studied art. I'm coming from the art world, so I'm particularly interested in how you combined these two fields.
Dingyun Zhang: My experience with my art teachers and the environment at Saint Martins was life-changing for many reasons. I always received honest and motivating feedback from my tutors on the BA; some of the relationships I formed there, I will have for life. I heard a lot about Louise Wilson and her legacy, but unfortunately I never had the chance to meet her. I used to create sculptures and paint landscape portraits, and in fashion I like to transform these ideas into wearable art. I was experimenting in China with textiles, screen-printing and that kind of thing, before I started making garments and came to the UK.
'My parents not buying me the sneakers that I wanted as a child motivated me to design my own basketball shoes using cardboard and paper.'
Dingyun Zhang
Which visual artists inspire you? I read that David Hockney and Robert Rauschenberg were important to you when you were studying art.
Dingyun Zhang: It is what those artists do with collage – that is how I start designing every collection, every look. I start by doing a moodboard, making something abstract by mixing different media. It can be metal; it can be fabric; it can be cut-outs from a magazine or something that I paint; then I combine them. It doesn't clearly lead to garments, specifically – it's more a moodboard.
You've also been influenced by photographs of rural life, of farms, and a fashion that might be called 'emergency fashion', the fashion of survival, the opposite of luxury. Many years ago, I did a project with the artist Nancy Spero on emergency fashions, and I have always been really interested in this idea of fashion made from necessity.
Dingyun Zhang: That was my first collection on the BA course, inspired by Jackie Nickerson's photos of farm workers in southern Africa and how they create their own looks with the materials they can find, which are always functional. Functionality and wearability are the priority in my lines.
Did you have mentors in China? Were you interested in the history of fashion when you were growing up there? Did you have access to explore that?
Dingyun Zhang: I didn't really have any introduction to European fashion designers at that time, but I did have my own culture and understanding of fashion thanks to historic Chinese clothing such as the cheongsam dress. When I was young, I used to visit vintage markets in Beijing with my cousins where I was exposed to unique and intricate Chinese antiques and accessories, such as coral bracelets and Qing dynasty porcelain vases. This sparked my interest in form and sculpture, as did the Terracotta Army sculptures that are so important to Chinese history and culture. In terms of textiles, I was drawn to silk embroidery that used Chinese silk threads for designs that were vivid and lifelike, intricate and complicated, and dreamlike screen printing that sparked my interest when I was young. All that showed me what fashion textiles could become. My contemporary interest in fashion was mainly derived from basketball and hip-hop culture, specifically Allen Iverson and how he dressed and influenced the image and style of basketballers in his era. Tinker Hatfield, a footwear designer at Nike, was an early inspiration for me; he was inspired to design the Air Max 1 with the air bubble after visiting the Pompidou Centre. His courage to show what was previously considered to be ugly and hidden inspired me to take risks with my own designs.
That sense of rebellion was even apparent at CSM, right? You were gravitating towards the notion of elevating streetwear and its universe while your classmates were fixated on learning to become 'fashion designers' and make 'beautiful' clothes. Obviously, that has changed a lot recently as the intersection between fashion and streetwear has disappeared.
Dingyun Zhang: As you might expect, most students were focused on making clothes that were considered tasteful by high fashion or past couture traditions. I was more focused on just being myself and creating clothes that anyone could wear, not worrying too much about the surrounding environment or allowing that to affect my personal design and development. Some people in that environment found it difficult to understand references from the street. Only a few people from that socioeconomic background have the chance explore their potential at fashion school. Recently, we have seen barriers being broken between streetwear and luxury with the collabs, like Supreme and Louis Vuitton. At the time [2017], it was so revolutionary even though we could see how high luxury needs the relevance of streetwear, which could almost be viewed as a counterculture. I never consciously used fashion or youth culture as a tool to rebel against tradition; I just used it as a means of self-expression throughout my personal journey. It was a desire of mine to have something I would cherish and appreciate. Now, as a designer, I want to create that dream for other young people.
'I never consciously used fashion or youth culture as a tool to rebel against any kind of tradition; I just used it as a means of self-expression.'
Dingyun Zhang
What is your view of the term 'streetwear'? Nigo recently rejected the term, saying it should be called 'lifewear', as the term streetwear is too often used to infer a lesser or lower form of design creativity and intricacy.
Dingyun Zhang: I think 'lifewear' is a good term for it. We can't change the history of streetwear's reputation; the term has been used to describe clothes worn mostly by people of a particular class and lifestyle, or used to label cultures that don't conform to taste or high fashion. It would be more powerful to re-evaluate what we consider streetwear, and redefine it according to materials, production, social influence, sustainability, and specific design detailing. This will help people who used to look down on streetwear and its designers in a negative way find how to consider the influence and ingenuity that comes from the street and hip-hop culture.
The first in this series of interviews with younger or emerging designers that I've been doing for System was with Virgil Abloh. He said that streetwear was dead because the differentiation between luxury fashion and streetwear had been eradicated. Is streetwear dead?
Dingyun Zhang: I think the late Virgil Abloh answered that question better than I ever could. It is true that ready-to-wear and streetwear are the same for me; I think we have moved on from any differentiation, especially with how most of society dresses, with the need for comfortable everyday pieces made in good-quality fabrics aligned with particular brands or designers. Virgil opened the gate for me, too.
I met Virgil when we did a project with Kanye and Jacques Herzog in Miami in 2013. You met Kanye, too, in the second year of your BA and became involved with Yeezy. All roads seem to lead to Kanye! I'm curious about your first meeting; it seems like there was an instant connection. Then you began designing footwear for Yeezy, which was your dream when you were in China. I'm curious about the idea of articulating a vision as a creative director when, like Kanye and Virgil, you're not from a traditional fashion background. Are fashion brands these days more about curating?
Dingyun Zhang: My first moments with Yeezy were eye-opening because I was exposed to these free-thinking ways of creating footwear and garments. It was an interdisciplinary environment where I worked on many things in addition to footwear. Meeting Kanye, working on Yeezy felt like a natural design relationship. I went from paper and cardboard to working with a factory that could bring my ideas and dreams to reality. Making a real shoe from scratch with the support of an experienced staff at Yeezy and Adidas was a dream come true. Kanye is the most amazing creative director, all without coming from a conventional fashion background. I didn't have a traditional introduction to fashion, either, but it is possible to become a creative director without that background by following what you believe in and being willing to develop a story.
I was talking to Valerio Olgiati the other day and Kanye had commissioned him to build a city near Atlanta. Kanye also has a futuristic idea for a campus in Wyoming where, before the lockdown, you were planning to move. What are your plans now?
Dingyun Zhang: After I graduated, I was supposed to move to Wyoming to continue in the design world with Kanye. But then came Covid and plans changed, and everything was cancelled. I couldn't get a visa; we were working on the visa for almost a year. Currently, I am working on production in China, but Kanye is still one of my biggest heroes and mentors; everything I have done with him is something I remember fondly. I've never actually visited the campus myself, but it looks super cool. Every successful brand creates a community that aligns with it and goes beyond just clothes and products; Yeezy has really achieved this. Kanye has always been about creating communities, clothing and footwear; promoting symbols of that lifestyle, progress with Black Future Month, building the campus, and other projects. Yeezy has been working on a whole value system.
As well as Yeezy, there is also your recent collection with Moncler. What is your first memory of that brand?
Dingyun Zhang: I got my first Moncler jacket in classic bluish purple in 2013. That introduced me to quintessential Moncler – the detailing they are known for, pocket placement and high-quality trims, the stitching, all the back stitching. That showed me the attention to detail in the craftsmanship, unlike outerwear from other brands. Working on a Moncler collaboration gives you incredible access to production capabilities that we could only imagine before. The materials, the technical skills, the platform were eye-opening.
You've described your collection with Moncler as 'heritage, environment, metamorphosis, illusion and timeless'. Can you talk a little more about these five notions? I am very interested in the environmental dimension of your work as we are living in an age of mass extinction, and it is so important that we think about sustainability and durability. How do you address the environmental crisis, and sustainable use of materials? I am interested in how we can change; the world needs a radical change.
Dingyun Zhang: I am interested by people living in harsh conditions because that plays on their clothes and their culture. These harsh conditions inspired me to explore waste and the way that clothing protects the wearer; I've always used this as inspiration. I've wanted to develop my textile research to benefit the wider fashion industry and reduce waste, like not using conventional nylons, but researching biodegradable textiles with nylon-like properties to protect the wearer in harsh environments. I've also been making alternatives to leather, too; one is a neoprene bonded with a fabric to create this leather look and feel. My next project is to develop a replacement for the filling in down jackets, to maybe replace the duck feathers by using polyester to create an air jacket that is equally desirable. I also want to develop non-woven microfibre filling for my commercial pieces, maybe from recycled textiles. This idea is important to my creative process: by producing less, you reduce consumption, but that scarcity also creates a culture of demand for the products.
You've said that design should be functional and long-lasting and that also means fine craftsmanship and using sustainable materials. Can you talk about this long-term approach, which is the opposite of fashion, in a way?
Dingyun Zhang: With all my designs, I really work on the detailing, from a zip to pocket placement, to keep them functional in the long-term. When I design a jacket, I have friends wear it for a day or a week, and then they give me feedback. Is the pocket placement annoying? Does it bother you? And then I just constantly keep changing it, working the piece over and over and over again.
Is the puffer jacket important in relation to that? Does it represent a type of cultural artefact when considering the foundations of your creative DNA? Where does it sit for you in today's fashion landscape?
Dingyun Zhang: From a young age, I was exposed to many traditional Mongolian garments made from animal hides, such as the terleg, a type of coat, and the gutal, which is a type of boot. These provoked my interest in design and in pieces from specific ethnic groups living in harsh climates – almost like their version of streetwear – pulling together elements from their environments to create expressions of their surroundings and culture. For me, the puffer jacket is the same thing, reflecting this relationship between clothes and culture. The puffer jacket has become as important as underwear. It is needed in everyone's wardrobe, and its versatility in construction means that a lot of brands can take part in this trend. The fact that it has become a trend in recent years shows how influential references to street and hip-hop culture are to the fashion industry.
In a recent interview [in 032c] with Charlie Fox, you were asked about the weather conditions in which this garment can be worn, and you said: '100% industrial gray cloud, also known as "weather on antidepressants". Cloud drone: similar to above but with the same cumulonimbus clouds emitting a ferocious electrical drone, best mimicked by the album Special Low Frequency Version by Earth at maximum volume. That phase of winter when the sun stops giving a fuck due to pollution/radiation and is as weak as the crack of light under a door in a dark corridor.' This made me curious about the role of weather in your work, and also what kind of music you are listening to.
Dingyun Zhang: I try to have a range of cuts for the puffer jacket so they can exist as all-season pieces, especially in cities where the weather can be temperamental. One of my puffer coats can be in the wardrobe all year round. I also explored this creativity to serve the story by using deep-sea creatures as references to add holes and open up the garment – to abstract the human form, while allowing air to reach the body at certain points. As for music, I listen to all types: rock, punk, rap, piano… all combined together, no particular genre, but mostly hip-hop. Working with Kanye and listening to his music influenced me even more.
'Meeting Kanye and making a real shoe from scratch with the support of an experienced staff at Yeezy and Adidas was a dream come true.'
Dingyun Zhang
Looking at your Moncler collab one last time, it is very complex and very colourful and has these really sculptural pieces that are both works of art and deeply functional. What is your next step after Moncler? Your next project?
Dingyun Zhang: The silhouettes of the helmets, jackets and pants all provided a new perspective on the Moncler signature down jacket – what I describe as organic futurism meets traditional craftsmanship. We have evolved a language of forms and materials for footwear and apparel to transcend the seasons and make sure the story can continue connecting with people over the long term. The collections need to work throughout spring and summer, not only in winter, so this is the challenge we are facing now – studying materials and forms to fit in with summer categories.
Do you doodle and make sketches, or do you always work on the computer?
Dingyun Zhang: With footwear and apparel, when I have an idea, I just do a quick sketch. I always keep a notebook with a pen next to my bed, so that at any time I can write down an idea. If I don't put it down then after two minutes, it's forgotten, so I always do a quick rough sketch and return to it later to refine the design.
Instagram is an important communication tool for you to connect with the industry and the arts as a whole, and all your followers. What does the app represent to you and what is the internet's role for you as a fashion designer?
Dingyun Zhang: It's important for people to engage with my work in real time, and with Instagram I get to see the types of people with whom my work resonates. The internet has helped me understand who and what I am really designing for. I have been able to connect with other artists who share my creative values, and who create 3D renderings, paintings, animations of my clothing.
Let's talk about your collaboration with art director and 3D artist Antoni Tudisco. Together, you've worked on a series of 3D-rendered film stills and short animations that feature your work with Yeezy reimagined in abstract landscapes. Does the project represent a form of branding and a powerful communications tool that can exist outside of the classic fashion-week schedule?
Dingyun Zhang: One day it'll be possible to create a digital fashion show with 3D-rendered garments and models, but in the collab with Antoni, I wanted to provide a different perspective on my garments in a virtual world. Antoni and I came together by chance through Instagram, and the experience was great. He is really talented and the work we produced was a chance to show my garments in an abstract way, with fibreglass-like materials and super-inflated forms.
Do you have any unrealized projects, visions for the future, or things you have dreamed of but haven't been able to do yet?
Dingyun Zhang: Developing the idea of getting involved with the metaverse, I would like to create unrealistic and abstract garments in the 3D world and then see how we could make them come to life in the real world. That is my dream.
'The confidence of people to wear my helmets in the street is almost like a self-portrait for me. It shows optimism, a fearlessness that I have myself.'
Dingyun Zhang
How do you want to influence the future? Do you want your work to inspire young designers, particularly those growing up in non-fashion-oriented backgrounds like yourself?
Dingyun Zhang: The only responsibility young designers have is to show their work in innovative ways that are honest to their vision and their stories, when the timing and circumstances are right. The near future, for me, is all about scaling the experimental while meeting the demand for my products. Collaborations have allowed me to do this, but in the future, I'd like to develop into one of the leading outerwear brands at my market level.
Are you still running all of your production through China?
Dingyun Zhang: The whole company is currently based in China. I have almost unlimited sourcing and production capabilities here, and it is incredible. The level and quality of the work is mind-blowing; it's constantly improving and is now comparable to other countries. 'Made in China' is starting to feel expensive.
What is your advice to a young design student? What would you advise your younger self?
Dingyun Zhang: I always want to push the borders of what fashion can be in the future. I like a multi-disciplinary approach, connecting with people from non-fashion backgrounds, seeing things as one family with many branches. Students and artists around the world have already begun to play around with my creations to express themselves. When people wear my work, it shows optimism; a fearlessness that I have myself. The confidence of people to wear my helmets in the streets is almost like a self-portrait for me.
One last question: what would you design for extra-terrestrials?
Dingyun Zhang: When they land, I would have to design the coolest collection to impress them – because they've always inspired me!
Models: Dean, Dexter, Haley, Kya, Liza, Orlagh, Owin, Rosie, Shane, Skye, Tanya, and Zack, all at People-file. Make-up: Lucy Bridge at Streeters. Hair: Amidat Giwa at Bryant Artists. Nails: Lauren Michelle Pires at Future Rep. Set design: Andrew Clarkson at Bryant Artists. Production: Bellhouse Markes. Executive producer: Araminta Markes. Producer: Ella Girardot. Photography assistants: Alessandro Tranchini, Shahram Saadat, Max Hayter. Styling assistants: Suzannah Snow, Nathan Fox. Make-up assistants: Kyle Dominic, Jana Reininger. Hair assistants: Gordon Chapples, Jennifer Chan. Set-design assistant: Lucy Anstey. Production intern: Zehra Rizvi.